David Clarkson suspended 10 games for role in Maple Leafs brawl
David Clarkson was handed his automatic 10-game suspension on Monday night for his role in the Maple Leafs' line brawl on Sunday.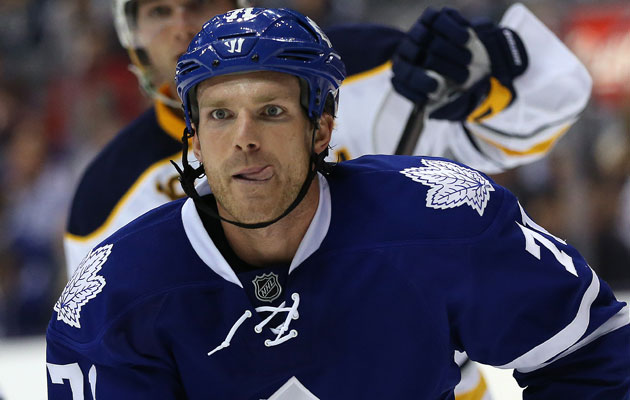 More NHL offseason: Rumors | Top 50 Free Agents | Buyout Tracker | Trades | Transactions
As expected, Toronto Maple Leafs forward David Clarkson has been suspended for 10 games, an automatic punishment for coming onto the ice to join an altercation.
On Sunday night a line brawl broke out in the Leafs' preseason game against the Sabres when John Scott attempted to go after Leafs sniper Phil Kessel. Not long after Clarkson hopped off the bench and onto the ice to join the fray. Immeidately it was clear, his Maple Leafs debut was going to have to wait.
In addition to a game misconduct, a 10-game suspension was mandatory and there was really no getting around it for Clarkson as soon as he hopped into the mix. Rule 70.10 states the following:
"The first player to leave the players' or penalty bench illegally during an altercation or for the purpose of starting an altercation from either or both teams shall be suspended without pay for the next 10 regular League and/or playoff games of his team."
Clarkson will not only sit 10 games but will also forfeit $269,230.80 in salary, a pretty penny that will leave a mark. Not exactly the way he was hoping to begin his monster offseason contract.
Clarkson is the second player this preseason to be assessed an automatic 10-game suspension for coming onto the ice illegally. Coyotes forward Paul Bissonnette suffered the same fate in an altercation vs. LA.
The University of Denver star and Hobey Baker Award winner is drawing interest

Intrigue is high in Arizona after a wild offseason, but expectations should still be tempe...

Players are set to give personalized messages for Adidas' former hockey equipment brand
The 40-year-old center is returning to the Wild after a successful run in Pittsburgh

Edmonton locks up its 21-year-old RFA a month after McDavid's historic extension

Even with a new coach and added veteran help, the Canucks have a long road ahead