David Clarkson won't waste people's time; decides against appeal
After considering his options, David Clarkson won't appeal his 10-game suspension, an appeal that would have been a waste of time.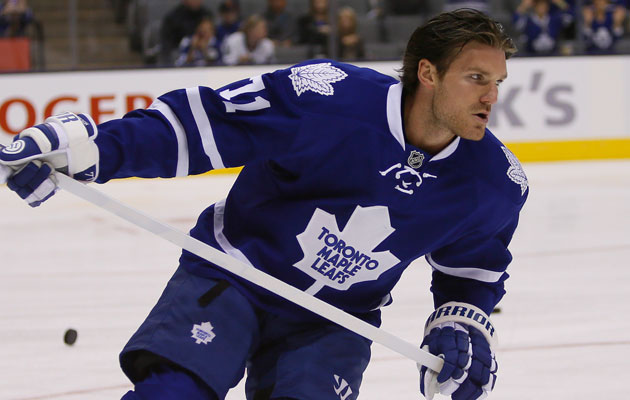 NHL previews: Atlantic Division | Metropolitan Division | Central Division | Pacific Division
In the aftermath of the brawl in Toronto, David Clarkson remained quiet, even after he was officially given his 10-game suspension for illegally leaving the bench. During that time Clarkson was trying to not be a distraction to his team but was also considering his options.
One of those was to launch an appeal of his suspension, one that would have been a gigantic waste of everybody's time. Clarkson has decided against it.
"Every situation, you look at your options," Clarkson said on Tuesday night. "You see what you can do and can't do. I'm not going to appeal. I'm going to take this one. I think it's over with. It's something you put behind you. I'm going to work hard in practice. I'm going to push these guys in those first 10 games to be better."
The decision to not appeal was surely made easier when Phil Kessel was handed his suspension that didn't include any regular-season games. If Kessel had been suspended for the opener then perhaps Clarkson would have appealed just so he could have been in the lineup while Kessel was out as his appeal was being processed. Now it's a moot point and he won't waste time with a frivolous contest.
As for what exactly possessed Clarkson to jump on the ice and earn a guaranteed suspension, as in what was going through his mind when he saw John Scott go after Kessel?
"I think I sometimes make decisions with my heart, not my head. I saw a teammate I felt was in trouble. My reaction was to help," Clarkson explained.
"It was a reaction, like you have a little brother and you feel that he's in trouble and you feel there's a situation where you can get out and help. That was the feeling I had in my belly. I had the feeling that to do something. I've got to pay the consequences for it."
Now Clarkson will have to wait until Oct. 25 to make his debut with the Maple Leafs, one he's been waiting all summer for since signing the big deal to go to Toronto.
Former Lightning standout will be guarding the net in style in 2017-18

Devils are still in rebuilding mode, but they have reason for hope thanks to young additio...

Buffalo is in the midst of contract extension talks with Jack Eichel, and the payout could...
Los Angeles isn't rushing to sign the 45-year-old forward any time soon

The University of Denver star and Hobey Baker Award winner is drawing interest

Intrigue is high in Arizona after a wild offseason, but expectations should still be tempe...