David Perron traded to Oilers; Magnus Paajarvi, pick to St. Louis
Oilers GM Craig MacTavish promised a splash, and he has delivered it as the Oilers have acquired David Perron from St. Louis.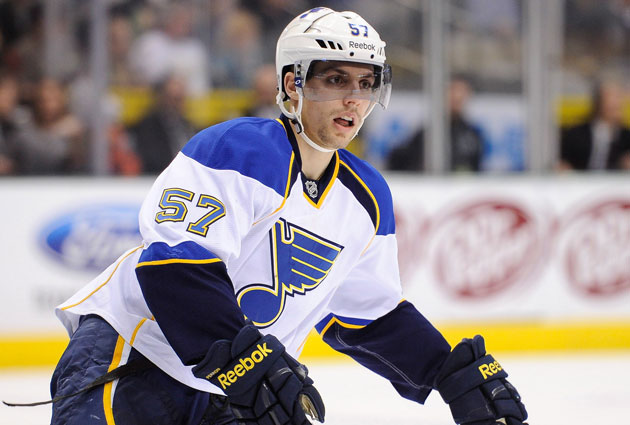 More NHL offseason: Rumors | Top 50 Free Agents | Buyout Tracker | Trades | Transactions
Edmonton Oilers GM Craig MacTavish promised to make some bold moves this summer, and it might have taken him a while but he made a big splash on Wednesday.
The Oilers have acquired forward David Perron from the St. Louis Blues in exchange for Magnus Paajarvi and a second-round pick in 2014. Edmonton announced the deal on Monday afternoon.
Talk about a nice trade for the Oilers. They get a good young scoring forward in Perron for a relatively cheap return.
Perron missed a large amount of time after suffering a concussion a few years back. As a result he only played 10 games in the 2010-11 season and then missed the first couple of months in the 2011-12 season before returning as strong as ever. He had 21 goals and 21 assists in 57 games for the Blues that season. He played all 48 games this season, with 10 goals and 15 assists.
In Edmonton he should fit in well with a skilled and young top six. On a team like Edmonton, he'll actually be a bit of a veteran.
Perron, 25, has three seasons left on a contract that carries a $3.812 million cap hit. Paajarvi, meanwhile, is a restricted free agent but shouldn't cost anywhere near as much to sign as Perron's traded contract.
His name had surfaced recently in trade speculation, and obviously there was more to it than that. The Blues weren't terribly crunched against the salary cap with almost $10 million in space but they do still have a couple of restricted free agents in Alex Pietrangelo and Chris Stewart, who will not be cheap to re-sign. What this amounts to is pretty much the Blues committing to re-signing both Stewart and Pietrangelo over keeping Perron.
However, for a team that could use the offense, dealing away Perron is tough to swallow.
Paajarvi was a first-round pick by the Oilers in 2009 but hasn't quite found his footing. He had nine goals and seven assists in 42 games this past season but he's still just 22 and has shown some skill.
"Magnus is a well-rounded player who has good size and great skating ability," Blues GM Doug Armstrong said. "He is just coming into his own and this will open up more ice time for Jaden [Schwartz] and Vladimir [Tarasenko]. I would like to thank David for his time in St. Louis and wish him well in Edmonton."
The Oilers' young star remains seriously unfair

David Kelly, a Toronto-born hockey analyst, has strong advice for Edmonton vs. Chicago game...

Gary Bettman says otherwise, for the time being, but Houston could be primed for a team
Here's what you might have missed across the NHL on Wednesday night

Ovi breaks down doors in Virginia

Winger also says he will no longer raise a fist during the anthem after his protest started...