Dealing with nerves, family in Game 4, Kings looking to avoid distractions
They say the last one is always the hardest to win in a series. The Kings are finding out why with plenty of distractions in their way. They think that's fixed for Game 6.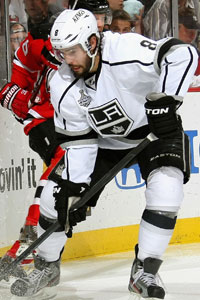 Doughty says the distractions should be eliminated for Game 6. (Getty Images)
EL SEGUNDO, CALIF. -- It's said in hockey that the toughest game to win in a series is the last. The thinking seems to mostly surround the opposing team turning up the intensity with their backs against the wall and all those other cliches you hear trotted out over and over again.
But what about the other side of the equation, the team trying to win? You can't discredit the role of nerves and distractions, especially in the Stanley Cup Final.
Because no matter how often the Kings talked about not having achieved anything yet when they took a 3-0 series lead on the Devils, it's a lot easier to say than do. Drew Doughty admitted as much on Sunday that the team struggled with those aspects in a somewhat revealing interview, at least for those that get tired of hearing the same lines used again and again.
Doughty was simply asked if the Kings would do anything different in this close-out chance at home in Game 6 on Monday night.
"Yeah, we don't want any distractions," Doughty said. "I think a lot of us before Game 4 were distracted by family members and friends coming in with the Cup in the building. A lot of those things, you have to put aside. Family always comes first obviously for everyone but this time of the year the team has to come first. We're a family in the room, on the ice and right now we're No. 1 on everyone's mind."
So now that's something they know and can fix going forward, right?
"I think that's a lesson learned. We realize that a lot of us didn't play to our potential in Game 4," Doughty continued. "We were nervous, we were worried about other things. All of us in the room are kind of frustrated that guys on the team were thinking about other things ahead of time and Darryl made sure that wasn't going to happen this time and we're going to prepared for Game 6."
Kings captain Dustin Brown added to the sentiment.
"You can eliminate the family. I don't know about the Cup," he said.
That kind of honesty is nice to see but concerning too if you're a Kings fan. The fact that people -- myself included -- were already sizing the crown to go on the Kings' head after Game 3. The buzz in L.A. was building and you know that the Kings were feeling all of that, at least a little bit, no matter how much they said to the contrary.
Just like an addict, the first step to recovery is admission of a problem. Finding that level of focus and clarity can go a long way in getting back on the positive side of the ledger.
"I think guys will be a little more relaxed," Brown said.
More on Kings-Devils
Related links
More NHL coverage
Now if they can just avoid another potential pratfall; frustration.
In the first few games of the series the bounces seemed to be going the Kings' way for the most part. The last two games? It feels like very single bounce has gone to the Devils. From hitting posts to pucks deflecting off of Kings players and in, the puck luck has been with New Jersey.
"I don't think it's frustrating, I think it's a good thing," Doughty said. "It means we're hitting posts, it means we're creating chances. Eventually those are going to start going in for us. Marty's been playing really well. We have to do a lot more to get in his way, get more shots in his way, get more shots to the net and crash the net harder. It's not going to be those pretty ones that go in, it's going to be those dirty ones that win us the game."
It could be the uglies goal in the history of hockey, as long as it gets the Kings what they can almost taste already, they'll take it. Anything to get a little going and avoid any letdowns. Because at this point doubt can become another ugly enemy.
The Devils have won two straight and made it a series once again. To be at 3-2 is still a good spot clearly, but when you consider where the series was it does change the perspective at least a little. The position of the series has to be at least a little concerning, the feeling of it slipping away might seep in a little deeper.
Having gone 3-4 this postseason in close-out games, the Kings know all-too well that the last one is tough. But now they have lived and learned, the next step is to do.
For more hockey news, rumors and analysis, follow @EyeOnHockey and @BrianStubitsNHL on Twitter and like us on Facebook.
The former Boston Bruin was the first black player to play in the NHL

Inclement weather led to the Charlotte Checkers and Bridgeport Sound Tigers playing in front...

The NHL chose the Detroit rocker as its All-Star Game entertainment and not everyone is th...
NHL fans from all over seem to agree on one thing: Hating Kid Rock

The team tweeted on Monday that Shaw would be re-evaluated in 7-10 days

The Montreal forward was hospitalized after taking a Zdeno Chara slap shot to the head