Derek Roy traded to Canucks for draft pick, prospect
The Dallas Stars are unloading veteran players by the bushel. The latest to go is center Derek Roy, who has been traded to the Vancouver Canucks.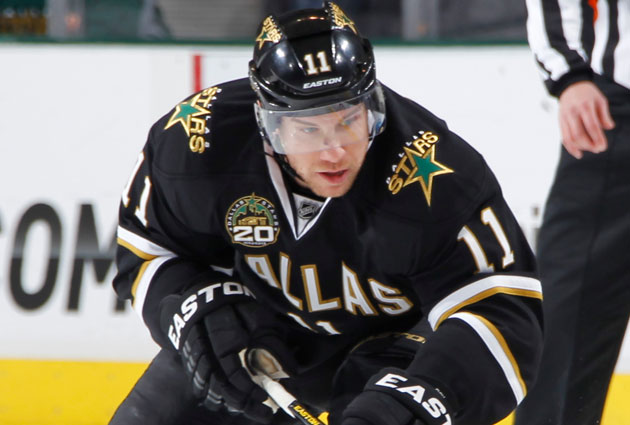 Derek Roy is an unrestricted free agent after this season. (Getty Images)
More NHL: Scores | Standings | Odds | Fight-O-Meter | League Leaders | Rumors
The Dallas Stars are unloading veteran players by the bushel. The latest to go is center Derek Roy, who has reportedly been traded to the Vancouver Canucks.
The deal, first reported by Nick Kypreos of Sportsnet, sees a second-round pick and prospect Kevin Connauton going to Dallas, according to Bob McKenzie of TSN. The Canucks officially announced the trade later in the day.
Roy has been a name on the block for a while now as it became apparent that he was not going to be staying in Dallas for long. They acquired him over the summer in exchange for Steve Ott from Buffalo, but that was with only one season left on Roy's contract. It seemed apparent from the start this was a possibility.
Then, with suggestions that Roy was going to be asking for a raise and the Stars not giving it to him with a new deal, it seemed to be close to a lock that Roy would move. So here we are.
From Vancouver's perspective, I love it. They aren't scoring as much as they were, and they have been thin down the center. Last trade deadline, they moved Cody Hodgson to Buffalo and then this season they have been dealing with the injuries to Ryan Kesler. Now, when Kesler is back and healthy, you have three proven centers in Roy, Kesler and Henrik Sedin.
Speaking beyond those numbers, Roy is a good possession player. He's not big by any means (5-foot-9, 184 pounds), but he drives play, always a nice attribute. That doesn't show up in the box score, but it matters.
The downside is that this really could be just a rental situation. With him looking for good money, the Canucks might not be able to fit him in next season and he could walk. It's the risk they are willing to take for a run this year, it would seem.
Plus, it doesn't seem like they gave up too much to make it happen. Roy's days of scoring 81 points in 78 games definitely seem like a thing of the past, but he's no schlub out there. The diminutive center had four goals and 18 assists for Dallas this season, much of that coming after a slow start.
Considering that at this time last year Paul Gaustad fetched Buffalo a first-round pick, it really seems like the Stars could have received more. The Anaheim Ducks were another team that was supposedly interested in Roy, so it wasn't as if there weren't any suitors for Joe Nieuwendyk to choose from.
What of Connauton? He's an above-average prospect whom Dallas is getting in return, so that's good news. According to Hockey Prospectus' rankings in September, he was the fourth-best prospect in the Canucks' system.
He's a puck-moving defenseman, making that two such prospects the Stars have picked up in the last week; they got Joe Morrow from the Penguins. The emphasis seems pretty clear for Dallas; improving the blue line. Between these two and their own draft pick, Jamie Oleksiak, they seem to be headed in the right direction there.
Maybe Connauton turns out to be a real keeper. If so, then you can't say the Stars did poorly trading off a player who only played 30 games with them and likely isn't going to re-sign with his new team. If Connauton doesn't deliver, though, it's hard to say it wasn't a low return. But those are the risks you take when you're trading for prospects (draft picks, too, for that matter).
The Stars still have at least one other move to make as Jaromir Jagr has reportedly been told he will be traded by the deadline. In other words, the Stars are pretty clear sellers, yes?
'How you gon' do that hockey?'

The puck didn't go in the net but the skater did!
Another sign that Houston is a potential destination for an NHL relocation

The two teams combined for 111 penalty minutes and five ejections

The veteran Minnesota goaltender has recorded three consecutive shutouts