Derek Stepan, Rangers remain far apart as training camp looms
Derek Stepan remains without a contract for next season and it sounds like he and the Rangers remain far apart with camp looming.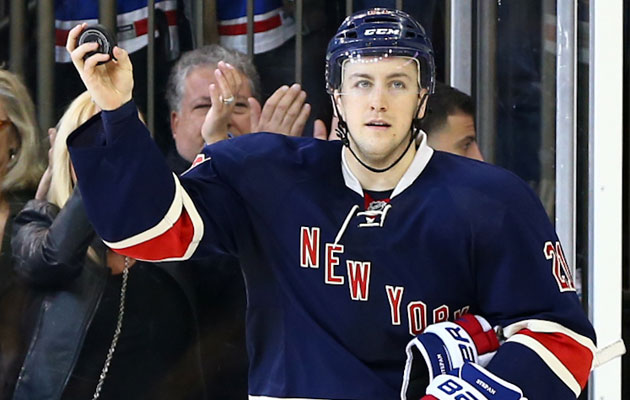 More NHL offseason: Rumors | Top 50 Free Agents | Buyout Tracker | Trades | Transactions
While the Nazem Kadri and Cody Franson contract negotiations in Toronto have been all the rage this summer (mostly because it's involved some mud slinging and has played out publicly), the situation with the Rangers and Derek Stepan might be equally contentious and far from a resolution.
Like the Leafs, the Rangers are tight against the salary cap and have little room to try and sign Stepan. As it stands now, they appear to have a lot less room than Stepan wants on an annual basis. We have ourselves what looks like a stalemate.
And making matters worse, it doesn't look like the two sides are that close at all per Larry Brooks of the New York Post.
Stepan is believed seeking a five- or six-year deal in the neighborhood of $5 million per while the Rangers are believed offering a two-year contract worth between $2.75-and-$3 million a year.

Stepan's request is not at all outlandish given his work the first three seasons of his career during which he clearly outperformed an extremely club-friendly Entry Level contract worth $875,000 per year.

The fact is Stepan, a 2008 second-round (51st overall) draft selection who emerged as the Rangers' first-line center in 2011-12 and 2012-13, was eighth in scoring in the NHL among players 23 or younger over the last three years with 140 points (56 goals, 84 assists).
As you would assume, his agent told Brooks that without a deal, Stepan won't be in training camp. Considering camp is about to start, it's safe to assume Stepan won't be at training camp.
If ever a situation begged for an offer sheet it is here. Brooks goes on to mention that the perfect team to do it would be the Islanders and of course he's right. Not only would be a good hockey fit but it would be fantastic for the rivalry that is starting to regain a little steam as the Isles improve. Either the Islanders get a very good player in Stepan or they force the Rangers' hand to make another move. It's a brilliant move.
It's also a move that won't happen. GMs just don't hand out offer sheets the way we fans would like to see, even if it would actually be a legal and good move. It makes me wonder why they still bother to keep the rule on the books.
So it's going to come down to the Rangers trying to find a deal with Stepan. GM Glen Sather has been public about his desire to sign Stepan to a bridge deal but even if Stepan agreed to that, they would have to get the financial part figured out and they're not close. It sounds like it will take a while for that to happen. With the Rangers already facing some early-season injuries, that's not an ideal beginning for the season if Stepan is still not signed.
Last season Stepan had 18 goals and 26 assists in just 48 games while playing more than 20 minutes a game.
Ontario's 2017 RBC Canadian Open plays host to some puck shots from the legendary golfer

The unsigned forward, still in search of a team, is campaigning for himself

The league shoots down a report that NHL players could still be permitted to go to the Oly...
The 45-year-old forward remains unsigned but has shown little desire to hang up the skates

Pittsburgh also has been linked to Matt Duchene and could be in the mix for Tyler Bozak

Nashville extends its 24-year-old restricted free agent with what could be bargain numbers