Details on NHL's latest offer starting to surface
The NHL made another offer to the players on Tuesday, and now details are starting to leak out.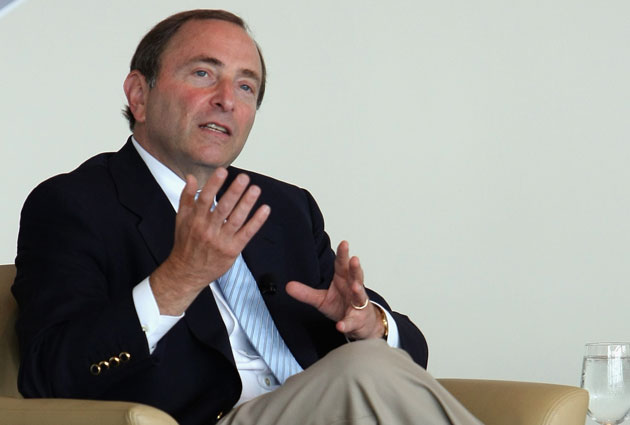 Details on the NHL's latest offer to the players are starting to surface. (Getty Images)
The NHL made its latest proposal to the players on Tuesday afternoon, one that commissioner Gary Bettman said had "significant movement," and now some of the details as to what was in that offer are starting to surface.
According to multiple reports, including Chris Johnson of the Canadian Press and Kevin Allen of USA Today, the NHL's latest offer would redefine "hockey related revenue" and an eventual 50/50 split of said revenue.
From the Canadian Press:
According to a source, Tuesday's proposal from the NHL called for a six-year deal -- the first three delinked from hockey-related revenues and the last three coming with a 50-50 split (when factoring in a redefinition of HRR). As a result, the salary cap would climb from $58 million in 2012-13 to approximately $71 million in 2017-18, the last season of the contract.
What are the chances the players accept that? Probably slim and none. And I have to imagine there will probably plenty of discussion regarding redefinition of hockey related revenue.
The players would be taking a pretty big step backward in the short-term under that proposal, and wouldn't get the cap over $70 million until 2017. Keep in mind that as of right now the projected salary cap figure for the start of the 2012-13 season is $70.2 million.
If salary rollbacks were not a part of the proposal (and according to Allen at the USA Today, they aren't) there would also be a lot of teams (over half of the league) well over the "new" salary cap for the 2012-13 season. The Minnesota Wild for example, fresh off their summer splurge in free agency that saw them land Zach Parise and Ryan Suter, would be $10 million over. The Boston Bruins would be $10 million over as well. Nine other teams currently have as much as $60 million in cap space committed to players for the upcoming season, including the Pittsburgh Penguins, Tampa Bay Lightning, Chicago Blackhawks, Toronto Maple Leafs and the Stanley Cup Champion Los Angeles Kings.
The two sides are expected to meet again on Wednesday and have meetings scheduled through Friday of this week.
They're still talking, and the clock is ticking, but based on this latest proposal it's still probably going to drag on as long as possible.
For more hockey news, rumors and analysis, follow @EyeOnHockey and @agretz on Twitter and like us on Facebook.
The 40-year-old center is returning to the Wild after a successful run in Pittsburgh

Edmonton locks up its 21-year-old RFA a month after McDavid's historic extension

Even with a new coach and added veteran help, the Canucks have a long road ahead
Unlike expansion teams before them, the Knights have enough talent to entertain right away

Brian Lawton says he 'would not be surprised' if Boston deals its young star to end contract...

It turns out Phil does love his hot dogs, especially when they're in a Stanley Cup