Devan Dubnyk traded to Predators, Matt Hendricks headed to Oilers
The Nashville Predators and Edmonton Oilers swung a deal on Wednesday with Devan Dubnyk going to Nashville in exchange for Matt Hendricks.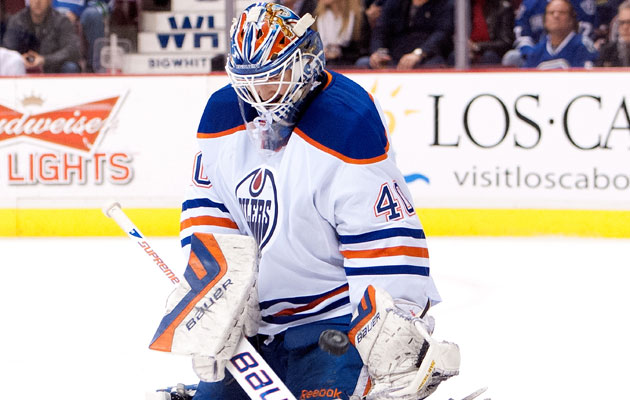 More NHL: Scores | Standings | League Leaders | Odds | Injuries | Power Rankings
The Nashville Predators have been in sore need of goaltending help with Pekka Rinne out and on Wednesday they got it via trade.
The Predators and Edmonton Oilers made a swap with goaltender Devan Dubynk heading to Nashville in exchange for forward Matt Hendricks. Wait, that's not the entire deal, there's also this.
For bookkeeping purposes: EDM retains half of Dubnyk's salary

— Elliotte Friedman (@FriedgeHNIC) January 15, 2014
Take your hat off, David Poile, and take a bow. That is quite the deal from their end.
In exchange for Hendricks, whom the Predators signed to a four-year, $7.4 million contract in the summer, the Preds got a player who is set to be a UFA at the end of the season and a goalie who has shown flashes in the past but has had a rough season. In other words, the Preds bought a goalie low while getting rid of a player who hasn't been effective for them, particularly at that cost.
A new start for Dubnyk is probably a good thing. He has a record of 11-17-2 this season and has struggled with a .894 save percentage and 3.36 GAA. But under Barry Trotz does anybody see that level of struggling actually continuing? Doesn't seem very likely, now does it.
"It hasn't really set in to be honest," Dubnyk said of the trade. "It's a new opportunity for me and I'm really excited to go to Nashville."
Meanwhile, it leaves you scratching your head from the Oilers' perspective. They have now clearly turned the net over to Ilya Bryzgalov for the rest of this season and he's hardly been better than Dubnyk. They don't have a lot of depth to speak of at all in goal yet they just traded a guy who a couple of years ago was seen as their goalie of the future.
Picking up Hendricks doesn't seem to add a whole lot other than a good "locker room veteran" either. He is a fourth-line guy making close to $2 million per season. He has two goals and two assists this season in 44 games while playing 11:33 per game. At least they just got better in shootouts.
Now in some defense of Oilers GM Craig MacTavish on this one, the Oilers clearly aren't going anywhere this season so what's the harm in going with Bryzgalov for the rest of the year? In the offseason it will need to be the top priority to find a goalie and there will be options in free agency. But a lot of goalies will struggle if the defense doesn't get any better in Edmonton.
It has been suggested that the Oilers aren't done dealing yet, that this move might lead to another. That's all well and good but it still makes you ask the question why they would take Hendricks and pay half of Dubnyk's $3.5 million salary on the way out (albeit only for a couple of months). They are locked in to Hendricks for another three seasons beyond this. Even if Dubnyk wasn't going to come back next season -- which he wasn't -- surely they could have done better, right?
Buffalo is in the midst of contract extension talks with Jack Eichel, and the payout could...

Los Angeles isn't rushing to sign the 45-year-old forward any time soon

The University of Denver star and Hobey Baker Award winner is drawing interest
Intrigue is high in Arizona after a wild offseason, but expectations should still be tempe...

Players are set to give personalized messages for Adidas' former hockey equipment brand

The 40-year-old center is returning to the Wild after a successful run in Pittsburgh