Devils being derailed by historically poor shootout season
The New Jersey Devils are only three points out of a playoff spot with just a handful of games left. What they wouldn't give to have won just a couple of their 11 shootouts.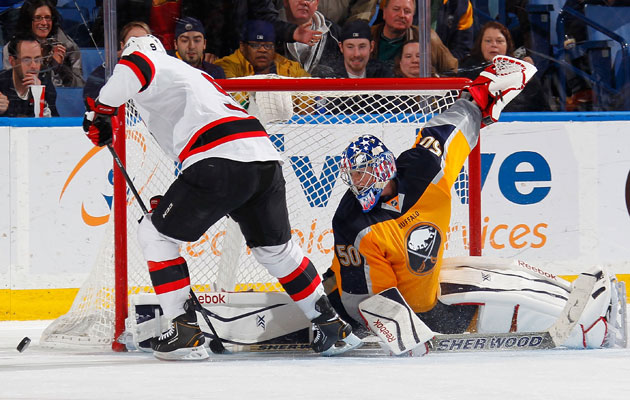 More NHL: Trades | Scores | Standings | League Leaders | Odds | Power Rankings
Say what you will about the shootout -- and many of you will say some pretty bad things -- but it's part of the game and really an integral part of the NHL points machine. Picking up that second point after regulation makes a world of difference. Just ask the New Jersey Devils.
There isn't a lot of evidence to suggest that shootouts on the whole are much more than a coin flip. Some teams are obviously better than others but it usually varies from season to season and over time a franchise's shootout record isn't that far north or south of .500, hence the idea of flipping a coin.
This season, the Devils must have one poorly weighted and worthless coin because they can't buy a shootout win. Forget the fact they can't win in shootouts -- they can barely even score.
With 80 points, three behind the East's last wild-card spot held by Columbus, and six games to go, the Devils are clinging to life support. In a way that's pretty amazing given how dreadful they have been in the skills competitions -- 0 for 11.
You almost have to try to not win a shootout. Since it came to be in the NHL after the 2004-05 lockout (side note: how awful is it that we must specify which lockout we're talking about in the NHL?), only one team has failed to win a shootout in an 82-game season -- the 2006-07 Hurricanes were 0-5 with just one goal on 17 attempts.
Pretend the Devils were at worst competent in the shootouts and were, say, 3-8 instead of 0-11; they would be tied with the Blue Jackets right now. That's the difference all of these shootouts can make over a season. If they can't make a miraculous push it's going to be agonizing to look back at the missed chances.
Heck, it's already agony for the Devils. In their most recent shootout loss on Tuesday in Buffalo, Jaromir Jagr couldn't take it and turned his back when his teammates were shooting. He made a few other Devils follow suit. OK, so it was probably more about trying to change their juju but the Devils still lost. They are beyond even the last resort of silly superstitions on the bench (via @MyRegularFace).
Just how bad has it been for the Devils? It's hard to comprehend. Skaters typically convert somewhere in the neighborhood of 33 percent of shootout attempts. This season players are converting on 32.5 percent of attempts. The Devils are bringing down that average.
In 39 attempts this season the Devils have three (3) shootout goals. Two came Tuesday night against Buffalo, so before that you were looking at a team with one goal in 10 different shootouts. As a team they are converting 7.7 percent. That's ugly.
If that weren't bad enough, the Devils haven't been able to stop the puck very well either. Teams have scored 17 goals in 38 attempts against New Jersey goalies, leaving Cory Schneider and Martin Brodeur with a combined save percentage of .553. That's the second-worst mark in the league.
It's not as though this is a phenomena new to this season because it was an issue last year too. In the shortened season the Devils went just 2-7 in shootouts, meaning they are 2-18 over the past two seasons. They did at least convert on 20.7 percent of chances in 2013.
Perhaps it's a bit of karmic retribution from two years ago, when the Devils led the NHL with 12 shootout wins and converted on a whopping 57.1 percent of attempts. That was also when they had Zach Parise and Ilya Kovalchuk.
With the loss of Kovalchuk this past offseason they lost their best shootout weapon but didn't find a real replacement. In this day and age, it's not that crazy of an idea to take up a roster spot for a shootout specialist. You have to wonder if that's going to be something Lou Lamoriello considers in the offseason -- surely it's too late now -- because the Devils' struggles past overtime are shaping up to be as big of a reason as any why they will be watching the playoffs from home.
The shootout was introduced to the game, designed to make or break games but in the case of this season's Devils, it's going to be the thing that breaks their season.
Saturday's showdown will serve as a rematch of one of the NHL's first-ever regular season...

Stacia Robitaille says Donald Trump told her in an elevator that she was coming home with...

Vladislav Yeryomenko was the Teddy Bear Toss goal scorer for the Calgary Hitmen
The Golden Knights are finally getting their No. 1 goalie back after a 25-game absence

Washington has won four straight, and the Kings are also on a tear right behind the Lightn...

The NHL says it's only interested in expanding to Seattle, but here's a look at all the moving...