Devils coach Pete DeBoer ejected against Rangers
New Jersey Devils coach Pete DeBoer was ejected on Sunday afternoon during their 4-1 loss to the New York Rangers.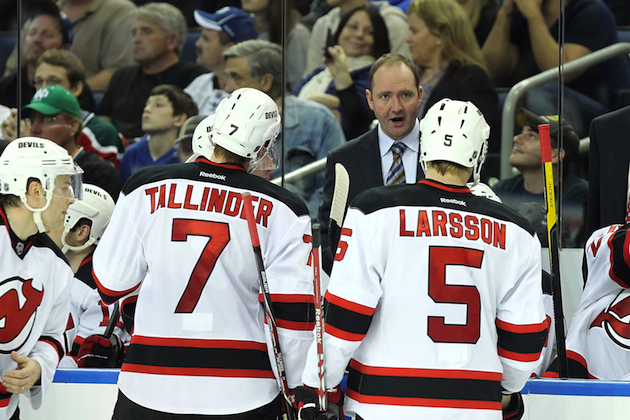 More NHL: Scores | Standings | Odds | Fight-O-Meter | League Leaders | Rumors
The New Jersey Devils were eliminated from playoff contention Sunday afternoon thanks to a 4-1 loss to the New York Rangers, and before the final horn sounded frustration was starting to boil over.
With under a minute to play in regulation Devils coach Pete DeBoer had apparently seen enough and was given a game misconduct after having some, let's call them, disagreements with the officials.
The Devils were penalized eight times on Sunday, including a 10-minute misconduct penalty for Patrik Elias earlier in the third period and an unsportsmanlike-conduct penalty to Matt D'Agostini for abuse of official in the first period.
"A little frustration on my part that two of our players would get unsportsmanlike conducts in an elimination game," DeBoer said, via Devils beat writer Tom Gulitti. "The sensitivity of some of the officials is beyond me."
It's very rare for coaches to get thrown out of a game, but it's not entirely unheard of. Earlier this season St. Louis Blues coach Ken Hitchcock received a game misconduct at the end of a game against the Phoenix Coyotes.
New York Islanders assistant coach Brent Thompson was suspended for abuse of officials in March.
The 40-year-old center is returning to the Wild after a successful run in Pittsburgh

Edmonton locks up its 21-year-old RFA a month after McDavid's historic extension

Even with a new coach and added veteran help, the Canucks have a long road ahead
Unlike expansion teams before them, the Knights have enough talent to entertain right away

Brian Lawton says he 'would not be surprised' if Boston deals its young star to end contract...

It turns out Phil does love his hot dogs, especially when they're in a Stanley Cup