Did Evgeni Malkin miss a game because of sunburn? Probably not
Did Pittsburgh Penguins forward Evgeni Malkin really miss a game because of sunburn?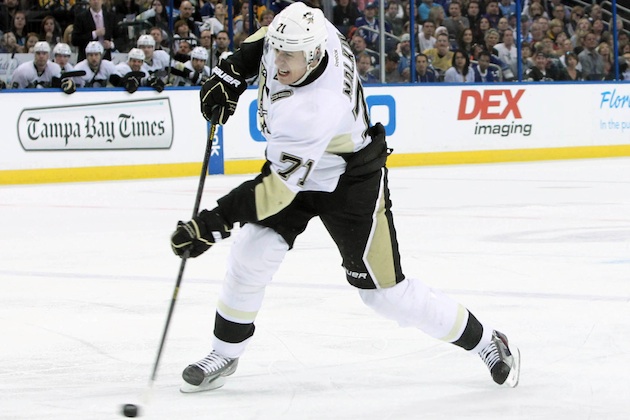 More NHL: Scores | Standings | Odds | Fight-O-Meter | League Leaders | Rumors
Evgeni Malkin did not playfor the Pittsburgh Penguins on Saturday night in Florida and the initial speculation that made the rounds was that it was due to a bad case of sunburn.
That would certainly be a new one.
(Update: Penguins coach Dan Bylsma said Malkin was dealing with a nagging injury that he reaggravated. So much for the sunburn theory).
Malkin did participate in the morning skate. Other than a bad sun burn, seemed fine.

— Josh Yohe (@JoshYohe_Trib) April 13, 2013
There seems to be a very real chance that Malkin will be held out of tonight's game because of severe sunburn. Warmups could be revealing.

— Dave Molinari (@MolinariPG) April 13, 2013
(So that's why putting hockey teams in Florida might have been a bad idea.)
The Penguins are saying that it's because of an "upper body injury," which is pretty vague and could be anything. Seriously. This time of year an upper body injury could be anything from a leg to, well, sunburn.
I'm not saying he didn't suffer a bad case of sunburn soaking up some rays on the beach during a day off, and it makes for a rather unbelievable (yet amazing) story, but Malkin has had some injury problems this season and was on the receiving end of a big hit during Pittsburgh's most recent game in Tampa Bay. He returned to the game but was very slow to get up after the hit and appeared to be at least a little shaken up.
That makes a lot more sense.
The Post-Gazette's Dave Molinari Tweeted that Malkin is, in fact, dealing with a minor shoulder injury not caused by the sun and that if Saturday's game was a playoff game he would have played.
Given that we're late in the season and playoffs are just around the corner (when already secretive teams get even more secretive with injuries) it's impossible to know for sure the reason.
The puck didn't go in the net but the skater did!

Another sign that Houston is a potential destination for an NHL relocation
The two teams combined for 111 penalty minutes and five ejections

The veteran Minnesota goaltender has recorded three consecutive shutouts

The historic start for the NHL's newest team has come largely from unprecedented balance in...