Donald Fehr plans to speak with Gary Bettman this weekend
NHLPA leader Donald Fehr expects to speak with Gary Bettman this weekend. He met with the media on a conference call on Friday.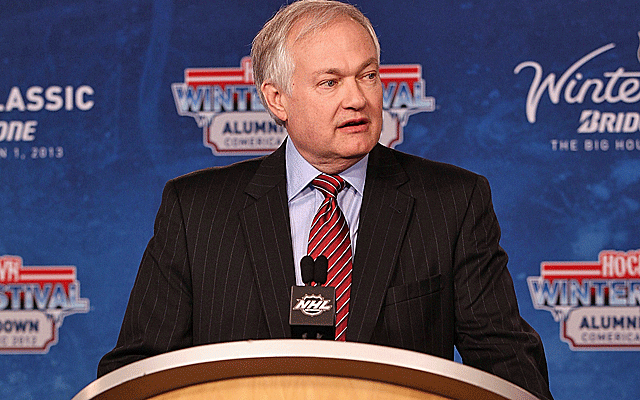 NHLPA boss Donald Fehr will meet with Gary Bettman this weekend.
(Getty Images)
Donald Fehr held a conference call with the media on Friday afternoon to discuss the ongoing labor negotiations.
While he hasn't spoken to Gary Bettman since Wednesday, when the NHL dismissed the players alternative proposal, he does plan to speak with the commissioner by phone this weekend in advance of next week's next round of scheduled talks.
There wasn't much new to come out of the 40-plus minute call, but Fehr continued to point out that the owners are the only ones talking about a work stoppage.
"All I can tell you, and all I can tell the fans," said Fehr, "is that nobody on the players' side is talking about stopping the season."
More on NHL labor
Related links
One of the subjects that was discussed at length on Friday was the idea of a 50/50 revenue split that several of the other professional leagues are operating under (the NHL's current deal is 57/43 in favor of the players). One of the points that Fehr made was that just because other leagues do something doesn't mean that the NHL has to follow in their footsteps. He also pointed out that with the way hockey related revenue is calculated the NHL deal is (in their view) already close to a 50/50 split.
The players proposal from this week would have seen them take a 54/46 split. 
"Let me caution you when you start talking about 50/50 splits," Fehr said. "If you start talking about all revenue as opposed to just hockey related revenue the way we calculate it, the players are already at just about 50/50.
"Hockey related revenue begins by subtracting some amounts of revenue," added Fehr. "They don't count. What I'm saying is that if you add those things back in and then take what the players get, we calculate that to be about 51 percent."
Fehr then turned his attention to the salary cap and added that the only reason the league has the cap it has now is because the owners believe it pays the players less than what they would get in a true free market.
"Suppose the players came in, as we have not done, and said: 'This is what we want. We'll have no salary cap, have a minimum salary and benefits, which will be a small fraction of the salary bill, and all the owners can pay whatever it is they want to pay. They can adjust their salaries based on what they think is best for them. Whatever the free market produces, in a real free market, the players will take.'
"That's the starting point from the players' analysis," added Fehr. "But the players are willing to live with that if we can work out an agreement."
And an agreement at this point still seems to be a long way from happening. 
The current deal expires on September 15, and the league has already said that if no new deal is reached before then there will be yet another lockout. If the league experiences a work stoppage it will be the third one since 1994, including the lockout that cancelled the 2004-05 season. 
For more hockey news, rumors and analysis, follow @EyeOnHockey and @agretz on Twitter and like us onFacebook
Players are set to give personalized messages for Adidas' former hockey equipment brand

The 40-year-old center is returning to the Wild after a successful run in Pittsburgh

Edmonton locks up its 21-year-old RFA a month after McDavid's historic extension
Even with a new coach and added veteran help, the Canucks have a long road ahead

Unlike expansion teams before them, the Knights have enough talent to entertain right away

Brian Lawton says he 'would not be surprised' if Boston deals its young star to end contract...