Don't expect Sabres GM Darcy Regier to fire coach Lindy Ruff
Lindy Ruff is the longest-tenured coach in the National Hockey League and even though the Buffalo Sabres are slow out of the gate again, Ruff probably isn't going to be fired any time soon.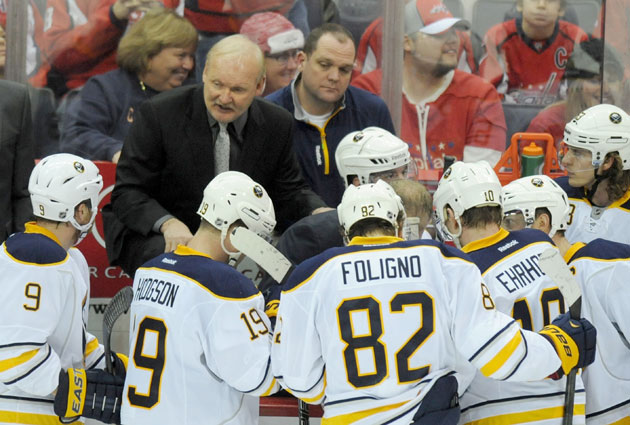 Ruff's Sabres are 3-6-1 to open the season with a minus-7 goal differential. (Getty Images)
More NHL: Scores | Standings | Odds | Fight-O-Meter | League Leaders | Rumors
Lindy Ruff is the longest-tenured coach in the National Hockey League. And though the Buffalo Sabres are slow out of the gate again, Ruff's job seems safe for now.
There have been some increasingly loud calls coming out of Buffalo for GM Darcy Regier to finally part ways with his good friend as the team could use a jolt. Regier has heard these calls, but that doesn't mean he's listening to them.
In an interview with Mike Harrington of the Buffalo News, Regier reiterated that if somebody is being shipped away from the Sabres, it's not going to be his coach.
"The confidence I do have is in this team to turn this around, in Lindy's ability and in our ability to rectify that and that's because I think one of the of the areas Lindy as a coach is extremely strong in is defensive play. Offensively, we're fine [third in the East, sixth overall with 30 goals). But defensively we have work to do.

"And when you think of where we are defensively, If I had a coach to pick to shore that up, Lindy is the guy. And it's not just all on Lindy by any means. We have to work together to get this turned around."
I would say it's surprising how reluctant Regier is to make a move on Ruff, but really it's not -- at all. I'd also say that he's probably in a position that he can't say anything else, but he was pretty emphatic in his support of Ruff.
The two have been tight for a long time, and Ruff has had the support of his general manager despite making the playoffs only twice in the past five seasons and not winning a postseason series since 2006-07. It seems like as long as Regier is there, Ruff will be on the bench.
The reasoning interestes me. Regier said the problems are on defense and Lindy does D, so he's the guy to have when you need that problem fixed. The Sabres are giving up a league-worst 3.70 goals per game. Is that out of character for Ruff teams?
Yes, but it's not like he has a record similar to Ken Hitchcock's, either. In the past six seasons, the Sabres have finished 18, 18, 4, 14, 22 and 13 in goals-against-per season. Take out the extremes, and you're looking at the definition of a middle-of-the-road defensive track record.
And to suggest that offense isn't a problem is being a bit misguided, too. Yes, the Sabres are scoring, but it's mostly being done by the duo of Jason Pominville and Thomas Vanek. They aren't getting production across all of their lines. While that might work for a while -- especially when you have somebody as good as Vanek -- it's not the best way to go about your business, relying on so much from so few.
Regier said he has been exploring the trade-market possibilities but things are all quiet on that front, which makes sense given that every team remains in the playoff conversation.
I said at the beginning of the season that I actually don't think any coaches will be fired midstream, and I am not going to change there. Ruff would seem like a good candidate considering he overseas a team with relatively high expectations, has been on the job for a while and his team is not performing all that well. That ignores his relationship with Regier, though.
No matter their feelings for Ruff, it sounds like Sabres fans are going to have to put up with him for at least another year. When you've been together for 14 seasons, what's another half season?
For more hockey news, rumors and analysis, follow @EyeOnHockey and @StubitsCBS on Twitter, subscribe to our YouTube account and like us on Facebook.
Stacia Robitaille says Donald Trump told her in an elevator that she was coming home with...

Vladislav Yeryomenko was the Teddy Bear Toss goal scorer for the Calgary Hitmen

The Golden Knights are finally getting their No. 1 goalie back after a 25-game absence
Washington has won four straight, and the Kings are also on a tear right behind the Lightn...

The NHL says it's only interested in expanding to Seattle, but here's a look at all the moving...

The NHL says it is only looking toward Seattle for the next expansion team