Drew Doughty the sparkplug for stymied Canadian offense in Sochi
Drew Doughty scored both of Canada's two goals in Sunday's 2-1 OT win over Finland, giving him four of Canada's 11 goals so far, giving them exactly what they've needed.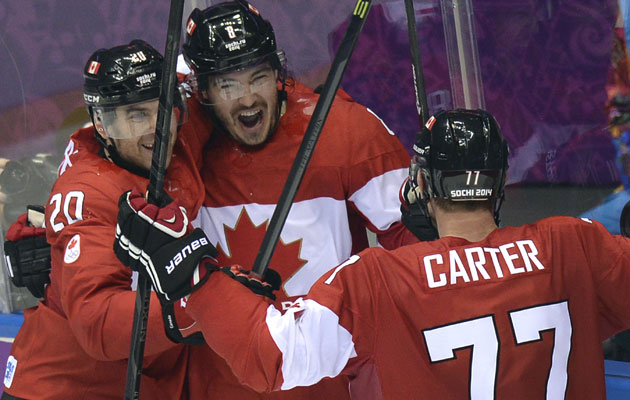 More NHL: Scores | Standings | League Leaders | Odds | Injuries | Power Rankings
It was impossible not to fawn over Canada's roster when it was assembled. Look at those forwards, they go on and on. John Tavares a potential fourth-liner? Hoo boy, hunker down, opposing defenses. That was the thinking.
So naturally it's the defense that's carrying the offense ... on both ends of the ice. Only one player scored for Canada in its 2-1 overtime win over Finland on Sunday, a win that gave them the Group B title. That player was blueliner Drew Doughty.
Baseball has Mr. October and apparently hockey is now getting its Mr. February, its Mr. Olympics. After a tremendous showing in Vancouver, Doughty is at it again in Sochi, and then some. It's led to the inevitable rhetorical question of where Canada is right now without him.
Through three games, Canada has hardly looked like the unbeatable super power that it gets made out to be in the world of hockey. They maintain status as a gold-medal favorite and that doesn't deserve to change after the round-robin but they don't look like the machine that was expected. Aside from their robot on the back end, that is.
In the victories over Norway, Austria and then Finland, Canada scored a total of 11 goals. Six of those goals have been scored by defensemen, four of them by Doughty alone. The double-edged sword there is that while it's awesome and an incredible luxury to have that kind of production from your blue line, it also means the forward group has had just five goals. The forwards not named Jeff Carter have only two goals. For the talent this team has, that's kind of staggering.
(On a side note, what were the odds on two members from the LA Kings leading Team Canada in scoring through three games?)
You could make a very easy argument that Doughty was the best player in the preliminary round of the Olympics. It's tough to argue against that. You really can't even try to argue against that when it comes to Sunday's result.
Major credit goes to Finland, first and foremost. They are as strong of a defensive team as it gets and they showed why the North American teams always face questions about the international ice size. Canada could hardly penetrate the Finnish defense, spending so much time by the boards. On this sheet of ice, those boards are a long ways from home, as in the net. Canada had more in the way of scoring chances by a good margin but they still didn't get a ton of tremendous chances in the game because there was very little getting inside the teeth of the defense.
Canada was clearly frustrated by it and that played into the hands of the Finns. Don't believe me, take Matt Duchene's word for it.
Duchene ripped big ice, said that's why NHL should never go to it because it'll get rid of all the offence.

— Stephen Whyno (@SWhyno) February 16, 2014
It must be noted that neither of Canada's two goals in this game came when Finland had five skaters on the ice. Doughty's first came on the power play in the first period and his second came in overtime at 4-on-4. When Finland had its full complement of players, Canada didn't score. However they were more likely to with Doughty on the ice.
With the way the Finns forced Canada to play -- and how the Swiss, if they reach the quarters, will force Canada to play -- it's imperative to get solid play from the blue line and from behind the net, the areas to the outside. They were getting that from Dougthy. Not consistently, but against a scheme such as Finland, nobody will give that to you. Canada has to generate more offense against these teams for Doughty can't do it all.
This doesn't even mention the job that Doughty and the rest of the Canadian defense have done in their own end. In three games now Canada has ceded just two goals. Against Finland they gave up 15 shots in an overtime game. Over the last two periods and the few minutes of overtime? Seven.
The international ice and the way these teams will defend necessitate the defensemen who can do it all, but in particular have the puck-moving, offensive skills. With four goals in three games, Doughty is showing he has those skills. When you have elite defensemen, you always have a chance and Doughty has been nothing short of elite.
It's pointless to wonder where Canada would be right now without Doughty, even after he was the only player to score for the team in red because they do have him. And right now he's helping to keep this team looking like the strong gold-medal contender it is.
The former Boston Bruin was the first black player to play in the NHL

Inclement weather led to the Charlotte Checkers and Bridgeport Sound Tigers playing in front...

The NHL chose the Detroit rocker as its All-Star Game entertainment and not everyone is th...
NHL fans from all over seem to agree on one thing: Hating Kid Rock

The team tweeted on Monday that Shaw would be re-evaluated in 7-10 days

The Montreal forward was hospitalized after taking a Zdeno Chara slap shot to the head