Ducks don't know who they will turn to in goal as playoffs approach
Jonas Hiller has been in such a slump that the Ducks have turned to rookie John Gibson, he of two NHL games, down the stretch and coach Bruce Boudreau isn't sure where they will go from here.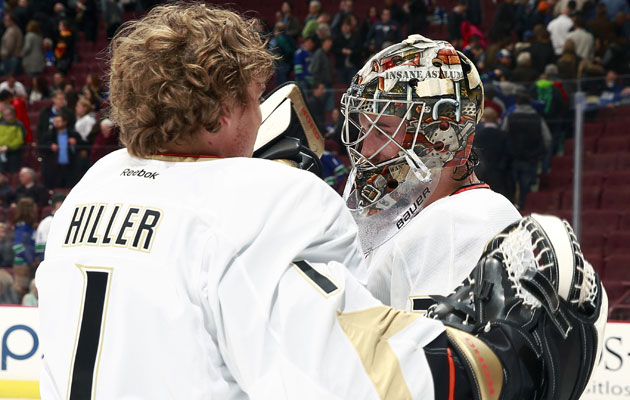 More NHL: Trades | Scores | Standings | League Leaders | Odds  | Power Rankings
The Anaheim Ducks are your Pacific Division champions after their 5-2 win over the Sharks on Wednesday night. They could also potentially finish as the best team in the Western Conference as they're a point up on the St. Louis Blues, though they have played an extra game.
Which makes it all the more amazing that the Anaheim Ducks have major uncertainty in goal just a few days before the playoffs begin.
Their regular No. 1 for a long time now, Jonas Hiller, has been in a major funk. In the month of March he had a save percentage of .889. In two April starts it was even worse at .841. In his last 10 starts, the Ducks only won three. Meanwhile his backup, Frederik Andersen, has been very good this season in his appearances but right now he's injured and there's no clear timetable when he'll return.
That led to Ducks coach Bruce Boudreau electing to start top goalie prospect John Gibson in the last two games, including the pivitol matchup against the Sharks with the division title at stake. All the American junior star has done is hold opponents to two goals in two games, including a shutout of the Canucks in his NHL debut.
Is it possible, then, that the Ducks might begin the playoffs with a rookie goalie with fewer than five career NHL games? From the LA Times:
Gibson, meanwhile, dealt with more shots on goal with 9:02 remaining in the second than he did while beating Vancouver, 3-0, Monday night with 18 saves.

"It was a lot faster tonight," Gibson said. "Big game, a lot on the line ... Playoff hockey."

Asked if he expects to remain in goal over primary starter Jonas Hiller or 19-win rookie Frederik Andersen in the playoffs, Gibson said, "We'll see."

Of his decision to play Gibson on Wednesday, Boudreau said, "It's a little bit of a gamble ... My gut feeling [was] that he'd be the guy at this stage who'd really jump up and do a bang-up job for us. ... I don't know what we're going to do now."
How crazy is it that a team that is a top seed in the playoffs doesn't know what to do about their goaltending just a few days before the postseason begins and that potentially their best option is a rookie?
(The answer is very crazy, by the way.)
For the record, the Ducks are not the only monster from the Pacific with a goalie issue as the playoffs approach. Antti Niemi hasn't been good for the Sharks lately either which led to this interesting comment from Todd McLellan after the loss in Anaheim.
Asked McLellan point blank if Niemi is his guy going into the playoffs. "Nemo is one of our guys going into the playoffs." #SJSharks

— Kevin Kurz (@KKurzCSN) April 10, 2014
A reminder: The Los Angeles Kings are also in the Pacific and they are pretty set with this goaltender by the name of Jonathan Quick.
S/t PHT
Los Angeles isn't rushing to sign the 45-year-old forward any time soon

The University of Denver star and Hobey Baker Award winner is drawing interest

Intrigue is high in Arizona after a wild offseason, but expectations should still be tempe...
Players are set to give personalized messages for Adidas' former hockey equipment brand

The 40-year-old center is returning to the Wild after a successful run in Pittsburgh

Edmonton locks up its 21-year-old RFA a month after McDavid's historic extension