Ducks holding spot for Teemu Selanne if 'he wants it bad'
Teemu Selanne can take all the time he needs to decide if he'll return because the Ducks still have a spot for him if he wants it bad.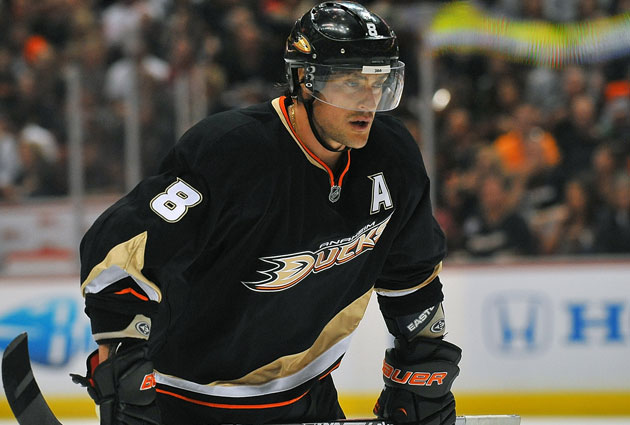 More NHL offseason: Rumors | Top 50 Free Agents | Buyout Tracker | Trades | Transactions
One big-name free agent still unsigned is the great veteran Teemu Selanne , however the only intrigue there is if he will return, not where. That part we know.
As has been the case for a few years now, the Anaheim Ducks have a spot open for Selanne should he choose to accept it (don't worry, that offer won't self-destruct). If he decides to keep playing then it will be in Anaheim and nowhere else.
While there is no rush as far as the Ducks are concerned, GM Bob Murray wants to make sure of one thing before Selanne is welcomed backed: That he is 100 percent certain that's what he wants to do.
"I want Teemu to play if he's 100-percent sure he wants to play," Murray told NHL.com. "If he's not sure, if he's not feeling -- when you get to that age, he's got to want it bad. If he's sure he wants it bad, then we'll make it work, whatever I have to do. The only answer I need is he's 100-percent sure he wants to play. That's the only answer I need. I told him that the other day. I don't care when he tells me. We'll find a way. We've got lots of cap space, we have enough contracts."
Last year it seemed like a no-brainer; Teemu had just come off another fantastic season, let alone for somebody his age. However this past year despite the team's success being up, his numbers were down. Somewhat substantially. He had 12 goals and 12 assists in 46 games, seeing a reduction of more than two minutes per game in his ice time. Now that he's 43, perhaps that declining production and role will weigh a little more heavily on him.
Speaking selfishly, I sure hope not. Selanne is still one of the most fun players to watch just because of who he is. The day he hangs up the skates will be a sad one.
For the record, I do expect he will return for one final season.
This might be the new norm at the Winter Olympics, so here are three reasons why

It isn't a surprise to anyone, but an NBC executive acknowledged the ratings

SportsLine's Mike McClure, a DFS pro with more than $1M in winnings, gives optimal lineup...
The Blackhawks take a stand against racism by banning four fans from future home games

With Brian Elliott and Michal Neuvirth hurt, Philadelphia adds a big name to the net

David Kelly has nailed 35 of 42 NHL picks and he just locked in a selection for the Ottawa-Nashville...