Ducks to wear old jerseys on 90s retro night, Oct. 13 vs. Senators
The Mighty Ducks of Anaheim will be back for one night on Oct. 13 as the Ducks go retro against the Senators. Quack!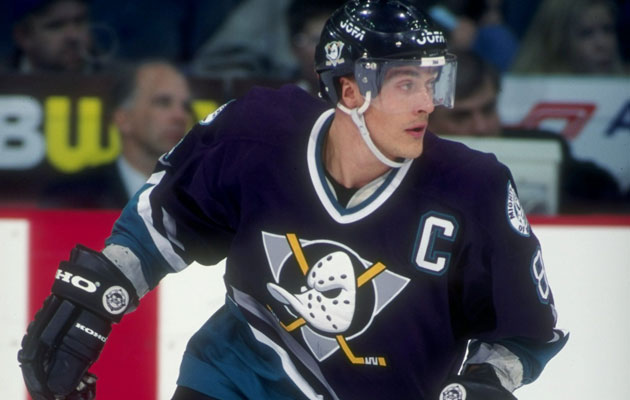 More NHL offseason: Rumors | Top 50 Free Agents | Buyout Tracker | Trades | Transactions
The Mighty Ducks of Anaheim are coming back, for one night at least.
As part of the franchise celebrating its 20th year in existence, the Ducks announced on Friday that they're going to go back in time to the 1993-94 season and honor their first team in their Oct. 13 game against the Senators. That means the original purple jerseys will be back so make you don't miss it.
We know Viktor Fasth is ready.
In addition to that, the Ducks will have the majority of the inaugural team there to be honored while the arena will be transformed into a 90s scene for the night.
Fans attending "Throwback Night" can anticipate an all-1990s experience. A special "93 Cent Menu" will be created for the evening, featuring $0.93 popcorn, a $0.93 fountain soda and a $0.93 sweet treat. Video elements will include look-backs at original Mighty Ducks opening videos and footage from the club's inaugural game on Oct. 8, 1993 vs. Detroit at the then-Arrowhead Pond of Anaheim. A majority of the original 1993-94 Mighty Ducks of Anaheim squad will take center ice for a pre-game ceremony and honorary puck drop. Fans can also look forward to early 1990s music, as well as early 1990s graphics and video elements as part of in-arena entertainment. A variety of retro merchandise will be available on Oct. 13 at the brand-new Anaheim Ducks Team Store, set to open on Oct. 10 (home opener vs. New York Rangers).
Unfortunately beer won't come down to 1993 prices but still, that sounds like an awesome night, now doesn't it? As an added bonus, you will be able to get retro Ducks merchandise starting earlier in the week so stock up.
For those curious, here were the top 10 songs for the week of Oct. 9-15, 1993 that you might hear inside The Pond that night.
1. Dreamlover, Mariah Carey
2. Right Here/Downtown, SWV
3. Whoomp!, Tag Team
4. The River of Dreams, Billy Joel
5. If, Janet Jackson
6. Can't Help Falling In Love, UB40
7. Another Sad Love Song, Toni Braxton
8. Will You Be There (From "Free Willy), Michael Jackson
9. I'd Do Anything For Love, Meat Loaf
10. Runaway Train, Soul Asylum
That's going to be a rockin' night.
It sounds like the only thing missing is the Flying V.
Los Angeles isn't rushing to sign the 45-year-old forward any time soon

The University of Denver star and Hobey Baker Award winner is drawing interest

Intrigue is high in Arizona after a wild offseason, but expectations should still be tempe...
Players are set to give personalized messages for Adidas' former hockey equipment brand

The 40-year-old center is returning to the Wild after a successful run in Pittsburgh

Edmonton locks up its 21-year-old RFA a month after McDavid's historic extension