Dustin Brown signs eight-year contract extension with Kings
Dustin Brown has signed an eight-year contract extension with the Los Angeles Kings. It will pay him $5.75 million per season.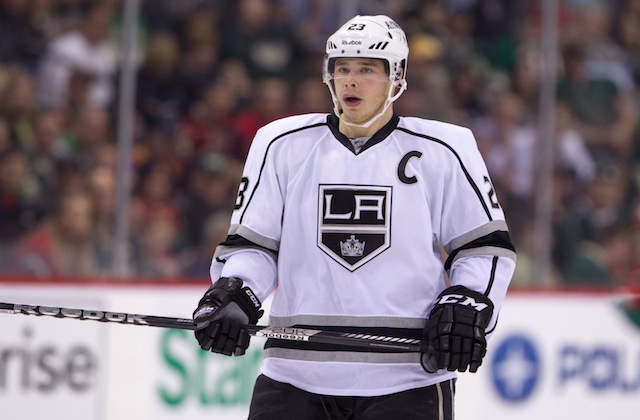 More NHL offseason: Rumors | Top 50 Free Agents | Buyout Tracker | Trade Tracker
The Los Angeles Kings are making sure their captain is going to be sticking around for a long time.
The team announced on Thursday that it has agreed to terms with forward Dustin Brown on an eight-year contract extension. Terms of the deal were not released by the team, but Sportsnet's Chris Johnston reports that it's worth an average annual salary of $5.75 million per season.
Brown is entering the final year of his contract in 2013-14 and will count $3.175 million against the cap this season. It's perhaps one of the best value contracts in the NHL.
The 28-year-old Brown has spent his entire career with the Kings and has become one of the better two-way wingers in the league. He's usually good for about 20-25 goals per season but is also a strong possession player, and he's one of the best players in the league when it comes to drawing penalties. He's a tough player to play against and seems to be the type of guy who everyone wants on their team, but absolutely hates that he isn't.
An eight-year contract at this point in his career is a bit of a risk for the long-term, but he's still one of their best and most valuable players and should be for a few more years. Concerns over the length of the contract aside, the cap hit is still a really good deal for the Kings, especially given what he could have received on the open market next summer.
With Brown now signed, the Kings have quite a few of their core players signed to long-term deals, including Anze Kopitar, Drew Doughty, Jeff Carter, Mike Richards, Slava Voynov, and Jonathan Quick.
Sign up now, and your name can be under the Golden Knights' skates, too!

Pittsburgh coach Mike Sullivan says the team also respects players' right to protest

Some familiar faces are back, but a cap-strapped summer left Chicago a little shakier than...
The Pittsburgh Penguins will put politics aside and visit the White House out of 'respect'...

NBC will reportedly be devoid of NHL game broadcasts between Feb. 7-26

The Winnipeg winger suggests Trump is going after 'the principles the U.S. was founded on'