Dustin Byfuglien isn't the problem in Winnipeg
Dustin Byfuglien is facing criticism in Winnipeg, but he's not the reason the team stinks.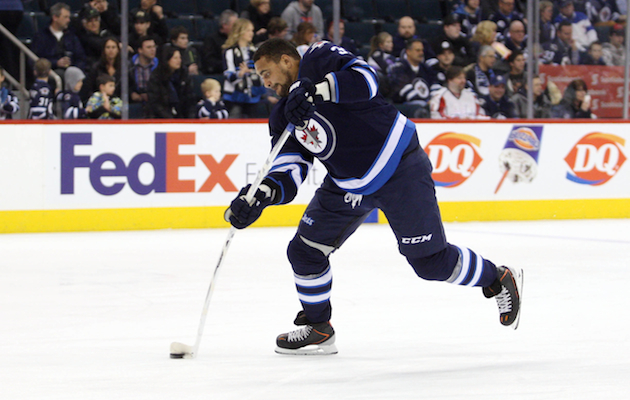 More NHL: Scores | Standings | Odds | Fight-O-Meter | League Leaders | Rumors
The Winnipeg Jets missed the playoffs again this year, making it the sixth consecutive season -- and the 12th time in the franchise's 13-year existence, dating back to its days in Atlanta -- that the team has fallen short.
That's a pretty terrible record. And when a team is that bad for that long, it's normal to look for somebody to blame. Unfortunately, that blame usually gets misplaced in the direction of the best players on the team because, well, they're not doing more to be a part of the solution. If the team is losing, it must be their fault because they're the guys who are counted on to create wins.
This seems to be a consistent problem in Winnipeg (and, in fairness, nearly every city that has a professional sports team) where players like Evander Kane and now Dustin Byfuglien seem to be wearing out their welcome with the local press. Even though they're by far the two best players on the team.
The criticism of Kane has been well-documented here in the past. It now seems to be shifting to Byfuglien, one of the team's highest paid (his $5.2 million cap hit trails only Kane's) and most productive players.
Jets beat writer Gary Lawless has a rather scathing column on Byfuglien in Saturday's Winnipeg Free Press, arguing that the Jets "cannot and will not move forward as a team with Byfuglien as he is currently constructed." Byfuglien's conditioning and weight have been a constant focus in recent years, and he does have some imperfections defensively. But he's still a wildly productive player and a guy whom probably every general manager in the league would want on his team.
Will Byfuglien transform into a defenceman the Jets can count on every night? Or will it be the status quo? If it's the latter, it's time to part ways. Trade him now while there is still value. The perfect deal likely won't be out there but not moving will haunt this franchise.

Byfuglien won a Stanley Cup as a complementary player with the Chicago Blackhawks. Since he's been elevated into a primary role with the franchise now known as the Winnipeg Jets, there have been no playoff games. Not one over the last three years.

There are all sorts of issues that add up to this result but Byfuglien is a major part of the formula that hasn't produced.
Trading your best players isn't likely to make the formula any better.
There are, of course, many reasons why the Jets have failed to make the playoffs with Byfuglien as the one of the centerpieces to their team over the past three years, and he's not near the top of the list.
When a team stinks, the best players are always the guys who get singled out the most because they're the most visible and make the most money, which makes them easy targets. This same thing used to happen in certain sections of the Toronto media with Phil Kessel before the team returned to the playoffs this season (in large part because of Phil Kessel, of course).
It's not the fault of Byfuglien and Kane that the rest of the team assembled around them (with a few exceptions: Andrew Ladd, Blake Wheeler, Tobias Enstrom) just isn't very good. The problem with the Jets isn't Kane and his perceived maturity issues off the ice or Byfuglien and his "commitment." The problem with the Jets is they don't have enough players like Kane and Byfuglien to make a difference.
They're not part of the problem, but they could be part of the solution if they had more talent around them. No two players are going to turn a team into a contender if they're surrounded by a steaming dumpster fire (look no further than Tampa Bay, a team that can't crack the playoffs with Steven Stamkos and Martin St. Louis dominating the league offensively. I don't see anybody arguing that it's time for the Lightning to trade them).
A guy like Byfuglien is also an easy target because he doesn't have the "look" of a professional athlete. He's had some weight issues, he's big, and he's probably not going to be a guy used to sell jeans. But when it's time for the puck to drop, the guy is simply able to get the job done. He has been one of the most productive players at his position over the past three years. Since joining the Atlanta/Winnipeg franchise (when he was shifted to defense permanently) only Ottawa's Erik Karlsson has more points, while only Karlsson and Pittsburgh's Kris Letang average more points per game.
He has some shortcomings defensively, but that sort of production from the blue line doesn't grow on trees and isn't exactly cheap or easy to acquire. When you get it, you would probably be wise to hang on to it because you're probably not going to get fair value in return. Critics will point to the number of goals the Jets give up when he's on the ice, but a guy who plays as many minutes per game (more than 24) as Byfuglien does on a bad defensive team with bad goaltending (a major problem that doesn't get anywhere near enough attention in Winnipeg) is going to get scored on. A lot.
That doesn't mean he's not a valuable player.
If the Jets want to get better, they would be wise to add better players to surround Kane and Byfuglien.
Not get rid of them.
The NHL says it's only interested in expanding to Seattle, but here's a look at all the moving...

The NHL says it is only looking toward Seattle for the next expansion team

The 33-year-old defenseman hopes to help find a cure for serious head injuries in athletes
Chicago becomes the latest NHL club to earn an evaluation of $1 billion or more

The city council has approved a $600 million redevelopment project for KeyArena

Arvidsson took off his glove to reveal an engagement ring for one lucky fan