Dustin Tokarski to get start for Canadiens again in Game 3
Dustin Tokarski was solid enough in place of the injured Carey Price in Game 2 that Canadiens coach Michel Therrien is turning back to him for Game 3.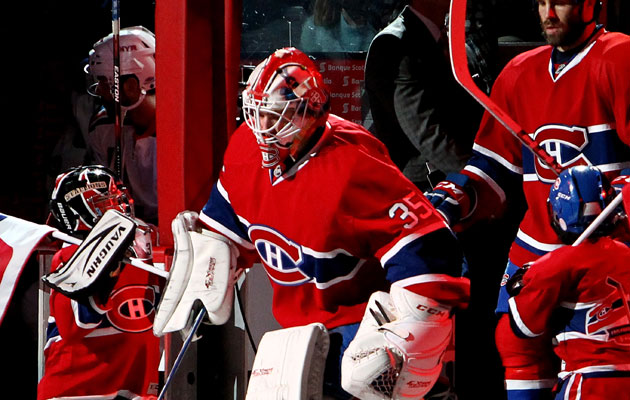 More NHL Playoffs: Schedule, TV listings | Expert Picks | Bracket | Scores | Odds
Dustin Tokarski's playoff debut went well enough in Game 2 for the Montreal Canadiens that he will get the start again in Game 3 on Thursday night in New York.
Michel Therrien vient de confirmer que Tokarski sera devant le filet demain./ Therrien confirms that Tokarski will get the start in Game 3.

— Canadiens Montréal (@CanadiensMTL) May 21, 2014
After the injury to Carey Price in the first game, a 7-2 loss to the New York Rangers, coach Michel Therrien elected to go with the very inexperienced Tokarski over his veteran backup Peter Budaj.
It was a decision that was easy to question but in the end, didn't look so bad. Sure, the Canadiens lost the game 3-1 but Tokarski didn't play poorly. At this point, without your No. 1 goaltender, that's about the most you can ask for; just don't lose us the game.
One of the Rangers' goals went in off a Habs defender and another was on the power play with a rocket of a shot in which Tokarski had little chance. The problem wasn't Tokarski in net, it was Henrik Lundqvist in the Rangers' net.
Why did Therrien not go with Budaj in Game 2 to open the door for Tokarski to start again in Game 3? Despite a respectable .909 save percentage in 24 games as the backup, Budaj has a terrible track record in the postseason with a career save percentage of .843 in seven games and a 5.10 goals against average. That made Tokarski's lack of any NHL playoff games not look so bad.
The Oilers' young star remains seriously unfair

David Kelly, a Toronto-born hockey analyst, has strong advice for Edmonton vs. Chicago game...

Gary Bettman says otherwise, for the time being, but Houston could be primed for a team
Here's what you might have missed across the NHL on Wednesday night

Ovi breaks down doors in Virginia

Winger also says he will no longer raise a fist during the anthem after his protest started...