Early season trends: Will scoring remain up and can Hertl keep it up?
When early season trends emerge it's hard to tell if they're real or not. Can scoring remain up? Can Tomas Hertl remain the elite rookie?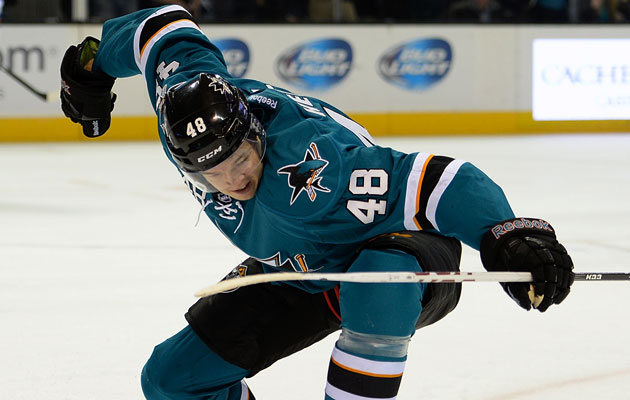 More NHL: Scores | Standings | League Leaders | Odds | Injuries | Power Rankings
The season is hardly two weeks old so it's difficult to read into anything that we see beyond just random occurrences. At this point that's about all you can take as a couple of games is a small enough sample size to incredibly skew numbers. For instance, having played one game against Florida, the Blues were the highest-scoring team in the league. While they have some real talent there, we all know the Blues won't be the top scoring team in the league, it's just not how they play.
In some ways the small sample sizes are a lot of fun. You know how everybody says "hey, Mikhail Grabovski is on pace for 246 goals this season!" after opening-night hat tricks? Yea, that stuff is silly but fun nonetheless. It's when you get a couple of games deeper and trends start to develop that people can get excited, sometimes a little overexcited. The small sample sizes can make fools of everybody.
Determining what's just a hot streak vs. what's liable to stand the test of an 82-game season is difficult. Here are five such early trends with some predictions on if they have lasting power or not.
Scoring will remain up: Yes.
Since opening night when every team in the three games had at least three goals, it's just felt like scoring has been up so far across the league. In thise case, perception is reality as scoring is as high as its been in the past five seasons (numbers courtesy of Hockey-Reference.com).
Scoring in past five seasons
Season
Team goals per game
PP opportunities per game
PP conversion percentage
2013-14
2.89
3.62
20.88
2012-13
2.73
3.33
18.28
2011-12
2.73
3.31
17.31
2010-11
2.79
3.54
18.02
2009-10
2.84
3.71
18.23
Some anticipated that we'd see more goals this season as a result of the NHL's mandate to shrink the goalie pads and reduce the depth of the nets. While there have been perhaps a couple of goals this season that snuck through the five hole that in previous seasons wouldn't have, there haven't been many, perhaps not as many as the league was expecting in the early going. Goaltenders are big and good in this league, they are adjusting to this just the same as they adjust to everything else the league changes.
But it should still make a little difference. That small adjustment could be just enough for teams this season to score at just a slightly higher pace and give the illusion that it's a little more "exciting," for the people that equate shots going in with more excitement (in my opinion it's all about quality attempts not actual goals).
The real difference though doesn't appear to be related to goaltenders' pads but the officials. Notice that the amount of power plays per game are up this season and scoring is too. It's no coincidence that in the past five seasons the highest-scoring seasons correlated with the most power-play opportunities. The league put an emphasis on a lot of different rules this season and so far it's leading to more chances with the man advantage. Also, take note the conversion rate is a little higher this season. Perhaps that's due to the pads ... or it's just a small sample size and it will drop.
Tomas Hertl will continue to lead rookies in scoring: No.
The Sharks rookie is off to an incredible start in his career. It helps that the Sharks are off to an incredible start to their season, too. But after his ridiculous goal on Tuesday night, Hertl has been a national sensation, the smiling Teenage Mutant Ninja Hertl's face making all the major networks that seem to only mention hockey when it's the Stanley Cup Final or something bad happens.
While I along with almost everybody else loves what Hertl can do with his combination of speed and terrific skill, times won't be this good all season. Hertl does have a built-in advantage of playing with Joe Thornton and Brent Burns, so that is going to help him keep pace immensely but remember, 19-year-olds have their highs and their lows. Right now he's on one incredible high and it's likely at some point a low or lows will come too.
Obviously his numbers aren't sustainable, that's not a surprise to anybody. He's not going to score four goals per game or shoot close to 50 percent all season long or lead the entire league in goals and points all season, clearly. The question is if he can maintain a high enough rate to hold off the other rookies and a guy like top overall pick Nathan MacKinnon, who has four assists through three games?
In this case I'll take my chances on the field catching Hertl, but I'll admit I don't feel incredibly comfortable with that pick, especially if San Jose can continue to outshoot opponents by a 2-1 margin every night. Either way, things look excellent for Hertl's career and the Sharks moving forward, there's no denying that.
Steve Mason will continue to play lights out in Philly's net: No, but ...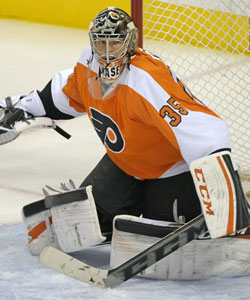 Before Mason arrived in Philadelphia last season, he was arguably the worst goaltender on an active roster in the league. After his fine rookie season that earned him the Calder, he went downhill in a hurry to the point his career save percentage was hovering right around .900. Why the Flyers or anybody else would want him at that point was a fair question, he looked like damaged goods (or just bad).
With the new chance in Philadelphia he finished with a bang but forgive me for having remained skeptical that a switch was turned on. His .944 save percentage in seven games for the Flyers was just too absurd. It was a hot streak. Starting this season I expected he'd fall back to earth and become the goaltender that his track record suggested he is, especially since the Flyers still don't have the league's greatest defense.
Only a funny thing has happened; Mason hasn't. Sure, his .935 save percentage in three games is below what he did last season but it's still a crazy good number and infinitely better than what he was doing in Columbus. Really, Mason has been superb and that' no exaggeration. The Flyers haven't been able to score yet they've been in games. Frankly, they should have lost to the Panthers the other night in what was their first win but Mason saved them there, too. He has been exceptional.
For me it begged the question; was there really something to all of those offseason narratives that a fresh start and a new chance ignited something in Mason that will allow him to become the goalie everybody thought he would be when he was a rookie? I'm still dubious. A guy who didn't post a save percentage above .901 over a three-season span shouldn't make a total 180.
But here's the caveat: That's not to say Mason has to fall back to being a .900 goalie either. Just because he didn't turn the corner and become Superman doesn't mean he didn't still turn a corner to become a good goaltender. The sample size obviously remains small but so far Mason hasn't done what people keep expecting of him and that's to fall flat on his face in Philly. At this point I am starting to think it can continue -- within reason.
Seth Jones will continue to average more than 23 minutes per game: Yes.
Rookies are usually worked into the rotation slowly, especially defensemen. It's not common to see a Dman taken in the first couple of picks in the draft log major minutes because the learning curve at that position in particular is steep. That hasn't stopped the Predators from playing Seth Jones like a veteran in the early going.
Through three games Jones has been averaging 23:08 of ice time per game. Last game when paired with Shea Weber, Jones clocked 25:02. That's a major role being asked of a rookie on the back end in Nashville, though it was aided by circumstance. With Weber's normal partner Roman Josi being out of the lineup with a concussion, it gave Jones the opportunity to join the top pairing with Weber and log that 25:02.
So it seems like Jones' ice time would hinge on Josi and his return because you'd have to figure that when he gets back, he'll rejoin forces with Weber. If he doesn't then Jones will undoubtedly crack the 23 minutes per game mark if things continue to go well but if he doesn't remain with Weber, can he still? I believe the answer is yes.
Consider that in the second game of the season, before Jones joined Weber in the top pairing, Jones actually had more minutes (OK, seconds) than when he was paired with Weber. Against Colorado Jones saw the ice for 25:46 while paired with Mattias Ekholm for the majority of the game. It's crystal clear in the early going that coach Barry Trotz is as high on Jones as GM David Poile was at the draft when he couldn't stop raving about his luck in landing Jones at No. 4. The Predators are going to go full-throttle with Jones from the start.
It's of interest to note Jones isn't the only rookie defenseman seeing a big role, but Jones is getting the biggest. Right now he's 37th in the league in ice time per game, right on the heels of guys like Brent Seabrook and Zdeno Chara.
The Calgary Flames will continue to not stink: No.
Expectations for the Flames everywhere outside their dressing room were that the Flames would be bad this season, really bad. When making the prediction rounds across the Internet, it was probably impossible to find somebody who didn't peg the Flames to finish last in the new Pacific Division. That wasn't a bad thing either for the franchise. They are finally admitting they're in a rebuilding situation so being bad for a couple of seasons isn't the worst thing to help build back up.
But through two weeks this doesn't look like a team that's tanking, now does it? The Flames have played four games and the Flames have at least a point in every game. They're tied for the division lead (I know, incredibly early) with the Sharks and Canucks at this point. I think some people would have been surprised if the Flames had six points by Halloween.
Question is, will it remain like this, will the Flames almost jeopardize their own organizational plans by playing better on the ice and being a competitive team? I just don't see it. For starters, I still cannot trust a team with the goaltending tandem of Karri Ramo and Joey MacDonald.
Moreover though on something that's a little more analytical than gut feelings, is their team close Corsi, a measure that indicates the percentage of shot attempts in a team's favors. against in a tight game when the playing field is presumably even. The more shots you're attempting, the more you have the puck and the more you have the puck the greater the chances you're going to score more and hold your opponent to fewer goals. In this metric the Flames are 22nd in the league according to Extra Skater at 46.7 percent. Some teams break the rules in terms of statistic indicators but that doesn't suggest a sustainable model. Their team shooting percentage is 11.1 percent. That's likely to go down as well and defensively they've been leaky, unable to hold on to leads they've built (even in Wednesday night's win they almost lost a three-goal lead).
If fans in Calgary want a taste of winning again, enjoy this start while it lasts because it very likely won't. Again, that's not a bad thing, they could use more high draft picks to select guys like Sean Monahan.
Saturday's showdown will serve as a rematch of one of the NHL's first-ever regular season...

Stacia Robitaille says Donald Trump told her in an elevator that she was coming home with...

Vladislav Yeryomenko was the Teddy Bear Toss goal scorer for the Calgary Hitmen
The Golden Knights are finally getting their No. 1 goalie back after a 25-game absence

Washington has won four straight, and the Kings are also on a tear right behind the Lightn...

The NHL says it's only interested in expanding to Seattle, but here's a look at all the moving...