Eastern Conference finals get physical as Bruins take early lead
It didn't take the Penguins and Bruins long to start hating each other on the ice, as we saw during Game 1 on Saturday.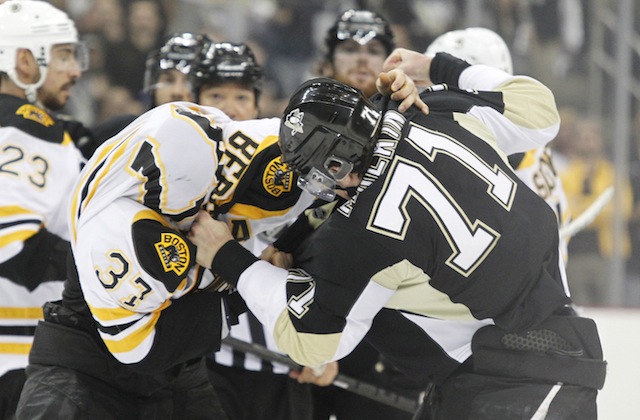 More NHL Playoffs: Scores | TV Schedule | Expert Picks | Odds | Mock Draft | Rumors
PITTSBURGH -- Well that certainly escalated quickly.
Boston's 3-0 Game 1 win over the Pittsburgh Penguins in the Eastern Conference final on Saturday night had a little bit of everything, and it didn't take either side long to form a healthy dislike of one another.
Bruins fans have another reason to hate Matt Cooke, Brad Marchand returned the favor with an equally bad hit on James Neal but without the same punishment, and Patrice Bergeron picked a fight with Evgeni Malkin at center ice, resulting in both players falling to the ice after a series of haymakers.
And that was just during the first 40 minutes.
Dan Bylsma admitted after the game that it's not the type of game Pittsburgh wanted to get into and that it seemed to throw them off their game a little.
If there's one thing that almost always seems to undo the Penguins it's getting involved in games like this where emotions reach a boiling point. Once the third period started, with their best player on the night (Malkin) sitting in the penalty box for his late second period fight, the Penguins certainly seemed to be off of their games and not anywhere the team they were in the first two periods.
The thing about this game is the Penguins weren't that far off in some areas, at least early in the game. They had some defensive breakdowns in their own zone that led to goals, but were the better team for the first period and part of the second period.
The difference in the game to that point was a couple of shots off the post and a near miss along the goal line late in the first period, and Bruins goalie Tuukka Rask playing one of his best games of the postseason (and that's saying something because he's been great for the Bruins).
And then completely lost it in the third period.
Let's try to break Game 1 down into a few different parts, if we can.
Matt Cooke and Brad Marchand
Matt Cooke deserved a penalty for his hit from behind on Adam McQuaid, I have no doubt about that. Whether it's a five-minute major and a game misconduct or a two-minute minor is up for an irrational level of debate (and we're already there), but it was definitely a penalty, I'm confident of that much.
The Bruins, including coach Claude Julien and defenseman Andrew Ference, were pretty consistent in their position after the game that it wasn't their place to offer an opinion on the hit and that it's up to the NHL from here if anything else happens.
It will surely be reviewed, as are all questionable hits and plays that result in an ejection.
I'm also confident that if that's just about any other player on the ice in that situation delivering that hit it probably doesn't warrant the same punishment.
Why so confident?
Because later in the second period Brad Marchand did this to James Neal, a hit that was just as bad if not worse as Cooke's hit on McQuaid, and received only a two-minute minor and no game misconduct.
This game is the NHL in a nutshell. Reactionary. Reputation. And maddeningly inconsistent. If one of those plays is worth five and a game, they both are. If one is worth a two-minute minor and no ejection, they both are.
The only difference here is that Brad Marchand doesn't have Cooke's reputation and track record of suspensions, while Neal did not stay down on the ice and head to the locker room immediately after the hit.
Patrice Bergeron should not be fighting under any circumstances
I don't care what leads to it or who is involved, Patrice Bergeron can not and should not be fighting. Ever.
For one, he's too valuable to the Bruins to be spending five minutes in the penalty box. He's perhaps their best all-around forward when you take into account his playmaking ability, shutdown defensive game, and ability in the faceoff circle. That alone is a negative for the Bruins.
But when you take into account the amount of time he's missed in his career due to concussions it makes the decision to fight cringeworthy.
If the Bruins are going to throw their muscle around and get into a game like that there are more than 20 other players on the roster that should be dropping the gloves and fighting over Bergeron.
Tuukka Rask is capable of stealing a game, and perhaps even a series
While Matt Cooke, fights, and questionable hits will steal the show, let's not overlook the fact that Boston has a pretty spectacular goalie and he was on top of his game on Saturday. Despite the score there were parts of this game where Pittsburgh seemed to have the better of the play only to have Rask form an impenetrable force field around his net.
The Penguins seemed to have the better of the scoring chances for most of the night (they outchanced 21-17 overall) but simply could not beat Rask. And they did get pucks past him they either rang off the post or just simply didn't find the back of the net (like Evgeni Malkin's shot at the first period buzzer that bounced along the goal line).
Coming into this series goalie was the one area that Boston could have a clear advantage (and if you're going to have an advantage, that's a great area to have one).
On Saturday that's exactly the way it played out. It's not that Tomas Vokoun was bad for Pittsburgh (he wasn't. He wasn't great, but his defense left him out to dry on at least two of those goals) but it was simply a matter of Rask being that much better.
And it's a big reason why they have a 1-0 series lead.
It's time to hook your favorite NHL fan up with some Black Friday deals

The Lightning have Steven Stamkos to thank, and the Blues should be extra grateful for Brayden...

The Sabres will face the Rangers at Citi Field on New Year's Day in these sharp threads
SportsLine's Mike McClure, a DFS pro with more than $1M in winnings, gives optimal lineup...

Without the star power of the NHL, America is banking on big contributions from some AHL, KHL...

Lincoln Financial Field will play host to the annual outdoor game on Feb. 23, 2019