Eastern Conference Finals Preview: Canadiens vs. Rangers
The Montreal Canadiens and New York Rangers are a small surprise as the Eastern Conference Finals matchup but with a Stanley Cup Final spot on the line, it should still be great.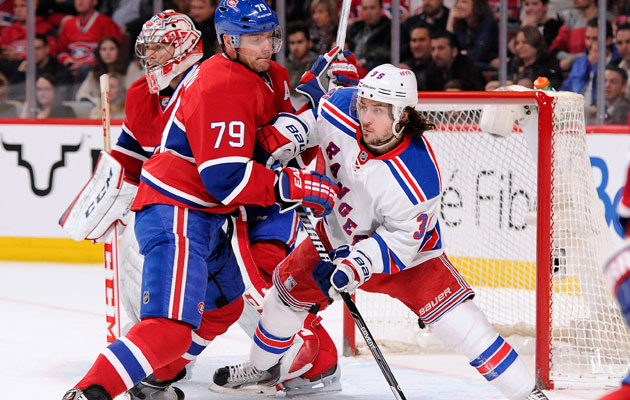 More NHL Playoffs: Schedule, TV listings | Expert Picks | Bracket | Scores | Odds
When the Eastern Conference semifinals were set, it sure seemed like we were headed for a repeat of last year's final: Bruins vs. Penguins. That seemed especially true in Boston's case because it had been so strong all season and was favored for a reason.
So, of course, here we are with a conference final featuring the Montreal Canadiens and New York Rangers, teams that each slayed division champions with Game 7 wins on the road. They're also teams led by excellent goaltenders, good speed and have that whole Original Six thing in common.
In other words, this should be a heck of a matchup.
What's interesting for the Habs is that they were the lower seed in the first two rounds, playing without the home-ice advantage while the Rangers had that edge in the first round. Yet this time it's going to be the Habs with home ice thanks to more regular-season points. With Bell Centre in the spring, that's an intimidating proposition. P.K. Subban knows it.
"I told the guys, moving on to the third round, you have no idea what [Montreal] is going to be like," Subban said after Game 7 on Wednesday. "I feel sorry for the team that's got to come into our building now."
It's intimidating no doubt, but not just because of all of the Bell Centre theatrics and thundering noise. There is also that fact that the Canadiens are, like their ice in the pregame show, on fire. Remember that incredible comeback at Ottawa in mid-March when the Habs scored three times in the final four minutes including one in the final second and won in OT? Well including that win, the Canadiens are 18-6-1 since. Think that was a defining moment?
The Rangers, meanwhile have had their own rally. They fell behind the Penguins three games to one in the second round and then became a wall while picking up the scoring a bit, blowing the Penguins out by a combined 10-3 score to take the series in seven. The team seemed to rally around Martin St. Louis and the loss of his mother before Game 5.
All season people looked at the Rangers as a team that you expected to break out but they just didn't ever quite do it. They had great metrics all season but were stymied by their very low shooting percentage, an affliction that has hit Rick Nash this postseason. He has been widely criticized for his lack of production, and his game hasn't been without its issues, but he has been firing shots at a pace that you would expect to yield some goals with 52 already in the playoffs. If he gets some good fortune to go his way, then this becomes a much more intimidating team and the Rangers start to look like a team meeting its high potential.
It's a veteran squad with a coach in Alain Vigneault who knows all too well about Montreal; he has experienced it plenty. How they respond to the atmosphere and challenges Bell Centre will present will be of note because the Habs have jumped all over opponents early in games and have ridden that to wins.
It's not the conference final most people expected when the playoffs began, but each team has definitely earned its way to this point. It shouldn't feature a lot of goals but should still be a good, evenly played matchup.
For one team it will be a long-awaited return to the Stanley Cup Final. Montreal's last trip was in 1993 when the Habs won it all, and for the Rangers it was the next season in 1994 when they, too, won it all. One of them will make it back after what has felt like an eternity.
MON Offense vs. NYR Defense
If this were based solely on the regular-season numbers, this would be a pretty big edge for the Rangers. But in the playoffs, this is a battle of the best on the best.
That's right, the Habs, who finished 21st in the league in goals per game, are leading all playoff teams with 3.27 goals per game and that's after facing one of the NHL's premier defensive teams, the Boston Bruins, for seven games. This is a group that is certainly clicking on all cylinders. What has been really amazing about this group in the playoffs are the contributions it has been getting up and down the lineup. In the first round Rene Bourque was a monster on the third line, and the fourth line with Daniel Briere and Dale Weise was very noticeable in the last two games against Boston. Weise in particular has stuck out with three goals already.
Even better is the fact that Max Pacioretty snapped his minor scoring funk as did Thomas Vanek over the past couple of games while Brian Gionta keeps racking up the chances. And with this team you have to factor in Subban on defense because he was the best skater in the series with Boston. He makes things happen and has a rocket of a shot to boot. They have also been better in the possession game compared to the regular season. Indeed, this is an offense that's a far cry from its regular-season form, and that's in a very good way.
The Rangers, meanwhile, have been consistent defensively from the regular season to the playoffs; consistently stingy. The top pairing is that of Ryan McDonagh and Dan Girardi, a pair that definitely didn't have a tremendous series against the Penguins. But it was the second pairing featuring Marc Staal and Anton Stralman that was doing the dirty work, and doing it well. Sidney Crosby's failures to score but one goal in the series were largely from the defense of Staal. You have to figure he'll be seeing a lot of Pacioretty and/or Vanek in this series, trying to negate the top scoring threats for Montreal.
Part of it is the fact that the Rangers are a very strong possession team -- and their defensemen aid there too with their speed and overall skating ability. But of the teams left, the Rangers are allowing the fewest shots per game in this postseason with just 28.4. And their last line of defense is pretty OK too. This remains a Rangers strength.
NYR Offense vs. MON Defense
This has the potential to be the determining factor in this series.
No matter what the Rangers do or who they add, they seem to have problems scoring with any consistency, especially when we hit the postseason. St. Louis is the latest to join a cast that has some very good names and guys you expect a lot of scoring from but a group that just hasn't done a whole lot of it. The focal point of that frustration is Nash, who remains without a goal and has just five assists in these playoffs, though he has fired 52 shots in 14 games already, a rather astonishing lack of luck.
Without a doubt the most consistent and best line has been their third line, which is a third line in name only. Benoit Pouliot, Mats Zuccarello and Derick Brassard have been threatening more often than not, generating loads of chances and managing the puck well when on the ice. Even the fourth line has had its moments with Brian Boyle, Derek Dorsett and Dominic Moore. The Rangers certainly have the depth to make up for what has been at times a very quiet top six. Still, can the Rangers score enough is a very big question mark; of 16 playoff teams the Rangers rank 13th with 2.43 goals per game.
It doesn't help the Rangers' cause that the Canadiens represent the best defense they have faced so far in these playoffs. It isn't so much a unit that will lock teams down -- they gave up shots in the regular season -- but they've been better in that department in the postseason and not so coincidentally, their goals against are slightly down. You can probably expect to see Subban play close to 30 minutes a game in this series, so far in the playoffs he has been just electrifying and the numbers back it up. When he's on the ice, the Canadiens are playing much better in terms of directing shots the right way vs. when he's off.
The big acquisition at the trade deadline was Thomas Vanek for obvious reasons, but the addition of Mike Weaver has been very sneaky good as he has done what you expect; get in the way of shots and play physically even without a lot of size. Another big move, this one by coach Michel Therrien against Boston, that seemed to pay massive dividends was to insert rookie Nathan Beaulieu in for Douglas Murray. They give up size but gain a lot of speed and the result has been a huge positive. They are a better defense for it.
Goaltending
Here we have two of the world's best goalies going head to head. It's not the first time these two faced off in a huge game; Carey Price minded the nets for Canada and Henrik Lundqvist for Sweden in the Sochi final. Price got the best of him then (though if we're being honest, it wasn't a totally fair fight). But with how both are playing right now, this is the type of series that has 1-0 wins written all over it.
Price has not always had the greatest relationship with playoff hockey and while he has shown flashes of being the high first-round pick he once was but had never really put it all together. Until this season. Price is coming off the best season of his career after posting a .927 save percentage in 59 games. But that doesn't really tell how much he has meant to the Canadiens, a team that had major issues scoring at times. He was the reason the Canadiens were in the position they were in the regular season, a 100-point team. In the playoffs he has been just as good and lately better. He has a save percentage of .926 and has been such a steady, calming presence between the pipes. In the last two games against Boston, with the Habs' backs against the wall, Price stopped 55 of 56 Bruins shots.
Lundqvist is a different story in terms of he's been doing this for a while now, but make no mistake, Lundqvist is still doing his thing at a high level. He just finished a fifth straight season with a save percentage of at least .920 and he has been exceptional in the playoffs with a .931 save percentage. Certainly the Rangers needing seven games in the first two rounds can't be on him. And Price wasn't the only one to play well in elimination games last round; Lundqvist stopped 102 of the last 105 shots from the high-powered Penguins.
The wild card here? Lundqvist at Bell Centre. He doesn't play there often because he's never had much success there. He has lost his last four games in Montreal, and all time is just 4-6-2 with a save percentage of just .876. It hasn't been kind to him, and with the arena guaranteed to be louder than ever, you have to wonder if he can get that turned around.
Special teams
It's funny isn't it, that the Rangers are here ultimately because of their power play? They suffered through one of the worst power-play droughts we've ever seen in the playoffs, failing to convert on 34 consecutive attempts, but they got it clicking at the end of the Pittsburgh series and actually scored the series-clincher on the man advantage. The question is if they have figured it out because for too long they struggled with every aspect; getting the puck into the zone and in their possession, cycling, they were too stagnant. There were a litany of issues despite having guys like Nash, St. Louis, Richards and Derek Stepan at their disposal. It was a power play that was middle of the road during the season at least.
The penalty kill for the Rangers has been softer than normal in these playoffs too, though much of their 82.9 percent kill rate can be blamed on the first series against the Flyers. They did a very good job with a potent Penguins power play. Shot-blocking is still part of their DNA for some guys so it remains tough to get shots through. The sum of their parts, the Rangers have been mediocre in specials teams, at best, in the playoffs.
The Canadiens have been a touch better, at least as a whole. That's because the power play, which again, struggled in the regular season, has been strong in the playoffs. Montreal is converting 26.3 percent of its power plays right now and there is always a threat with Subban on the ice for a booming shot from the point. The Bruins tried to overplay Subban but the Canadiens were still able to generate a lot of offense from their other players and have a very successful go of it.
On the other side, the penalty kill is a very similar story to the Rangers; very good in the regular season (both were top four) but not so much in the playoffs. Montreal is killing just 80 percent of penalties right now, quite a bit below its regular season percentage of 85.1. Certainly, though, the Habs won't have the same challenge in New York that they just had with Boston and Big Z parking in front of the net.
However the special teams could be a relatively moot point in this series because we're talking about the playoffs' two best teams at even strength so far, not to mention the two teams that have been penalized the least.
Predictions
Stacia Robitaille says Donald Trump told her in an elevator that she was coming home with...

Vladislav Yeryomenko was the Teddy Bear Toss goal scorer for the Calgary Hitmen

The Golden Knights are finally getting their No. 1 goalie back after a 25-game absence
Washington has won four straight, and the Kings are also on a tear right behind the Lightn...

The NHL says it's only interested in expanding to Seattle, but here's a look at all the moving...

The NHL says it is only looking toward Seattle for the next expansion team