Eastern Conference playoff race primer: A lot left to be decided
Two spots are clearly spoken for in the East with another two looking pretty solid but the East is anything but settled. We preview the playoff race to fill the field.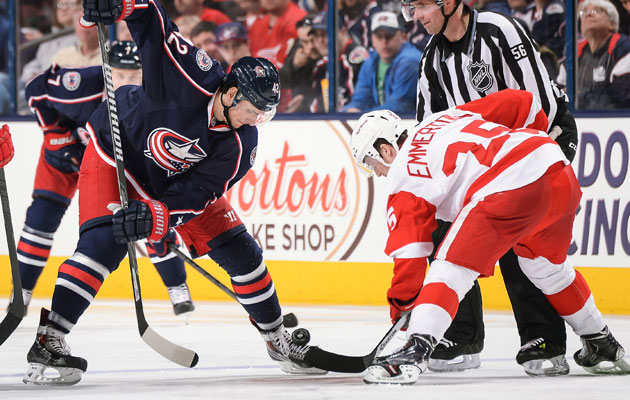 More NHL: Trades | Scores | Standings | League Leaders | Odds  | Power Rankings
It's hard to believe but the NHL is already down to the few weeks of the season, teams have somewhere between 14 and 17 games to go. That means the sprint to the finish line is on.
Remember that this is the first year with the new alignment in the NHL and the new playoff structure that comes with it. No longer is it simply the top eight teams in each conference -- even if it might work out that way -- but it is instead the top three teams in each division with two wild cards to fill out the field.
On Wednesday we took a look at the Western Conference where the majority of the elite teams reside. There six of the eight playoff spots already have RSVPs and really just three teams fighting for the two wild card spots. The East is an entirely different story.
Each division clearly has a winner at this point with Boston leading the Atlantic by 13 points and Pittsburgh ahead of the Metro foes by 18. The Bruins and Penguins have a good battle going on for the East's best record -- and are both not far out of the talk for the Presidents' Trophy but there's no doubting either team is playoff bound.
Behind those two, though, the East is pretty open. In looking ahead to the playoffs the whole goal is just to get in. Once that part is taken care of then you can start to concern yourself with home-ice advantage, matchups, etc. A couple of teams like the Maple Leafs and Canadiens are in good position for the automatic division berths but they aren't locked down at this point so when breaking down the East, we're going to keep everything in perspective of the last wild card spot. Just get in and go from there.
Without further ado, here is your Eastern Conference wild card primer.
Toronto Maple Leafs

Points: 78 -- 2nd in Atlantic, seven points up 9th
Games remaining (home/road): 15 (7/8)
Remaining opponent points percentage: 0.560
Sports Club Stats playoff odds: 82.1%
Question the Maple Leafs all you want as far as playing a winning brand of hockey but the fact of the matter is they are here and are in a strong position to make a second straight visit to the postseason after years of being out of the party.
At this point it's almost silly to wonder if they can keep up their play this way because they've done it the majority of the season. They just got humbled in San Jose but other than that it has been a familiar recipe all season; Jonathan Bernier has been terrific in net while facing a lot of pucks while the offense has been led mostly by Phil Kessel , Tyler Bozak and James van Riemsdyk . The Leafs don't get a ton of chances but they take advantage better than most on the ones they do get.
They will have a real chance to do some serious damage on what is almost an extended home stand. The Leafs still have three games to go on their current road trip and they will end the season with a three-game roadie that includes both stops in Florida. That means in between they will play seven of nine games at Air Canada Centre where they are significantly better this season.
The Leafs are in a pretty comfortable spot but they know too well nothing is over until it's over.
Montreal Canadiens

Points: 77 -- 3rd in Atlantic, six points up on 9th
Games remaining (home/road): 15 (7/8)
Remaining opponent points percentage: 0.538
Sports Club Stats playoff odds: 85.9%
The Canadiens have a nice six-point edge on the teams just outside, which is a very good thing at this point given how they seem to be making a push for Carey Price to win the Hart Trophy.
Montreal's No. 1 goalie has been out of the lineup since returning from the Olympics as a gold medalist for Canada and it's showing right now. In seven games since the NHL schedule resumed, the Canadiens have given up 26 goals, close to an average of four per game. In their past three games -- against some stiff competition, mind you -- the Habs have been outscored 13-3. The offense definitely isn't without blame but it's hard to imagine this happening if Price were able to play.
So far the Thomas Vanek era isn't going well either. Reason would suggest that if you acquire a player who instantly becomes your team's leading scorer by more than 10 points and as a team you 23rd in the NHL in scoring, you would play him like a first-liner. But through three games they haven't had Vanek in that role. Instead, two of his three games he has clocked less than 16 minutes of ice time. Against Boston on Wednesday night he had less than 13 minutes at even strength. It doesn't seem to be the best use of a strong asset -- one who is very likely there for a short-term basis.
At this point it's probably going to be very hard for the Canadiens to blow their playoff berth, especially with Price on the mend and seemingly nearing a return. Not only would they have to continue to not pick up points like last week but they'd have to get "help" from teams below getting hot.
Tampa Bay Lightning

Points: 75 -- 1st wild card
Games remaining (home/road): 17 (11/6)
Remaining opponent points percentage: 0.528
Sports Club Stats playoff odds: 95.4%
At this point the Lightning just want to get to the finish line as fast as they can because things have turned south in a hurry. Once very comfortable in their playoff position, the Lightning have fallen into a much more precarious situation. That will happen when you go 3-8-2 since Jan. 28.
Even with the loss of Martin St. Louis , replaced by Ryan Callahan, the offense hasn't really been the cause of their problems lately, it's the fact they're giving up too many goals. It should come as no surprise to anybody that Ben Bishop wasn't going to keep up that absurdly good play all season long. Since play resumed from the Olympic break he has a save percentage of just .902 in six appearances.
Still, it's hardly a gloomy situation for the Lightning. Because of how well they played early in the season they remain in good position and could definitely claw back into second in the division should they get it turned around. There's at least some good reason to think they can, too. Not only is the schedule light in terms of quality of opposition overall but 11 of their last 17 games will come at home where they're 17-8-5. Of course they were 17-7-3 last week before losing the first three games of their current homestand.
Steven Stamkos is yet to find his scoring form since returning from injury, not that it's surprising given his long layoff and recovering from a broken leg. While they mostly need the defense and goaltending to rebound to early season levels, he doing the same would go a long way to holding off the field and keeping their long-held playoff position.
New York Rangers

Points: 74 -- 2nd in Metro, three points up on 9th
Games remaining (home/road): 16 (6/10)
Remaining opponent points percentage: 0.534
Sports Club Stats playoff odds: 78.6%
Entering Thursday the Rangers still sit in playoff position but it's a lot closer than surely they'd prefer at this point. After a brutally slow start to the season thanks to a road trip necessitated by Madison Square Garden renovations, the Rangers have been playing catchup. To their credit they crawled back into the playoff positions and have stayed there but the big second half that everybody has envisioned to pull away hasn't really happened.
At times the Rangers have looked great but it hasn't been something they've been able to keep up. In March they are just 2-3-1, following up a convincing win over Detroit last week with a letdown performance at Carolina. That kind of inconsistency has hurt them.
In terms of the quality opponents they will play down the stretch, the Rangers don't have it tough. However they are going to spend a lot of it on the road, just like how the season began. Then again, that might not be a problem as the Rangers are 19-12-0 off Broadway while they're just 16-15-4 at MSG.
As much as anything right now the Rangers are just waiting for Martin St. Louis to start clicking with his new club because so far it hasn't quite happened. Four games is hardly a big sample size but he has just one assist thus far and for a point-per-game player who will soon have 30 goals, that's not what's expected. The same goes for the Rangers offense as a whole, really, as they sit 19th in the NHL in scoring. The good news there, though, is they continue to outshoot opponents by a decent margin every game so at that rate a few good bounces going their way starts to make a big difference.
The Rangers have the talent and the experienced players as well as the position to make it to the finish line with a playoff spot but can they hold off the field. Who they will really need to fend off are the Devils and Red Wings, who are three points behind.
Columbus Blue Jackets

Points: 73 -- 3rd in Metro, two points up on 9th
Games remaining (home/road): 17 (9/8)
Remaining opponent points percentage: 0.565
Sports Club Stats playoff odds: 78.6%
Here come the Blue Jackets. With how well they have been playing lately, the might be the least desirable opponent in the first round outside of Boston and Pittsburgh. They have really put it all together this season and now it's paying dividends. Since Jan. 6 the Jackets have played 23 games. Their record in these games is 16-6-1 to make up what little ground they were behind a few weeks ago. The latest stretch is five wins in their last six games.
We saw this kind of late run from the Blue Jackets last season but there are two major differences. 1) These Blue Jackets started their run much closer to a playoff spot making it less likely they come up short again and 2) These Blue Jackets can actually score. Quite a lot, actually. Led by Ryan Johansen 's 25 goals in a terrific season for the youngster, five Jackets have at least 17 goals and while they don't have a superstar core, they're third in the East in goals.
Of course there is Bob (Sergei Bobrovsky) too, who has not seen the precipitous fall that many expected we'd see from last season. His numbers aren't what they were, no, but who is going to complain about a .919 save percentage? When he's actually getting scoring support this season, nobody.
These are the old Blue Jackets anymore, this is a team that is a lot more balanced and threatening and, more importantly, is playing its best hockey right now. With a schedule that is relatively average for the remainder of the season, they have the chance to keep it up and earn the rare playoff berth.
Philadelphia Flyers

Points: 73 -- 2nd wild card, two points up on 9th
Games remaining (home/road): 17 (10/7)
Remaining opponent points percentage: 0.613
Sports Club Stats playoff odds: 58.7%
For now the Flyers are the team in that last wild card spot but that's only temporary as the deck continues to get shuffled in the Metro. After all, they're just one point behind the Rangers in second place and getting the home-ice advantage that comes with that.
Even with a schedule that has more home games than road left, though, it's going to be anything but easy for the Flyers. Their remaining schedule is simply a bear with their opponents having a combined points percentage of .613, the toughest of all the teams in the hunt. Consider this: Of their 17 remaining games, 14 will come against teams currently in playoff position. Further, they have to play the Penguins three times, the Bruins and Blues twice as well as the Blackhawks and Kings once apiece. That doesn't even include games with the Stars, Rangers, Maple Leafs, Blue Jackets and Lightning. If the Flyers are to return to the postseason, they'll certainly have to earn it.
It's going to be hard to keep up the scoring levels against those teams and how well some of them play the puck possession game, meaning they might have to rely on Steve Mason a bit more like they did at the beginning of the season. Given his .894 save percentage in March, that's not the greatest proposition.
The Flyers are in good shape now but they have their work cut out for them, all of which makes that loss on Tuesday night to the Devils in controversial fashion sting even more.
Detroit Red Wings

Points: 71
Games remaining (home/road): 17 (9/8)
Remaining opponent points percentage: 0.575
Sports Club Stats playoff odds: 40.1%
Moving to the Eastern Conference was supposed to make things easier for the Red Wings. Even still, things are trending toward a postseason that doesn't include Detroit for the first time in 22 seasons. One of sport's greatest team streaks is in real jeopardy.
Certainly their fate isn't sealed yet, they are just two points back and have a full complement of games to be played. They're definitely still in the mix. But it would make the folks in Hockeytown feel just a bit more comfortable if they had at least one of their star centermen available to play right now. They've been ridiculously beat up down the middle. Pavel Datsyuk and Henrik Zetterberg are of course the massive losses but no Stephen Weiss and Joakim Andersson doesn't help either. There is thin and there is what the Wings are down the middle right now.
So understandably the offense is hurting right now. They just had a seven-goal outburst in New York but then followed it up with one goal in two games. Compounding matters is the fact that Jimmy Howard has been in a slump the past two months that isn't getting much better. In March he has an .884 save percentage.
Win two games in a row and the outlook changes but the Wings look like a team going the wrong way in a hurry, meaning we could see an end to the streak this season.
New Jersey Devils

Points: 71
Games remaining (home/road): 16 (10/6)
Remaining opponent points percentage: 0.521
Sports Club Stats playoff odds: 58.8%
Something interesting has happened to the Devils since the Olympic break ... they started scoring goals. Typically a team that plays tight, low-scoring games without a lot of chances either way, games have opened up for the Devils and the result is five wins in their last seven games to launch themselves right back in the mix.
Jaromir Jagr is getting some help, most notably from Adam Henrique , who has been on absolute fire lately. Of course they've also been giving up more goals with games opening but the tradeoff recently has worked in their favor.
That's encouraging sign No. 1. Encouraging sign No. 2 is that 10 of their last 16 games come at home where the Devils are 16-8-7 this season (compared to 13-16-6 on the road). And then there is encouraging sign No. 3: The schedule isn't just slanted toward home but is softer than any of their competitors here. As it stands right now, nine of their final 10 games come against teams that are not in playoff position. In other words, the Devils have no excuses as to why they can't get this done.
All season long the Devils have been behind the crew and out of playoff position but the idea of them sneaking up and grabbing another team's spot doesn't seem so crazy right now, especially being just two points back going into Thursday.
Washington Capitals

Points: 70
Games remaining (home/road): 15 (7/8)
Remaining opponent points percentage: 0.598
Sports Club Stats playoff odds: 6.7%
Indeed, the Capitals aren't in the Southeast Division anymore. They have had issues with their defense this season, the offense has gone missing at times even with the league's top goal-scorer in Alex Ovechkin and one of the best setup men in Nicklas Backstrom .
But their hopes took a massive blow this week when they were swept in a home-and-home by the Penguins. It actually gave the Penguins the season sweep, the second straight season they could claim that over the Capitals.
The schedule lightens up after that home-and-home but not by much. Down the stretch the Capitals play one of the toughest schedules in the league making their dwindling playoff hopes look that much slimmer. It has been a while -- six seasons to be exact -- but it's looking like this postseason will not include the Caps.
Ottawa Senators

Points: 68
Games remaining (home/road): 17 (10/7)
Remaining opponent points percentage: 0.562
Sports Club Stats playoff odds: 12.1%
The Senators are still hanging in there but at this point you can't really love their chances. For almost the entire season they have been floating right in this range now, a few points back of the last playoff spot but they've been unable to step up and seize the spot.
They do have a game in hand on a lot of the teams ahead of them but that only means something if you're able to turn those games into points. With the schedule tilting more home- heavy it gives them at least a puncher's chance but it will take their best hockey of the season down the stretch, a task that seems even tougher given they have lost five of their last seven games.
The decision would likely be met by anger from some fans, but it could also make sense

Toronto shoots to the No. 1 spot, just ahead of the Chicago Blackhawks

The Penguins' standout is at it again
Gary Bettman all but reverses course from his September comments on anthem demonstrations

The 'Washington Post' says many teams have stopped booking stays at Trump-owned properties

New Jersey has the long-term promise; Vegas is nothing like an expansion pushover