Edmonton Oilers representatives tour Seattle, Key Arena
The Edmonton Oilers have hinted at the possibility of relocation should an arena deal not be reached, making Monday's visit to Seattle much more intriguing.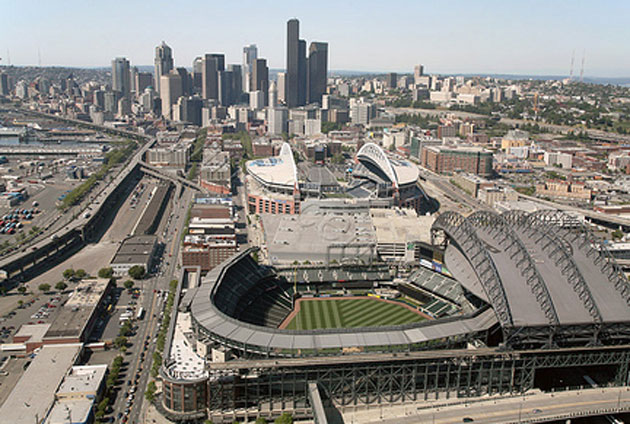 Hanson has acquired the land south of Safeco Field (bottom) for a new arena. (Flickriver)
Representatives of the Edmonton Oilers, including owner Daryl Katz, were reportedly in Seattle on Monday, taking a tour of Key Arena. The news was originally reported by Ian Furness of KJR AM radio in Seattle.
Breaking. A group representing the #Edmonton Oilers, including team president, owner was in Seattle today taking a tour of Key Arena. #NHL

— Ian Furness (@IanKJR) September 24, 2012
For good measure, the report was seconded by Chris Daniels of KING 5 TV in Seattle, a reporter who has been on top of Seattle arena talks from the beginning.
I can also confirm, as @iankjr did, that Edmonton Oilers representatives are in Seattle, per source, "evaluating the market". #NHL

— Chris Daniels (@ChrisDaniels5) September 24, 2012
It's pretty clear what's going on here. In the past couple of days the possibility that the Oilers might look to leave Edmonton has arisen as Katz and the city continue to try and finalize a deal to build a new downtown arena for the team. It has been a long, drawn-out process over many years and recently Katz hinted that if no deal is done in the near future, "all bets are off."
To illustrate how transparent Katz wants this visit to Seattle to be, the team confirmed the visit on Monday on its website with the following statement from Bob Black, Executive VP, Edmonton Arena Corporation of the Katz group.
"I can confirm that Daryl Katz, Patrick LaForge, Kevin Lowe and others from the Oilers leadership group are in Seattle for meetings and to attend the Seahawks game.

We remain committed to working with City Administration to achieve a deal commensurate with what Winnipeg and Pittsburgh have done to sustain the NHL in those small markets. If we can achieve such a deal, the Oilers will remain in Edmonton and we can get on with the important work of developing the new arena and investing in the continued revitalization of Edmonton's downtown core.

Nonetheless, and as the City of Edmonton is aware, the Katz Group has been listening to proposals from a number of potential NHL markets for some time. After more than four years of trying to secure an arena deal and with less than 24 months remaining on the Oilers' lease at Rexall Place, this is only prudent and should come as no surprise.

We are extremely grateful to Oilers' fans for their patience and loyalty as we work through this process towards what we sincerely hope will be a long and successful future for the Oilers in Edmonton. We have no further comment on the status of our discussions with other markets at this time."
When it comes to relocation in the NHL, Seattle has been the hot city, much the same way as Kansas City was a few years back. You might recall that Mario Lemieux went to Kansas City and met with city officials including the mayor as well as taking a tour of the facilities. Lemieux later admitted it was a negotiating ploy to put pressure on Pittsburgh to get a new arena for the Penguins. It worked and today the Pens play in the fancy CONSOL Energy Arena.
Just to make it all worse for Oilers fans is Wayne Gretzky was reportedly part of the representative group. He already had been reported to visit Seattle to talk about the NHL there. It would be a cruel twist to Edmontonians if Gretzky were in any way involved in the team leaving Alberta.
It's very possible -- and I'd say probable -- that's what is happening here if this report is indeed true. Seattle is probably in the position of being used as leverage against the city to try and enact pressure to cave and get a deal done.
Why Seattle and why Key Arena? For months now the city has been working toward a deal to build a brand new arena in the city that was driven around the prospect of trying to get the NBA's Sonics back. They left Seattle for Oklahoma City after failing to get a new arena from the city and saying Key Arena was no longer suitable. In the last year private investor Chris Hanson has stepped forward to finance the majority of an arena and on Monday -- perhaps not coincidentally -- the city of Seattle voted in favor of the memorandum of understanding. All that's missing now are the teams before they build the arena.
In the meantime, Key Arena would have to serve as a temporary host for an NHL team. It would hardly be ideal with numerous obstructed views. Without the prospect of a new arena going up Key Arena would not be at all favorable for the NHL.
On top of it, there appears to be a large growing interest in getting the NHL in Seattle. Here's what Seattle councilman Mike O'Brien told the Vancouver Sun:
"I was actually surprised at how much excitement there was for [an] NHL team in the stuff I heard from people," said O'Brien. "Not the same as the Sonics for sure ... but I think it probably speaks to the number of transplants living in Seattle."
Hanson is interested in owning the Sonics and would definitely like to have an NHL team in his arena but he isn't interested himself in owning a hockey team. That would have to be somebody else's responsibility and most have pointed to Chicago businessman Dan Levin. He wants an NHL team and is reportedly in the good graces of the NHL, having owned the AHL's Wolves. He recently told Craig Custance of ESPN.com (Paywall) that he thinks Seattle will get a team soon, but not via relocation. He expects it to be via expansion.
"I can tell you there are not teams for sale that are available to move," Levin told ESPN the Magazine on Wednesday.

Not the Coyotes? Or maybe one day the Islanders? "My understanding is that the Phoenix deal, [Greg Jamison] has come up with the money," Levin said. "The answer to the Islanders moving is never. They're not moving out of that market. No chance that's going to happen."
One thing to note there: No teams available for sale. If Katz is visiting Seattle I don't think he has intentions of selling the team.
Having grown up in the Seattle area, I can tell you there is a foundation for fandom in the area thanks to numerous minor-league/junior teams over the years. I'm in the camp that doesn't think it would be a problem in the city that some think is hitting its saturation point.
The chances that the Oilers and Katz are just using Seattle as bait are probably very high, but you never quite know. Perhaps the threat isn't a bluff, it certainly lends some credibility to it when Katz is visiting the top relocation city out there at the moment.
More from Eye on Hockey
As arena talks drag on, would Oilers really leave Edmonton?
For more hockey news, rumors and analysis, follow @EyeOnHockey and @StubitsCBS on Twitter and like us on Facebook.
Pittsburgh finds itself a new third-line center as it looks to make a third straight run at...

The All-Star is one of the biggest names in the rumor mill, and reports say a move is on the...

SportsLine's Mike McClure, a DFS pro with more than $1M in winnings, gives optimal lineup...
The 38-year-old Luongo has been a longtime Parkland resident and is a father of two

This might be the new norm at the Winter Olympics, so here are three reasons why

It isn't a surprise to anyone, but an NBC executive acknowledged the ratings