Eight teams that might already be out of playoff contention
History says that being four or more points out of playoff position by Nov. 1 means near-certain lottery status. This season eight teams fit the bill already.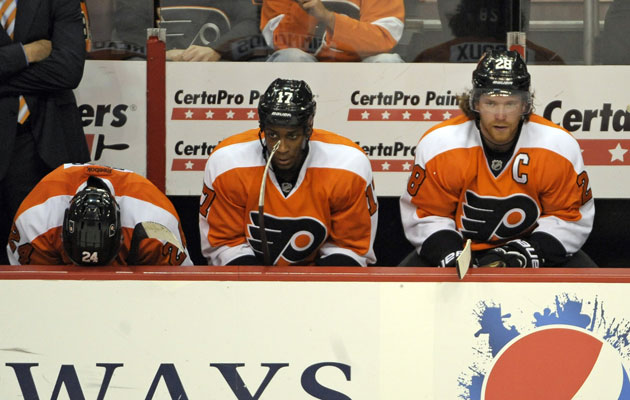 More NHL: Scores | Standings | League Leaders | Odds | Injuries | Power Rankings
When Philadelphia Flyers center Claude Giroux made the daring declaration that the Flyers would make the playoffs, most people simply laughed. The Flyers, 1-7-0 at the time, had already dug themselves a massive hole. If history is your guide, it's a hole that will be too tough to get out of.
Indeed it's early in the NHL season still, very early at just one month gone. There is a lot of season left to come back. In theory. But since the NHL went to the current points system that rewards teams a point for overtime losses, it has been proven that a four-point deficit on Nov. 1 is nearly impossible to overcome.
Exactly how tough is rather stunning. Going back to the 2005-06 season (excluding last season, of course) 32 teams have found themselves at least four points out of a playoff spot on Nov. 1. Out of that bunch only three -- three! -- were able to overcome the hole (stat via Elliotte Friedman). Most recently the Boston Bruins dug out of that hole, starting the 2011-12 season 3-7-0 and storming back with a ridiculous middle portion of their schedule to win the division.
Now the first explanation is pretty evident. Bad teams are bad teams and there's a reason why a club like Buffalo is 2-12-1 as parents raid their little trick-or-treater's candy stash. These teams sink like rocks as soon as they hit the (frozen) water at the beginning of October. This certainly contributes a lot to the dismal numbers; half of those 32 teams never stood a chance at making the playoffs anyway.
For the teams that don't figure to be top of the lottery contenders it's the points system that has made it so hard to come back. Not impossible but very difficult. It's hard to make up ground when two teams can get points in a game instead of just one. Heck, even bad teams come close to earning half their potential points in a season; everybody picks up points. It's not easy to get them back.
This shouldn't be a stat that changes with a new playoff format that rewards the top three teams in each division with a playoff berth and then the next two best records in each conference. If a team is four points out they're four points out, no matter what that point total might be. For example, in the West right now the lowest point total in playoff position is St. Louis with 16. In the East, four playoff teams have 16 points and two (Carolina and the Isles) have just 11 but would be in today thanks to the Metropolitan Division. So the total may vary for teams across the league but the cutoff date of Nov. 1 shouldn't.
So being four-plus points out by this day is historically not good for business and already there are a whopping eight -- eight! -- teams across the NHL for whom business is bad. Odds are they won't make the playoffs but especially with such a large pool of teams behind the 8-ball, we could have a late arriver or maybe even two among the bunch.

Indeed, even in the Metro, where three-win New Jersey is only one point out of second place, the Flyers are five points back of a playoff spot with a 3-8-0 mark. Even though they are off to a franchise-worst start that deficit is only five points. It could be a lot worse already for Philly.
But while a five-point deficit in the Metro doesn't sound like it's too tough to overcome, we must not forget one more factor that might make it even tougher for teams four-plus points back this early; there are more teams to battle for a playoff spot. Because it already looks like the two wild cards will go to the Atlantic Division, the Flyers likely need to get to third place in the Metro to see the postseason and that means hopping five teams. At that point you need a heck of lot to go your way, more than just picking up the winning percentage.
If Giroux is going to look like a next-generation prophet it's going to take a Herculean effort and a lot of good fortune. There is one small thing working in the Flyers' favor; they have a game in hand on just about every divisional foe and if they could convert that into two points they jump inside the points cutoff line. Still, it already looks like their playoff hopes are a dashed dream.

The Senators are probably a slightly surprising addition to this list. Of these eight teams in the dumps, Ottawa seems to have easily the best shot to buck the odds and reach a third straight postseason.
Sitting with 10 points at 4-6-2, the Sens are six points back of the four-team logjam tied for second place in the Atlantic. But already there are a few things making that seem a little less insurmountable. One is the fact that there are two teams below Ottawa in the division already, cutting down the amount of teams needed to jump. Second, the November schedule looks awfully manageable. Third, the Sens are a talented bunch.
With the addition of surprising Tampa Bay to a tight divisional race this season, the Sens are in a perilous position already. Eight of their 12 games have been against the West which has been a vastly superior conference so far this season. If there's a team that will overcome the big Nov. 1 hole, I would put my money on the Sens, just not a whole lot of it.

There were a few charitable folks that actually gave the Panthers a glimmer of hope coming into the season, mainly subscribers to PDO and other such statistics indicating the Panthers were a bad-luck team last season. Really, Florida is just a bad team.
The Panthers are eight points back of a playoff spot already (boy, don't they miss the Southeast) but it's more because they're just not very good. In 12 games they have a minus-16 goal differential. You can pretty much already declare it as another postseason-less season in Florida, the 11th in the past 12.
Next question is how soon the veteran fire sale begins.

The Sabres are bad. It almost feels like Buffalo is going to be historically bad this season. Not only do the Sabres have just five points, putting them 11 points out of a playoff spot already, but no team has played more than Buffalo's 15 games. That means they have collected just five of 30 available points on the season.
While it will be another couple of months (maybe weeks at this rate) until it's official, I don't think anybody has an issue eliminating the Sabres from playoff contention now, which isn't a terrible thing for the franchise. We all knew they would be bad as they begin a rebuild; the race for the most Ping-Pong balls would be a good race for them to win.

This was supposed to be the year the Jets turned the corner and became a playoff team. The honeymoon in Winnipeg is officially over and they want their Threats (patent pending) to get in the postseason so the glorious whiteout can return to the 'Peg. Well they're already well behind on their hopes.
Considering the Pacific Division is a monster, it seems the Jets' only hope is getting to third place in the Central Division that features Chicago, St. Louis, incredibly hot Colorado and Minnesota. That's an awfully tough group to crack before you even spot them four or more points.
Only lengthening the odds: Every team in the division has games in hand on the Jets. Their 12 points are four fewer than third-place St. Louis but the Blues have played four fewer games than Winnipeg, making the Blues' virtual lead for third place a heck of a lot larger than it actually is. The Jets are seven behind second-place Chicago. This won't be the year they get their breakthrough.

At the bottom of the Central, even below Winnipeg, is Dallas at 5-6-1 with 11 points. The gap to playoff position is five points for them but again with the Blues having games in hand (two on Dallas) makes that jump a little bigger.
Perhaps it's because I had the Stars as a preseason playoff team but I'm not quite ready to shut the door on Dallas. I still don't believe it's a bad team. But this is the Western Conference we're talking about here, and it's brutal.
So looking at the teams the Stars would have to shoot past to get to a playoff spot does make it seem virtually impossible already for them to get back into a playoff position.

Poor Calgary. The Flames have actually played well to start the season even with their seeming lack of overall skill throughout the lineup. They've played tough and have been a pain for any team to play this season, even in losses.
They stand at 5-5-2, good enough for 12 points, but it's not good enough to be inside the four-point cutoff. In the Metro they would be alone in second place but in the Pacific they're sixth, six points back of Los Angeles for the eighth playoff spot in the West.
The direction of the organization probably benefits from another season in the lottery and that's exactly where they're headed.

The wait for the Oilers to mature into the powerhouse everybody is expecting will have to wait yet another year.
Let's put it this way; if the Flames held the final playoff spot the Oilers would still be on this list at four-plus points back. They're 3-9-2 for eight points, which puts them 10 points back of the Kings for the last playoff spot. That's a gargantuan gap to jump, a gap you can say with near certainty they won't overcome.
It only gets worse when you realize that 10 of Edmonton's 14 games have been against teams in the East and they still are just 3-9-2. Against Western Conference rivals they are 0-3-1 this season with a lot more to come. Here comes yet another high draft pick, Oilers.
This might be the new norm at the Winter Olympics, so here are three reasons why

It isn't a surprise to anyone, but an NBC executive acknowledged the ratings

SportsLine's Mike McClure, a DFS pro with more than $1M in winnings, gives optimal lineup...
The Blackhawks take a stand against racism by banning four fans from future home games

With Brian Elliott and Michal Neuvirth hurt, Philadelphia adds a big name to the net

David Kelly has nailed 35 of 42 NHL picks and he just locked in a selection for the Ottawa-Nashville...