The NHL has been blessed over the past decade with some incredibly talented players who will be remembered among the NHL's greats long after they retire, specifically Alex Ovechkin and Sidney Crosby.
Perhaps in the future, if all goes according to plan, 2015 rookies Connor McDavid and Jack Eichel will be talked about in the same way. They are the type of players who do not come along very often. Players who are so far above the rest of their peers that at times it's almost as if they are playing a different sport than everybody else.
They are the best players of their generation and define their era.
There is another player skating in the NHL right now that should be in that group, but doesn't get anywhere near the recognition or respect for just how rare his talents and how well he compares to the best that have ever played. That player: Ottawa Senators defenseman Erik Karlsson.
He has the awards, but he doesn't have the respect
On the surface, it would seem that Karlsson's accomplishments have not gone unnoticed. He is already a two-time Norris Trophy winner, something that only 12 other defensemen in the history of the league can claim. He is also one of three players in NHL history to win two Norris Trophies before his age-25 season, joining a club that includes Bobby Orr and Paul Coffey. If you have done something that only those two guys have done, you're probably pretty special. With the way he is playing so far this season, he not only looks to be one of the front-runners to win the award again, he might even have a shot at the MVP award if the Senators keep winning and return to the playoffs.
You don't win major awards without having your play noticed. But even with all of the production and the hardware, Karlsson seems to be one of the most scrutinized top players in the NHL. His Norris Trophies have been met with more derision than praise because he doesn't fit the traditional mold of what an elite defenseman should be. He is not particularly great defensively, he isn't one of his team's top penalty killers, and when he makes a mistake or gets beat because of his aggressive style of play with the puck, it can sometimes look bad. And we love to point that stuff out.
So how can a player like that keep winning an award that is supposed to go to the NHL's best all-around defenseman?
It's actually very simple: It's because he might be the most productive, game-changing defenseman with the puck on his stick to play in the NHL since Orr was winning scoring titles for the Boston Bruins. And that is not intended to be a hyperbolic statement (and it's also not intended to be a direct comparison to Orr, the greatest defenseman in NHL history) because there is a pretty convincing objective argument to be made for it.
And he is only getting better.
His production is nearly unmatched, both now and in the past
There have been players between Orr and Karlsson that put up bigger point totals, but they mostly did so during the pond-hockey 1980s when goal scoring was at an all-time high and every game was ending with a 6-5 score.
Karlsson is doing it in one of the worst eras for offense in league history where the game is more defensive, better coached, has better goalies, and power play opportunities are at an all-time low. And he is still playing at a level compared to his peers that is nearly unmatched in league history.
Entering their game on Thursday night against the Tampa Bay Lightning, Karlsson is not only leading the Senators in scoring for the third year in a row, but he is in the top-five in the entire NHL in scoring. With 32 points in the Senators' first 28 games, he is on a pace for 94 points this season. As a defenseman. Only one player — at any position — has topped 90 points over the past two years.
Only eight different defensemen in league history (Orr, Paul Coffey, Ray Bourque, Denis Potvin, Al MacInnis, Phil Housley, Brian Leetch and Gary Suter) have ever topped 90 points in a single season, and nobody has done it since the 1993-94 season when Bourque tallied 91 points for the Bruins. If he maintains that pace, it will be an historic season.
For his career, Karlsson's 0.79 point-per-game average is 11th all-time among defensemen that have appeared in at least 200 NHL games. That is impressive enough on its own. But when comparing players across different generations you have to account for the era each player played in. They didn't compete against each other, so you have to see how they compared to their peers during their careers and the style of player in the league. When you consider that Karlsson is one of just three players in the top-30 that started their career after 1990 (Sergei Zubov and Nicklas Lidstrom are the other two), and that the overwhelming majority of the players at the top of the list played the bulk of their careers in the high-scoring pond hockey era of the 1980s, it stands out even more.
Especially when there is nobody else from his era that is really even close to him in terms of scoring.
The next closest player to Karlsson from a production standpoint (career numbers) is Montreal's P.K. Subban at 0.63. Still excellent, but not quite at Karlsson's level. The difference between Karlsson's production over 82 games and Subban's is 14 points. That is a huge difference between the best and second most productive player at a position. That's probably worth a couple of wins per season.
The only defenseman over the past 30 or 40 years that really had that kind of dominance over the rest of his peers was Paul Coffey in the early 1980s when he was putting up some mind-blowing numbers as a part of the Edmonton Oilers dynasty. During his first seven years in the league he averaged more than 102 points per season. The next closest player during that stretch was Ray Bourque, averaging a little more than 90 points. Denis Potvin, Paul Reinhart, Phil Housley and Al MacInnins were all in the 80-point range during that same stretch. So while Coffey's raw numbers were better than Karlsson's, that reflects more on the era and style of play during that time. Everybody was scoring more then, and there were at least a couple of defensemen that scored at a similar level.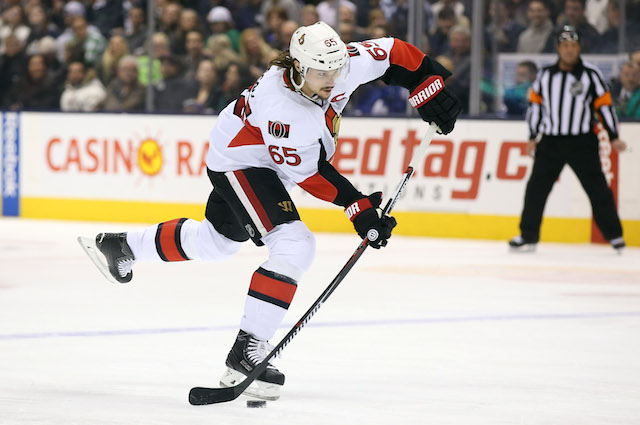 No defenseman drives their team's offense like Karlsson does
And it's really not even close.
The Senators have a pretty talented team with Kyle Turris, Mike Hoffman, Mark Stone and Bobby Ryan up front and since the start of the 2013-14 season are the sixth highest scoring team in the league. But none of those forwards make an impact on the team's offense like Karlsson does.
We mentioned earlier that he is in the process of leading the team in scoring for the third year in a row (almost unheard of for a defenseman) and during that stretch he has had a hand in more than 31 percent of the Senators' goals, either scoring or assisting on them. That, too, is completely ridiculous production for a defenseman.
To put that into perspective, the only other defenseman in the NHL over that stretch that has had a hand in more even than 25 percent of his team's goals is Subban (contributing to 25.9 percent of the Canadiens' goals).
To go back to a different era and compare that to a couple of legends, during Paul Coffey's best three-year run in Edmonton he contributed to 30 percent of the Oilers' goals only once, which is also true for Ray Bourque in Boston. And neither player had a three-year run that was better than Karlsson's current stretch in terms of contributing to their team's offense.
Karlsson's impact on the Senators' offense is the type of impact that is usually reserved for the best forwards. Crosby, for example, has had a hand in 39 percent of the Penguins' goals over that stretch. Tyler Seguin and Jamie Benn, perhaps the two best offensive players in the NHL, have been around 34 percent. Ovechkin has been at 33 percent for the Capitals. Patrick Kane has contributed to 31 percent of the Blackhawks' goals.
And it's not just the point totals. It's the fact that Karlsson can serve as a one-man breakout from the defensive zone. His ability to handle the puck and skate away from opposing forecheckers is a necessary skill in today's NHL and helps limit the amount of time he has to spend playing in his own zone where he is not at his best. In an era of play-it-safe, get the puck deep, and chip it off the glass hockey Karlsson is a renegade defender that has the confidence to make plays with the puck and use his skill.
The Senators, in theory, could try to change him and get him to be a more defensively responsible player, make safer plays and take fewer chances. But why in the world would they want do to that? It could save a couple of goals against, but it also might take away even more for them. He might get caught up the ice on occasion or get beat trying to make a play offensively, but it's that type of aggressive play that makes him such a devastating player for opposing teams to deal with.
When Karlsson is on the ice during 5-on-5 play the Senators are outscoring their opponents 32-27 and attempting more than 52 percent of the shot attempts. When he's not on the ice the score is 18-18 while they're attempting just 42 percent of the shot attempts. In other words: With Karlsson, they play like a playoff team. Without him, they play like the Edmonton Oilers.
He may not be the best defenseman in the league in the traditional sense. He may not always look the part of a No. 1 defensemen. But every time he touches the ice and has the puck on his stick you're watching a player that can impact the game unlike few others in league history.
It's time we started paying attention to that.