Erik Karlsson, Ryan Getzlaf and the NHL's 6 most stunning stats so far
Erik Karlsson is climbing the NHL's scoring leaderboard as a defenseman. Ryan Getzlaf can't score goals. Leo Komarov can't stop scoring goals.
The NHL is nearing its halfway point and there have been some pretty surprising developments on an individual and team level.
Today, we're going to take a quick look at some of the more surprising stats that have stood out, from Erik Karlsson climbing the NHL's scoring leaderboard as a defenseman, to Ryan Getzlaf suddenly forgetting how to score goals, to the Toronto Maple Leafs having one of the top goal scorers in the NHL.
1. Erik Karlsson is still on pace for 90 points: We are nearly halfway through the 2015-16 season and Erik Karlsson is still on pace for 90 points. As a defenseman. It's not a surprise that he is producing and scoring a lot. He is a two-time Norris Trophy winner and is one of the most productive defensemen in the league. It's the level that he is scoring at that is surprising. Keep in mind that not only has no defenseman topped 90 points in a single season since Ray Bourque did it for the Boston Bruins during the 1993-94 season, but the NHL has only had one forward (Sidney Crosby in 2013-14) top 90 points over the past two years. The only forwards that are on pace for at least 90 points this year are Patrick Kane (110), Dallas Stars teammates Jamie Benn (108) and Tyler Seguin (104) and Johnny Gaudreau (91).
2. Ryan Getzlaf has scored two goals: The Anaheim Ducks were supposed to be a Stanley Cup contender. Instead, they are fighting just to get back into the playoff race and are the worst offensive team in the league. At the center of those struggles has been Ryan Getzlaf, one of the most productive players in the league for years that is now mired in one of the worst goal scoring slumps of his career.
Getzlaf has always been more of a playmaker than a goal-scorer, but you still expect him to score more than this. He's never had fewer than six goals through his first 30 games in any season. The only time he's ever had a 30-game stretch this bad at any point during a season was in the middle of the 2011-12 season when he went 39 games with only two goals. That was the year he scored a career-low 11 goals.
3. He's not the only superstar struggling to score: Sidney Crosby has led the NHL in points per game in each of the past six seasons. He is currently 75th in the league in scoring with only 24 points in 34 games for a Pittsburgh team that is surprisingly in the bottom three in goals scored. He has never averaged less than a point per game in the NHL. 
John Tavares, after finishing second in points last year, is 70th. Jonathan Toews is 108th. Anze Kopitar is 52nd. Steven Stamkos is 44th. A lot of it is simply the fact a lot of these guys (especially Crosby) are starting to exit their peak years and a new wave of stars is catching up to them. 
4. The NHL is barely averaging five goals per game: The average game this season has been only 5.3 goals, representing a pretty significant drop after goal scoring had leveled off over the past few years.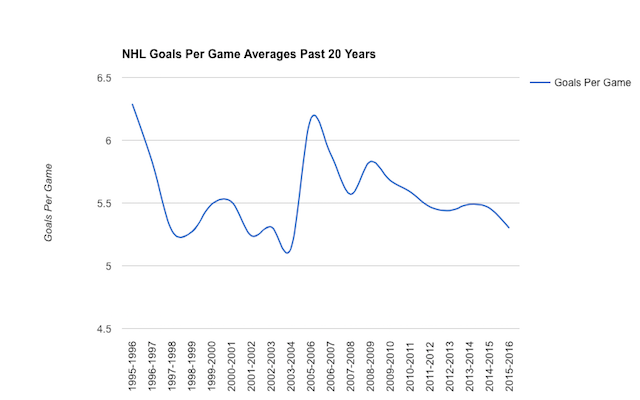 It's now at the same point it was in the years leading up to the 2004-05 lockout. By now we should know that barring significant changes to the rules or the way the game is coached it's not going to get back to the level it was in the 1980s or early 1990s, but it just keeps going down. And this year, significantly. 
5. Braden Holtby has been unbelievably good this season: The Washington Capitals are the best team in the Eastern Conference at the moment and they don't seem to have any real weaknesses. But what makes them so good is that whenever they do make a mistake they have Braden Holtby in the crease to bail them out. He currently owns a .935 save percentage, which is far and away better than every other goalie in the league.
Among goalies that have appeared in at least 20 games, nobody else has a save percentage higher than .927. The gap between Holtby and the No. 2 goalie (Jake Allen) is the same as the gap between Allen and the 11th best goalie.
As long as the NHL has tracked save percentage a goalie has played in at least 40 games and topped .933 just five times (Tim Thomas did it twice, Dwayne Roloson did it once, Dominik Hasek it once, and Carey Price did it a year ago).
6. Leo Komarov ... goal scorer? One of the few bright spots for the Toronto Maple Leafs this season has been the play of forward Leo Komarov. We're nearly halfway through the season and there are only 13 players in the league that have scored more goals than his 15. That's it. Over the first two years of his career he scored only 12 goals in 104 games. Is it the result of a 20 percent shooting percentage that he won't maintain? Sure. Probably. But you can't take away the goals that went in and nobody saw this type of season coming from him and it's probably going to net them a pretty solid draft pick or prospect at the trade deadline if they decide to move him.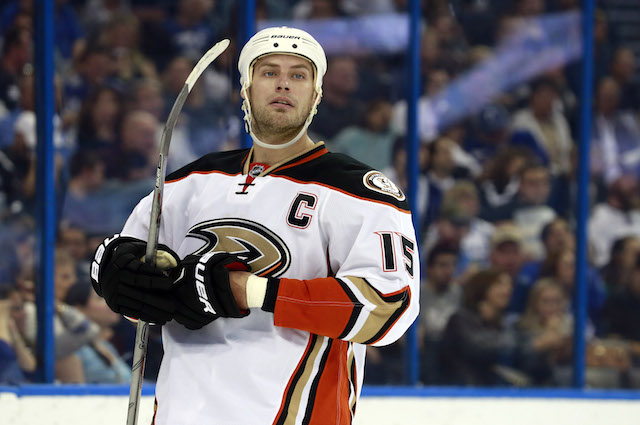 CBS Sports HQ Daily Newsletter
Get the best highlights and stories - yeah, just the good stuff handpicked by our team to start your day.
Please check the opt-in box to acknowledge that you would like to subscribe.
Thanks for signing up!
Keep an eye on your inbox for the latest sports news.
Sorry!
There was an error processing your subscription.
The U.S. and Russian presidents exchanged sports memorabilia at their Monday summit in Fin...

Emery, 35, spent time with the Senators, Flyers, Ducks and Blackhawks

The 33-year-old veteran goalie signed a three-year, $21 million extension to stay in Vegas
Chicago frees up immediate cap space to use in another deal, but it comes at a price

Hellebuyck, a restricted free agent, has a deal that will be worth $37 million

The new Maple Leafs star penned an essay explaining the struggle of making a decision in free...