Erik Karlsson to make return for Senators on Thursday
Erik Karlsson was expected to be out four to six months after suffering a severed Achilles tendon. He returns on Thursday after just 10 weeks.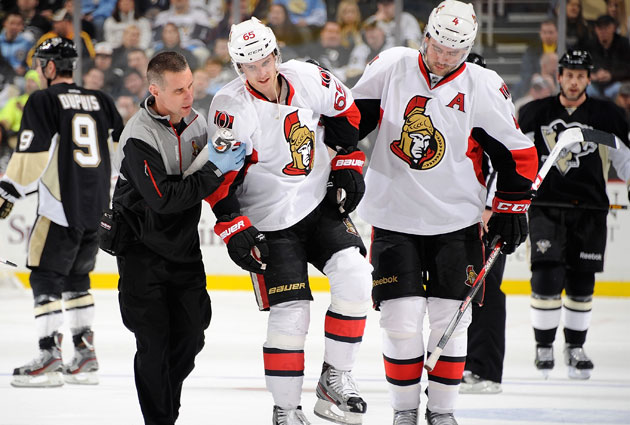 More NHL: Scores | Standings | Odds | Fight-O-Meter | League Leaders | Rumors
Ottawa Senators defenseman Erik Karlsson will be in the lineup on Thursday night, an incredible 10 weeks after suffering a severed Achilles and having his season all but ended by the team at the time.
There was some chatter that Karlsson, the reigning Norris Trophy winner, was very close to a return and then he made the trip to Washington with the Caps, his first road trip since the injury. He said that he was going to take the morning skate with the team on Thursday and if he felt good he would play.
He felt good.
The injury recovery originally called for Karlsson to miss four-to-six months of time. Instead he's going to return just 10 weeks after the injury. It's not often a player recovers from a severed tendon as if it were something much less serious and important to a rather vital hockey ability: skating.
Unbelievable.
It's a massive return for the Senators and it's just as big that it is happening before the playoffs begin. It will give Karlsson a few games to try to get back into the comfort zone before the second season starts.
Karlsson, a newcomer to Twitter, couldn't hold back his excitement.
BOOM.! FINALLY.! Back in the line up tonight. #soFHappy #cantwait #lalala

— Erik Karlsson (@ErikKarlsson65) April 25, 2013
The Senators are a much different -- and better -- team with Karlsson on the ice. He produces offense from the blue line better than any defenseman in the NHL and is just a massive generator for the Sens. They have certainly missed him as the are near the bottom of the NHL in scoring, a testament to Karlsson as well as the injured Jason Spezza.
It will be interesting to see how much Karlsson is able to play in his first game, but he will probably be back to close to normal. With two points Thursday night they will clinch a spot; they can also clinch a spot if Winnipeg loses later in the night.
Early playoff trouble has been evident, but the Wild tout an offense capable of making another...

Why walk with skate guards when you can rollerskate instead?

This will not leave your memory any time soon
Vegas isn't being quiet about its hot start to the NHL preseason

The blue-liners are set for another big push, but Edmonton's rise is hard to ignore in the...

Meanwhile, the Devils' Brian Boyle isn't sweating his recent cancer diagnosis