Evander Kane fined for traffic violations and this is somehow news
Everything Evander Kane does is magnified in Winnipeg it seems, including two recent traffic violations. Yes, that's actually news today.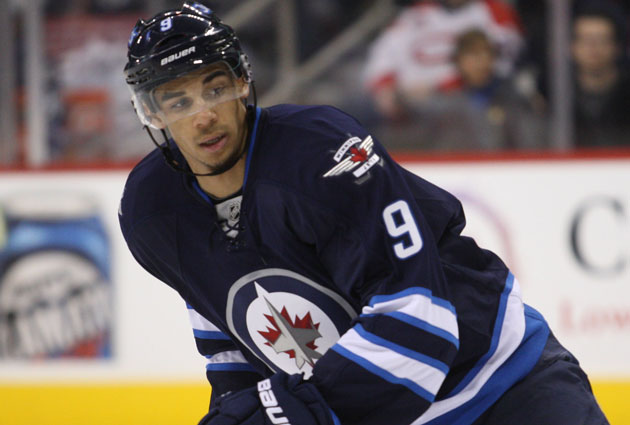 More NHL offseason: Rumors | Top 50 Free Agents | Buyout Tracker | Trades | Transactions
Winnipeg Jets forward Evander Kane had two outstanding traffic tickets in Manitoba and this is news Thursday. Really.
The young Jets forward had two tickets, one for driving with an invalid license and another for using a handheld electronic device while driving, that wasn't taken care of until very recently.
The Manitoba government took the unusual step of filing a Court of Queen's Bench motion in an attempt to recoup $650.80 in fines and costs from Kane, a budding NHL superstar who signed a six-year, $31.5-million contract earlier this summer.

Court documents obtained by the Free Press show Kane, 22, was charged under the Highway Traffic Act on June 4, 2012, for "using a hand-operated electronic device while driving a motor vehicle." But the $249.80 ticket went unpaid, leading Manitoba Public Insurance to place a hold on his licence along with a $40 surcharge.

Kane was stopped again by police last Oct. 18 and charged with driving without a valid licence under the HTA. The fine for that offence was $311.
No big deal, who cares right? Wrong. It's being covered in Canada and in Winnipeg, presumably partly as more evidence of Kane's immaturity.
Kane has been able to do no right since the Thrashers became the Jets. He has been criticized for silly thing after silly thing in Winnipeg which is somewhat baffling. At times it's hard not to think they are trying to run a talented winger out of town, arguably their best player because of some perceived personal shortcomings. It's pretty crazy.
Is this a big deal? Not at all. In defense of the outlets covering it, they're not doing much more than just reporting the news. But when was the last time we heard about Zach Bogosian's speeding ticket or about how Andrew Ladd once parked in a handicapped space? I doubt it's because no other Jet sans Dustin Byfuglien and his boating incident have never had a ticket.
For the record yes I realize there is some irony in me writing about this topic which I'm saying is no big deal at all, but the point here is to address the fact that it has been made into a story, not the act itself. It's just another in a growing list of things to criticize Kane for. I'd be lying if I said I hadn't used my phone while driving, or every other person in this world with both a car and a phone.
Los Angeles isn't rushing to sign the 45-year-old forward any time soon

The University of Denver star and Hobey Baker Award winner is drawing interest

Intrigue is high in Arizona after a wild offseason, but expectations should still be tempe...
Players are set to give personalized messages for Adidas' former hockey equipment brand

The 40-year-old center is returning to the Wild after a successful run in Pittsburgh

Edmonton locks up its 21-year-old RFA a month after McDavid's historic extension