Evander Kane stays mum on trade talk after healthy scratch
Evander Kane's tumultuous time in Winnipeg continued with a healthy scratch over the weekend. When asked if he wants a trade, he chose not to answer.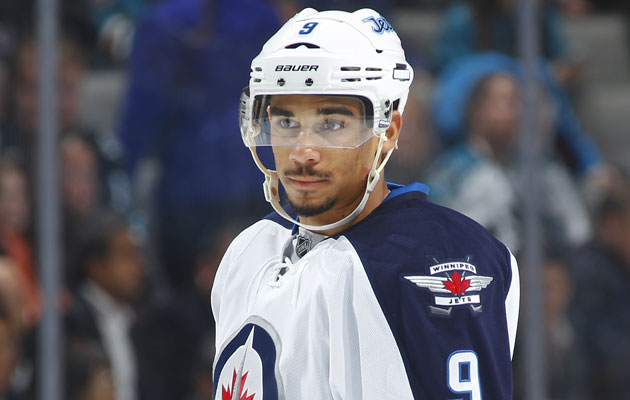 More NHL: Trades | Scores | Standings | League Leaders | Odds  | Power Rankings
Evander Kane is only 22 and has been with the Thrashers/Jets franchise for just five seasons but it feels like more, especially given how tumultous his three years in Winnipeg have been.
The latest addition to all of the hubbub about Kane and his future with the Jets came over the weekend when Kane was a healthy scratch in Toronto. When asked what he needed to do to get back in the lineup, coach Paul Maurice didn't give a very enlightening answer but it was telling nonetheless: "Probably just come to the rink."
Add that to all of the other issues -- dine and dash accusations, money phone, a recent civil law suit for alleged assault -- and previous rumblings about the relationship with the franchise just not working out, you have a recipe for a lot of trade speculation.
Kane, who is going to be back in the lineup on Monday night, wasn't willing to discuss that speculation or say if he'll ask for a trade.
Evander Kane asked if he wanted to be traded? "I'm here to answer hockey questions, in terms of the game tonight." #NHLJets

— Ken Wiebe (@WiebeSunSports) April 7, 2014
Of course some will see the lack of a denial but we'll give him the benefit of the doubt in this case and not read much into a no comment. But this won't be the last you hear about any potential trade, whether Kane asks for one or not.
There is no denying Kane's abilities, it was in 2011-12 that he was a 30-goal scorer. But this season hasn't been as smooth with just 17 goals and 22 assists in 60 games amid all the other off-ice stuff.
Keep in mind too that Kane has another four seasons left on his contract that he recently signed that pays him a relatively modest $5.25 million per year given his potential as a big scorer. Even with the perceived issues -- real or not -- there would undoubtedly be some teams willing to take a chance should it come to that.
Figuring out what to do with Kane, whether it be keeping him or trading him, will be just one of a couple big questions the Jets will face this offseason, another early offseason. The other will be with goalie Ondrej Pavelec, who is once again having a brutal season in net.
Here is video of Kane meeting the media on Monday and we'll leave it to you to decide how he's feeling these days.
The league's highest-paid player and Hart Trophy winner says his Penguins counterpart is No....

Defense is better and motivation shouldn't be lacking, but the Red Wings are still too cap...

The 45-year-old free agent is taking things patiently as September approaches
The playoff drought might not end immediately, but something is brewing in restocked Buffa...

Former Lightning standout will be guarding the net in style in 2017-18

Devils are still in rebuilding mode, but they have reason for hope thanks to young additio...