Everybody wants Vincent Lecavalier
Vincent Lecavalier is the best free agent available, and just about everybody wants him.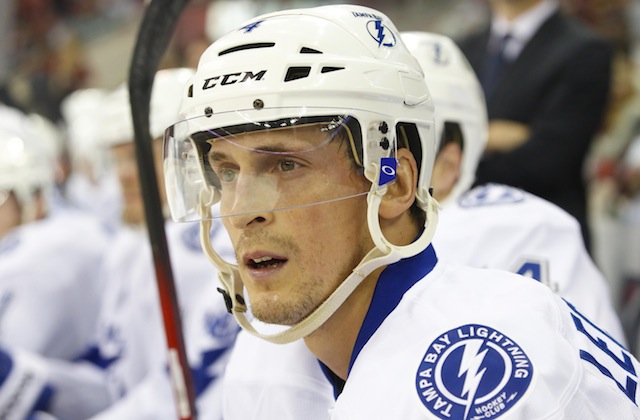 More NHL offseason: Rumors | Top 50 Free Agents | Top 50 Prospects
The Tampa Bay Lightning decided to use one of their two cap compliance buyouts on Vincent Lecavalier this past week, starting a free-agent frenzy for the veteran forward who is now easily the best player available on the open market.
He's not the player who compiled 50 goals and 100 points a few seasons back or the player who was the focal point of a Stanley Cup winning team, but he's still an extremely gifted and productive player who's going to help the team that he lands on. He has averaged .83 points per game over the past five full seasons, which puts him in the top 40 among all NHL players.
He probably wasn't a great investment for Tampa Bay at more than $7 million per year anymore, but that doesn't mean he wouldn't be a great fit for somebody at $4 million or $5 million per year.
Even though he's not eligible to sign with a new team until Friday, he can speak with teams before then. And it seems that just about everybody wants him, is rumored to want him, should want him or has already met with him.
On Sunday, he met with the Calgary Flames and Detroit Red Wings, but they're not the only teams that have made the list of potential suitors. And they're certainly not the only teams that have met with him.
Let's go through the list:
Calgary Flames: The Flames seemed to be one of the first teams to publicly display their interest in Lecavalier, and that's probably not a surprise given the fact that their general manager, Jay Feaster, spent time in Tampa Bay with Lecavalier, including their 2003-04 Stanley Cup season.
At his pre-draft press conference, Feaster spoke glowlingly about Lecavalier and even added that he was a player who "transcends" their "post-apex definition," which might be one of the more bizarre phrases a general manager will use this offseason.
Or ever.
The Flames definitely need some help down the middle, and Lecavalier is the best player available at the position. The only question is, does he really fit in with their rebuild? With or without, the Flames aren't making the playoffs this season (or probably next season). So does it really make sense to sink multiple years and millions of dollars into a 33-year-old forward whose career is declining?
No. No, it does not.

Detroit Red Wings: Now here's a team that might make some sense.
The Red Wings exceeded most expectations last season in what was somewhat of a rebuilding year and have some really nice young players starting to make an impact in the league. And as long as they have Pavel Datsyuk, Henrik Zetterberg, Niklas Kronwall, Jimmy Howard and Johan Franzen on the roster, they're going to be capable of putting together a run. They're probably going to lose Valtteri Filppula to free agency, and they're still loaded with salary-cap space that they could easily fit Lecavalier's contract demands into.
The Red Wings seem to have a way of squeezing every last drop of productive hockey out of veterans.

Dallas Stars: Count the Stars among the teams that met with Lecavalier over the weekend, and it seems like they not only have a serious interest in him but are going to make quite a push to get him. Ownership, new general manager Jim Nill and new coach Lindy Ruff were among the group that sat down with Lecavalier. There seems to be some media pressure in Dallas to get something big done this offseason, like this recent Q & A with Gerry Fraley of the Dallas Morning News in which he pleaded with the Stars to just get anybody with a name before the team loses the city.
"This isn't draft related, but Tampa Bay bought out Vinny Lecavalier today, and he's a cool dude. You have to be a cool dude with that name. Just get a name. Quit putting these faceless guys out there. They're about to lose this town completely if they don't do something. Five straight years without the playoffs, a faceless, anonymous team, coaches who didn't want the job." 
That seems to be a little overdramatic, but signing a big-name guy just to please the fan base is the type of move that almost never works out for a team.


Philadelphia Flyers: Because, sure, why not? ESPN's Pierre LeBrun had the Flyers as one of the teams meeting with Lecavalier on Saturday. Never mind that the Flyers are already swimming in talented forwards, have almost no cap space to work with even after using both of their compliance buyouts, and still need a goalie and upgrades on defense.
Paul Holmgren will never ignore a potential blockbuster move even if he doesn't have the money to make it happen.
Just because a big-name player becomes available doesn't mean you have to get involved in it.
Boston Bruins: The Bruins are in the same boat as the Flyers in this pursuit: They have interest, they met with him, but how can they possibly afford him?
The Bruins have $5 million in salary-cap space (via capgeek) and only have 19 players under contract. Tuukka Rask needs a new contract this year, Patrice Bergeron needs a new contract before next summer, and they're already losing Nathan Horton, Jaromir Jagr and Andrew Ference. They had a "good" meeting with him over the weekend.
There's also the issue of where he would play. The Bruins are already deep down the middle with Bergeron and David Krejci manning the top two center spots. That leaves either somebody playing a third-line role or somebody (probably Lecavalier) moving to wing.
Toronto Maple Leafs: Toronto met with Lecavalier over the weekend and came into the offseason with the intention of adding a center. They did that on Sunday by trading for Dave Bolland, sending three draft picks to the Chicago Blackhawks. General manager Dave Nonis said it's possible they could enter the season with their current group down the middle (Bolland, Nazem Kadri, Mikhail Grabovski and Jay McClement), which might end whatever brief flirtation that they had with the former Lightning star.
Washington Capitals: The Capitals are a contender, they have some money to work with, and they're likely to lose Mike Ribiero to free agency, a move that would re-create the second-line center hole that this team has had for years behind Nicklas Backstrom. Put it all together, and you have a team that's going to be mentioned in the Lecavalier sweepstakes. Coach Adam Oates met with Lecavalier over the weekend and said, via the Washington Post, that "he fits into our puzzle."
"Vinny's a guy that, one of the things I really respected about him is, he wanted to play against the best players every night," Oates said, via the Post. "He wanted the responsibility of playing against their best D, every night, handling that pressure, game in and game out. I think he's a guy that, the day happens when we go four rounds, he's a guy that will be standing there at the end of four rounds. I think that's why a lot of teams are after him."
Montreal Canadiens: ESPN's Craig Custance had Montreal as his top destination for Lecavalier, and it shouldn't be a surprise to anybody that the Canadiens were mentioned. Vincent Lecavalier-to-Montreal trade rumors used to be a yearly occurrence. Now that he's a free agent, it's only natural to assume they might have some level of interest.
Anaheim Ducks: Ducks general manager Bob Murray confirmed on Sunday, via Ducks beat writer Eric Stephens, that he met with Lecavalier but that the player was looking for too much money and too many years for their liking. The Ducks could use a No. 2 center option behind Ryan Getzlaf as the team was using Saku Koivu in that role a year ago. He's an OK option, but his performance is quickly fading. The Ducks have $7 million in cap space but don't usually spend to the cap.
Florida Panthers: This didn't really seem to go anywhere, and they seem to be near the bottom of the list when it comes to likely destinations, but, yes, the Panthers were interested in adding Lecavalier.
"We're very interested in his leadership, his skill level," general manager Dale Tallon told George Richards of the Miami Herald on Saturday. "We have young, big centermen who could learn a lot from him. We have some interest; hopefully he has some as well. That's the way it starts. It takes two to tango. If he doesn't want to come, so be it. But I think there will be some open dialogue there. That would be a benefit to our franchise."
St. Louis Blues: An intriguing option. The Blues are already a contender. And because their front office has locked down so many core players on cap-friendly contracts, they have a ton of salary-cap space to work with for potentially adding an impact piece in free agency. TSN's Ryan Rishaug reported on Saturday that the Blues met with him.
San Jose Sharks: Not sure where he would fit in here given the number of players on this team capable of playing center, not to mention their cap situation, but the Sharks were reportedly said to be "keeping tabs on that situation." Seems like a real long shot.


The puck didn't go in the net but the skater did!

Another sign that Houston is a potential destination for an NHL relocation
The two teams combined for 111 penalty minutes and five ejections

The veteran Minnesota goaltender has recorded three consecutive shutouts

The historic start for the NHL's newest team has come largely from unprecedented balance in...