Evgeni Malkin continues to struggle to score; what's going on?
Evgeni Malkin goes into Wednesday night without a goal in his last 14 games, the Penguins going 7-7 in that stretch. What is going on with Geno?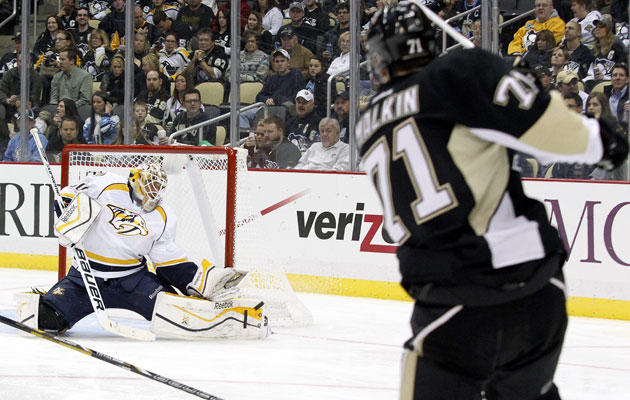 More NHL: Scores | Standings | League Leaders | Odds | Injuries | Power Rankings
On Wednesday night, one of the supposed great rivalries of the last seven or so seasons will resume and this time it's for divisional bragging rights to boot when the Pittsburgh Penguins visit the Washington Capitals with first place in the Metropolitan Division up for grabs. So many are wondering: is the Sidney Crosby and Alex Ovechkin rivalry ready to fully resume?
The more pressing question though should be about a different former Hart Trophy winner for the Penguins and Ovechkin's Russian comrade, Evgeni Malkin. More specifically: What the heck is going on with him? It seems like a completely ludicrous question to ask of a player with 20 points in 21 games but it's certainly one being asked by a lot of people because nobody is seeing the Geno that we all become accustomed to seeing.
Credit where it is due to Malkin, he hasn't stopped putting up points and helping the offense lately. In the month of November he has 10 assists in eight games and nobody is going to poo-poo on that, it's impressive. It's just the goose egg in the goals category that has people stumped.
That goal-scoring slump goes back before Halloween, too. You have to go all the way back to Oct. 17 to find the last time Malkin scored a goal, a span of 14 games.
We're talking about a player who had 50 goals the last time the NHL played a full 82-game season in 2011-12. We're talking about a player who is still in his prime years at 27 years of age and who has never failed to score 30 goals in a season where he played 70 games or more. We're talking about Evgeni bleepin' Malkin.
As is the case with any goal-scorer's slumping ways, Malkin is being dealt some rough hands at the moment, experiencing some bad luck. His shooting percentage this season is currently down at 5.4 percent, well below his career average of 12.6. It happens to the best of 'em; sometimes the hockey gods just decide to conspire against you for a while.
But 14 games for a player of his caliber? Either he broke a mirror beneath a ladder while a black cat crossed his path causing him to spill salt or it's not all about the L word.
Really, this slump can be viewed as being more prolonged than just the three goals in 21 games this season. Including the last postseason, Malkin has just 16 goals in his last 57 games, a 23-goal pace over a full campaign. It's a much larger sample size than the 14-game drought right now or even the 21 games of this season and thus a little more telling ... or concerning.
Don't mistake matters, that 82-game pace is still nice production -- especially when he continues racking up assists with little problem -- it's just not what we've all come to expect from a player with the second-highest salary cap hit in the league.
Reality of the matter is there are other reasons why Malkin is scoring less. The simplest: he's shooting less. A lot less. Through 21 games this season he is averaging the fewest shots per game of his career by a rather wide margin. He has put 2.67 shots on goal per game this season, his career low was 3.10 per game as a rookie. It has dipped even more recently as Malkin has 22 shots in the last 12 games, not even two per game. On Saturday he went without a shot completely. Obviously the less frequently you shoot, the less likely you are to score.
Again those, scoring slumps come and go, even prolonged ones. Perhaps more concerning are his possession numbers. His Corsi For percentage (which simply measures the percentage of total shot attempts in a team's favor when a particular player is on the ice) is down to 48.7 percent this season in 21 games, well below the 56.5 percent he had just last season. Or for those who prefer the more basic if not more flawed plus/minus, he's a minus-6 this season where he was a plus-18 in 2011-12.
It doesn't help Malkin's cause that Malkin's linemate James Neal has been injured for parts of this season but that still doesn't completely explain away the scoring issues Malkin is facing this season.
Last week everybody's favorite hockey broadcaster Pierre McGuire joined a Pittsburgh radio station and expressed his concern over Malkin's game which hasn't gotten a heck of a lot better in the week since.
"Evgeni Malkin didn't compete hard enough. You can't massage it, you can't masquerade. I mean the bottom line is if you want to play in this league you got to compete every single day and every single night. And he's a star player, he needs to compete harder, I think he knows that."
Whether it's a matter of competing harder, taking more shots or just visiting a witch-doctor to lift the hex,something is going to have to change for Malkin the mojo back, something the Penguins could really use too. It's probably not a coincidence that the Penguins are just 7-7 in Malkin's slump.
This drought won't last forever and when it does end it could very well end with a vengeance and a balancing hot streak as is often the case. Still, it's fair to wonder if Malkin's game isn't changing. Again, that doesn't make him a lesser player by any stretch, he's still a point-per-game player and it's great to have the abilities on the puck and passing it to fall back on that Malkin has, but we expect to see Malkin tickling the twine.
If Malkin needs any kind of pick-me-up, perhaps all he has to do is look at the other bench on Wednesday night and see Ovechkin, a guy who himself hit a major snag in his career only to have been rejuvenated in the last two seasons. He'll get it right sooner rather than later but unless his game takes a turn with his luck, we might see a slightly different Geno from now on.
Sign up now, and your name can be under the Golden Knights' skates, too!

Pittsburgh coach Mike Sullivan says the team also respects players' right to protest

Some familiar faces are back, but a cap-strapped summer left Chicago a little shakier than...
The Pittsburgh Penguins will put politics aside and visit the White House out of 'respect'...

NBC will reportedly be devoid of NHL game broadcasts between Feb. 7-26

The Winnipeg winger suggests Trump is going after 'the principles the U.S. was founded on'