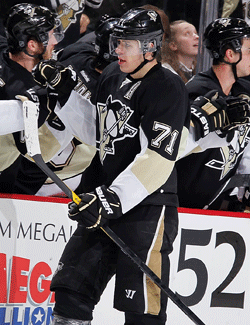 In news that should come as no surprise, Pittsburgh Penguins forward Evgeni Malkin won the Hart Trophy on Wednesday night as the NHL's Most Valuable Player.

He did so by beating out New York Rangers goalie Henrik Lundqvist and Tampa Bay Lightning forward Steven Stamkos.

Malkin returned to the Penguins lineup this season after missing the last half of the 2010-11 season due to a torn ACL, and he was pretty much the best player in the NHL from start to finish. He notched his first career 50-goal season and won his second Art Ross Trophy with a league-best 109 points. He did all of that while also missing seven games due to injury.  

For most of the season, he centered what was one of the most dangerous offensive lines in the league (if not the most dangerous line) playing between James Neal and Chris Kunitz, a trio that combined to score 116 goals for what was the highest scoring team in the league. While Sidney Crosby missed significant time with a concussion, Malkin and his linemates carried the team offensively.

Malkin is the fourth different Penguin to win the Hart Trophy, joining a list that includes Hall of Famer Mario Lemieux, Jaromir Jagr and Crosby. It also adds to what is an already impressive collection of NHL issued hardware. To go with this award, as well as the two aforementioned Art Ross Tropies, Malkin also has a Stanley Cup title on his resume and the Conn Smythe Trophy as playoff MVP during that 2009 championship run. He also won the Calder Trophy as the NHL's rookie of the year during his debut season in 2006-07.
Earlier in the evening on Wednesday, he was also awarded the Ted Lindsay award, which goes to the most outstanding player as voted on by the NHL's players.

And he's done all of this before his 26th birthday.

About the only major NHL award he hasn't won is the Rocket Richard Trophy (which goes to the leading goal-scorer) and even that seems like it could be within striking distance at some point.
Complete list of NHL Award Winners
Photo: Getty Images
For more hockey news, rumors and analysis, follow @EyeOnHockey and @agretz on Twitter and like us on Facebook.