Ex-NHLPA head says expansion coming; Markham moves forward
If player agent Allan Walsh added a few embers to the growing expansion fire, former NHLPA head Paul Kelly and the city of Markham, Ontario, added a few gallons of gasoline.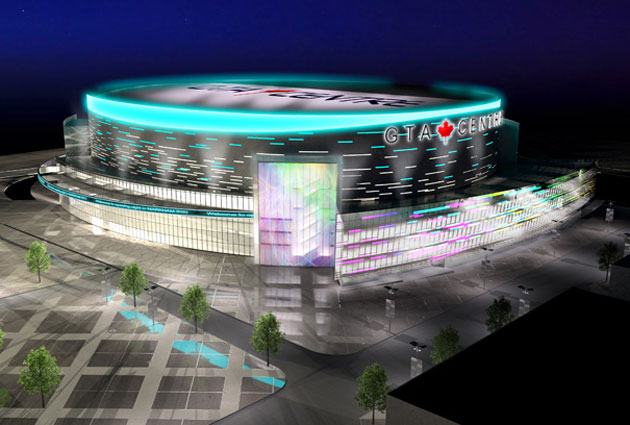 A fancy rendering of the proposed arena. (National Post)
More NHL: Scores | Standings | Odds | Fight-O-Meter | League Leaders | Rumors
If player agent Allan Walsh added a few embers to the growing expansion fire, former NHLPA head Paul Kelly and the city of Markham, Ontario, have added a few gallons of gasoline on Tuesday night/Wednesday morning.
The city has been in the planning phase of building a new NHL-ready arena in the suburb of Toronto. The city council held a meeting Tuesday to decide if the plans should move forward. Council members voted at almost 3 a.m., and the vote was 7-6 against stopping the planning, which would include the city borrowing $325 million to build an arena. It doesn't mean the arena will definitely happen now; it just means the process isn't done and the dream lives on.
It's a pretty big gamble for the city to make, committing so much money for a new arena that has no guarantee of a permanent tenant. It would still have concerts and other such events coming in, but the intended prize is an NHL franchise.
That's where Kelly came in. Speaking in front of the council, he made a case for why they should feel secure in building an arena, because the NHL is about to get bigger.
From Elliotte Friedman of the CBC.
"I've discussed it with many owners, the commissioner and many players," Kelly said in a conversation after his presentation. "That's given me a strong sense that at some point there will be a second team [in the greater Toronto area].

Kelly added he believes expansion will take place in the next two or three years, "most likely" to Quebec City and Toronto.

"You're not going to wait until the back end of a CBA, when you will be under negotiation again...[Expansion] balances re-alignment; increases revenue streams. It adds $80-100 million US to the [Hockey Related Revenue] pie.

"Quebec City had a franchise before and it served the sport well," Kelly said. He also said the NHL considers the Quebec market "underserved."
It's usually the case that where there's smoke there's fire, and there has been a lot of smoke on this issue for months. There are a few markets that seem like possible NHL destinations (Seattle being another), and with the NHL's proposed realignment plan leaving uneven conferences, the pieces of the puzzle seem to fit.
Just don't get ahead of yourselves. NHL Deputy Commissioner Bill Daly again reiterated to Pierre LeBrun of ESPN.com the NHL's stance that expansion is not absolutely coming to the NHL again.
"There's never been a plan to expand to 32 teams," NHL deputy commissioner Bill Daly told ESPN.com Wednesday morning. "Whether we talked conceptually at some point if things are going well whether we could expand to 32, I'm sure we suggested we could, but we certainly never reached the point where that was appropriate when Paul Kelly was executive director of the NHLPA and I'd say we haven't got there at this point.

"I'd say any sports league aspires to be in a position where expansion is a good idea," added Daly. "But again, it's got to be the right circumstances."
Things aren't adding up here. Either they don't speak the same languages, or somebody is lying. It's probably more the former than the latter -- and two people not being on the same page. However, it does make a lot of sense to expand to two more teams in markets that you know would be successful and add to the overall revenue streams of the league in a positive way.
Kelly's statements were strong and as close to definitive as we've seen, mostly because of the setting: a meeting of a city council weighing the proposal's risks with a city's financial future potentially on the line. Obviously an assurance that "if you build it, they will come" will help them go through with the arena because if they do get an NHL team, it will be a big moneymaker (even after compensating Toronto for moving in on their territory).
Because the vote to end the planning failed, the dream of an arena in Markham lives on, and with it, so does the dream of expansion.
Previously from Eye on Hockey
Markham shows off its arena plans
Agent says expansion is coming
Quebec City unveils plans for arena
Potential Sonics owner has arena deal with Seattle
How would Seattle fare as an NHL market?
For more hockey news, rumors and analysis, follow @EyeOnHockey and @StubitsCBS on Twitter, subscribe to our YouTube account and like us on Facebook.
The Rangers go with a darker blue and old-fashioned lettering for the outdoor game

It's time to hook your favorite NHL fan up with some Black Friday deals

The Lightning have Steven Stamkos to thank, and the Blues should be extra grateful for Brayden...
The Sabres will face the Rangers at Citi Field on New Year's Day in these sharp threads

SportsLine's Mike McClure, a DFS pro with more than $1M in winnings, gives optimal lineup...

Without the star power of the NHL, America is banking on big contributions from some AHL, KHL...