Eye On Hockey Mailbag: What do you have against the Wild?
You have questions, we will try to have answers. Welcome to the Eye On Hockey mailbag. It will appear every Tuesday. Have a question, comment, or observation? Tweet it to us and we'll try to respond to it for the world to see.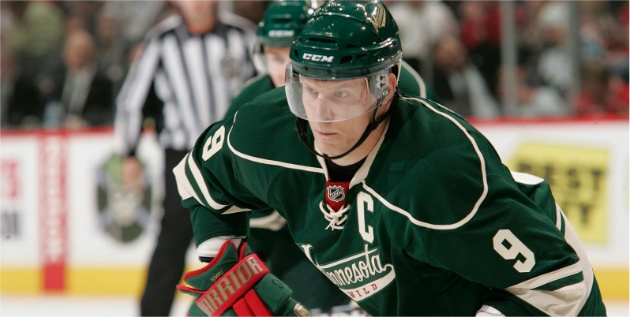 The Wild are 2-0, but we've seen fast starts from them before. (Getty Images)
You have questions, we will try to have answers. Welcome to the Eye On Hockey mailbag. It will appear every Tuesday. Have a question, comment, or observation? Tweet it to @Agretz or @EyeOnHockey and we'll try to respond to it for the world to see.
More NHL: Scores | Standings | Power Rankings | Odds | Fights | Stats | Rumors 
In my bold predictions post prior to the start of the 2013 season the top item on my list centered on the Minnesota Wild, fresh off their summer spending spree, and how I don't think they will qualify for the playoffs. Even with the additions of Zach Parise, Ryan Suter, and top rookie Mikael Granlund.
(I'm still not a believer at this point, even after their 2-0 start).
This prediction did not amuse many of our friends in Minnesota, and they let me hear about it in the comments, on Twitter, and via emails. When the Wild opened the regular season with a win against the Colorado Avalanche (and followed it up with a 1-0 win over the Dallas Stars on Sunday) it didn't get any easier.
So let's start with a popular question/angle over the past week.
What exactly do I have against the Minnesota Wild? Example:
@agretz How'd that game end up? BOOM. You hate the Wild don't you? What do you have against them?

— Pat Cassidy (@patcassidy86) January 20, 2013
Say something negative or critical about a team and you're assumed to hate them. Say something positive about another team and you're assumed to be in the bag for them.
Fact is, I don't hate the Wild. I don't hate any team in the NHL. I try to look at the league as objectively as I can (through observation, statistical analysis, etc.) and with all due respect to the Wild, they were objectively terrible in 2011-12.
Injuries are often cited as a reason for their second half tailspin, but I didn't believe their hot start to be sustainable even before the injuries started to pile up (and I wrote about it here -- though, while I was right on the money on the Wild, I whiffed miserably on the Rangers. Hey, you win some, you lose some). They were were routinely winning low-scoring games early in the season while getting slaughtered on the shot chart and in the possession game (speaking of possession, they finished the regular season as one of the worst teams in the league for the second straight season, via Behindthenet.ca).
That is not a sustainable way to win hockey games. Eventually the percentages were going to balance and the bottom was going to fall out. And it did.
They are better this season thanks to the aforementioned additions of Parise, Suter, and Granlund, but I still don't think that's enough to get them into the playoffs this season, not only because I think they need more than two top free agents and a top prospect, but because there are still a lot of Western Conference teams that -- right now -- look to be better.
Through two games they've flipped the script on their opponents (Colorado and Dallas) and played strong games, especially when it comes to territorial play and controlling the puck. If they can continue it and prove they're not going to get pinned in their own end of the ice every game I'll admit the error of my ways and hop on board.
But for right now I'm still not sold.
It's nothing personal.
Moving on...
@eyeonhockey is Vladimir Tarasenko about to become a legit NHL star?

— Davis Mattek(@davismattek) January 22, 2013
Hell. Yes.
Of all the fast starts to the 2013 season few have been as impressive as Vladimir Tarasenko's in St. Louis. Blues fans have been waiting for him for a couple of years, and he's arrived with a bang recording five points (three goals, two assists) in his first two games, including a three-point effort against the Nashville Predators on Monday night.
He scored two goals in the Blues season opening blowout win over the Detroit Red Wings, and was a threat to score several other times. He was arguably the best player on the ice that night.
His talent level is off the charts, and while this is his first taste of pro hockey in North America, he has professional experience in the KHL and more than held his own as a teenager in the second best league in the world -- a league where ice-time and points are hard to come back for 18, 19, and 20-year olds. In 2011-12 and the first part of the 2012-13 he was a point-per-game player in Russia, despite being one of the youngest players on his team.
The Blues are a young, dangerous team and they're  going to be a force to reckon with in the Western Conference this season. And Tarasenko is going to be a huge part of it. 
@eyeonhockey Corey Crawford this season: thoughts? #Blackhawks

— Fouad Egbaria (@HoldinTheRope) January 19, 2013
I think Corey Crawford is the weak link on an otherwise loaded Chicago team (and that's not the first time we've said that about a goalie on a strong Blackhawks team).
He had a bad 2011-12 season and was even worse during the Blackhawks opening round playoff loss to Phoenix. He should be better in 2013 mainly because I'm not sure it's possible for him to be any worse. Regression to the mean works both ways, and he should be a bounceback candidate because there's nowhere for him to go but up.
Still not a great goalie, I don't think, but he's on the right team (one that can dominate the puck and keep it as far away from him as possible).
@eyeonhockey Will we, Toronto, make the playoffs this year?

— Javier Delgado (@JavierDCH12) January 19, 2013
*Looks at Maple Leafs roster. Checks out the goalies.*
No. No the Maple Leafs will not make the playoffs. The drought continues.
For more hockey news, rumors and analysis, follow @EyeOnHockey and @Agretz on Twitter and like us on Facebook. Also, subscribe to our YouTube Channel.
Vladislav Yeryomenko was the Teddy Bear Toss goal scorer for the Calgary Hitmen

The Golden Knights are finally getting their No. 1 goalie back after a 25-game absence

Washington has won four straight, and the Kings are also on a tear right behind the Lightn...
The NHL says it's only interested in expanding to Seattle, but here's a look at all the moving...

The NHL says it is only looking toward Seattle for the next expansion team

The 33-year-old defenseman hopes to help find a cure for serious head injuries in athletes