Eye On Hockey top 50 NHL players: 45-41
We continue our top-50 NHL player countdown with players 45-41.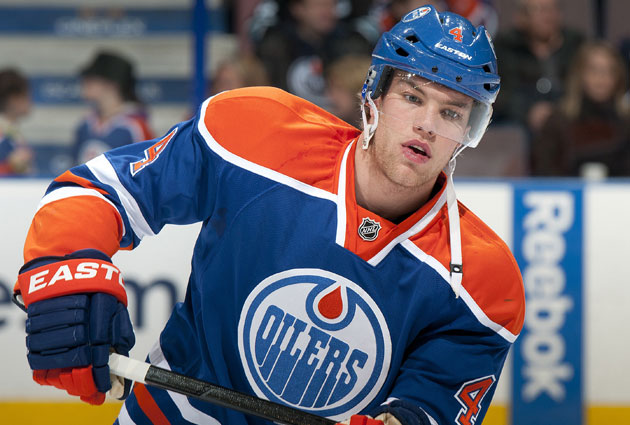 Taylor Hall makes our Top 50. And he's a player quickly on the rise. (Getty Images)
Since the NHL is still shut down for at least another month due to the ongoing lockout, we're going to occupy some of your time by counting down the Top 50 players in the NHL as decided by ... well ... me.
A number of factors went into the list including overall production, advanced metrics (via BehindtheNet.ca), personal observation, all-around play and what kind of role are they asked to play by their coaches. For example: If two players are similar in their production and are comparable in their style of play, the guy who is asked to face tougher competition or tougher assignments, among other factors, is probably going to get the edge.
To make it even easier: I basically started with the question of "If I'm building a team to win the Stanley Cup this season, who would I want on my team?"
There will be disagreements, I'm sure. And as is always the case, if a player you like is too low, or excluded, that obviously means I hate him and your team.
Previously at Eye On Hockey: Players 50-46
2011-12 box score stats: 81 games, 12 goals, 39 assists, 51 points
2011-12 advanced stats: .721 Corsi Quality Competition, plus-7.8 Corsi Relative, 1005 PDO
The 2008 draft was loaded with talented, young defensemen. Four of the top-five picks were on the blue line while the rest of the first round included guys like Tyler Myers, Michael Del Zotto, Erik Karlsson and John Carlson. It was, and still is, a very impressive group.
Pietrangelo was the third of those players to be selected (after Drew Doughty and Zach Bogosian and just before Luke Schenn) and is now well on his way to becoming a franchise defenseman in St. Louis. The 2011-12 season was a breakout year for Pietrangelo and saw him finish fourth in the Norris Trophy voting.
It probably won't be long until he actually wins one.
At 22, he's already a big-minute defenseman. He was not only Ken Hitchcock's top option for the tough 5-on-5 assignments last season, he was a top penalty killer on one of the top penalty killing teams in the league, and quarterbacked their power play.
2011-12 box score stats: 81 games, 29 goals, 38 assists, 67 points
2011-12 advanced stats: .389 Corsi Quality Competition, plus-18.4 relative Corsi, 1022 PDO
The 2009-10 Boston Bruins finished the regular season with 91 points and went to the second round of the Eastern Conference playoffs. It's not often that teams with such a successful season have an opportunity to come back the following offseason and own the No. 2 overall pick in the NHL draft. But thanks to the trade the previous summer that sent Phil Kessel to the Toronto Maple Leafs for a couple of draft picks, the Bruins did.
And it allowed them to add yet another impact, high-profile young player to a roster that was already loaded with them.
The first of the draft picks from Toronto was used to select Tyler Seguin. After only two years, he's already one of Boston's best players and one of the best young players in the NHL. Look at this way: The Bruins were one of the best teams in the NHL last season and, as a 20-year-old, Seguin led the team in goals, points, shots on goal, even-strength goals and was second in Corsi Relative.
Think of the latter as a plus-minus rating but instead of using goals, it's attempted shots for and against compared to the rest of his team.
2011-12 box score stats: 82 games, 24 goals, 30 assists, 54 points
2011-12 advanced stats: 1.158 Corsi Quality Competition, plus-5.6 Corsi Relative, 1009 PDO
The St. Louis Blues have produced some excellent young talent in recent years, particularly at the forward positions. It all finally started to come together in 2011-12 with what was one of the most successful regular seasons in franchise history. Honestly, that team might have been good enough to win it all had it not run into the buzzsaw that was the Los Angeles Kings in the second round of the playoffs.
Leading the way for the Blues is their captain, David Backes. He's a player who does everything on the ice and plays in every possible role: killing penalties, contributing on the power play and not only playing tough even-strength minutes but also still being able to push the play up the ice. Along with that, he already has two 30-goal seasons on his resume.
2011-12 box score stats: 82 games, 22 goals, 32 assists, 54 points
2011-12 advanced stats: .886 Corsi Quality Competition, plus-6.6 Corsi Relative, 1011 PDO
Dustin Brown was one of the many Los Angeles Kings who gained some of the national recognition that he has long deserved during their run to the Stanley Cup last spring.
One of the better power forwards in the NHL, Brown was actually the subject of some trade rumors leading up to the deadline. Fortunately for Kings fans, nothing came of them and he exploded offensively in the playoffs. He hed the NHL in postseason goals, assists, points, game-winning goals and shorthanded goals as the No. 8 seed Kings won the franchise's first Stanley Cup. Like many of the Kings, he had a slow start to the season offensively and performed well below his career norms (mainly due to an unsustainbly low early-season shooting percentage). But he eventually started to find the back of the net as the season progressed, finishing with a number right in line with his career norms.
One of the more underrated aspects of his game is his ability to play a physical brand of hockey yet also control himself and not get into trouble by taking penalties. He is also one of the best players in the NHL when it comes to drawing penalties. During the 2011-12 season, Brown had one of the best penalties taken/penalties drawn ratios in the league at plus-1.3, a mark that was third best in the league (he trailed only Jeff Skinner and Darren Helm, both of whom were plus-1.7).
It's just one of those hidden stats that doesn't get a lot of attention but certainly gives his team a significant advantage.
2011-12 box score stats: 61 games, 27 goals, 26 assists, 53 points
2011-12 advanced stats: .858 Corsi Quality Competition, plus-15.6 Corsi, 991 PDO
Taylor Hall, the No. 1 overall pick in the 2010 NHL draft, has had some injury problems over the first two years of his career that have limited him to just 126 of a possible 164 games. And that's a shame for him and the Oilers. But when he has been healthy and on the ice, he has been a difference maker. Some might prefer Seguin, the No. 2 pick in 2010, to Hall, but I give Hall the edge because he's carrying around a significantly worse team than Seguin and has had a huge impact on the play of his teammates.
For example: Checking the advanced metrics, there wasn't a single player on the Oilers' roster who played more than 20 games last season that had a positive Corsi percentage (percentage of attempted shots) when they weren't on the ice with Hall.
Not one. Not Jordan Eberle (whose numbers took a significant hit when he was away from Hall). Not Ryan Nugent-Hopkins. Not Ales Hemsky. Not Sam Gagner.
All of them were outchanced, in many cases significantly, when they didn't have the luxury of seeing the ice with Hall.
The table below, with data via stats.hockey.analysis.com, shows that.
Taylor Hall's Impact On The Oilers
Player
Corsi % With Hall
Corsi % Without Hall
Difference
Jordan Eberle
.518
.456
-.062
Ryan Nugent-Hopkins
.533
.447
-.086
Ales Hemsky
.549
.479
-.070
Sam Gagner
.547
.462
-.085
If you're not familiar with Corsi percentage it is the percentage of attempted shots (goals, saves, blocks, misses) taken when a player is on the ice during 5-on-5 play. Looking at the table above as an example, when Hall and Eberle were on the ice together nearly 52 percent of the attempted shots belonged to Edmonton. And that's good. When Eberle was without Hall, only 45 percent of the shots went to Edmonton. And that's bad.
Hall is not only a talented and productive player that produces a lot of goals and points, he's also a guy that drives play and helps dictate the pace of the game and where it's played on the ice.
He is a player that is quickly on the rise.
For more hockey news, rumors and analysis, follow @EyeOnHockey and @agretz on Twitter and like us on Facebook.
Saturday's showdown will serve as a rematch of one of the NHL's first-ever regular season...

Stacia Robitaille says Donald Trump told her in an elevator that she was coming home with...

Vladislav Yeryomenko was the Teddy Bear Toss goal scorer for the Calgary Hitmen
The Golden Knights are finally getting their No. 1 goalie back after a 25-game absence

Washington has won four straight, and the Kings are also on a tear right behind the Lightn...

The NHL says it's only interested in expanding to Seattle, but here's a look at all the moving...