Eye On Hockey top 50 players: 25-21
We continue our top 50 NHL players countdown with players 25 through 21.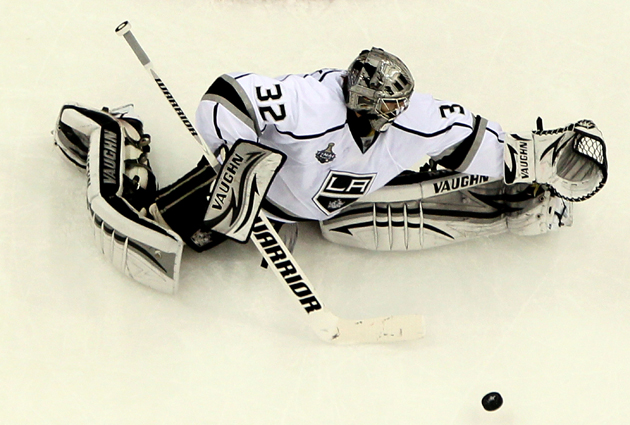 Los Angeles Kings goalie Jonathan Quick makes our top-50 list at No 22. (Getty Images)
Since the NHL is still shut down for at least another month due to the ongoing lockout, we're going to occupy some of your time by counting down the top 50 players in the NHL as decided by ... well ... me.
A number of factors went into the list, including overall production, advanced metrics (via BehindtheNet.ca), personal observation, all-around play and what kind of role they are asked to play by their coaches. For example: If two players are similar in their production and are comparable in their style of play, the guy who is asked to face tougher competition or tougher assignments, among other factors, is probably going to get the edge.
To make it even easier: I basically started with the question of "If I'm building a team to win the Stanley Cup this season, who would I want?"
There will be disagreements, I'm sure. And as is always the case, if a player you like is too low, or excluded, that obviously means I hate him and your team
Previously at Eye On Hockey: Players 50-46 | Players 45-41 | Players 40-36 | Players 35-31 | Players 30-26
2011-12 box score stats: 82 games, 20 goals, 46 assists, 66 points
2011-12 advanced stats: .404 Corsi Quality Competition, plus-3.3 Corsi Relative, 1013 PDO

As we found out on Friday, Teemu Selanne's career might be a casualty of the lockout if the entire season is lost. That would be an absolute shame.
He's 42, but you would never know it by watching him play. He still flies around the ice, he's still productive, and he's still, on most nights, the best player on the ice during any given shift. 
Over the past two seasons at the ages of 40 and 41, he has scored 57 goals to go with 89 assists. Impressive numbers for any player -- almost unheard of for a guy his age.
Look at it this way: In NHL play since 1917-18, Selanne has two of the top-seven scoring performances for a player over the age of 40 (his 2010-11 season was the third best, and his 2011-12 season was seventh).
He's not only still incredibly productive, he's still worth the price of admission every night. Hopefully, you'll have a chance to see him in action a few more times.
2011-12 box score stats: 82 games, 24 goals, 46 assists, 70 points
2011-12 advanced stats: .826 Corsi Quality Competition, plus-6.6 Corsi Relative, 980 PDO

Hockey can be a game of inches. It can be a game of luck. It often can simply be a matter of getting the right bounce at the right time.
During the 2011-12 season, Eric Staal didn't get many breaks his way as seen in part with his 980 PDO (the combined save percentage and shooting percentage when he's on the ice), which was well below his normal career level. 
His 24 goals in 2011-12 were the lowest total since his rookie season of 2003-04 (he scored just 11). Part of it was a lower shot total as well as a lower shooting percentage than we're used to seeing from him. Another part of it was some bad luck.
How so? Staal led the NHL last season with 17 shots off the post, four more than the player with the second-most shots off the iron (Pittsburgh's James Neal with 13). He was one of just five players to do it more than 10 times.
He's a consistent 70-point performer and a big-time, two-way player. This season, he's going to get an opportunity to play with his younger brother, Jordan Staal, whom Carolina acquired from Pittsburgh during the draft. Along with Jeff Skinner and free-agent addition Alex Semin, they should give the Hurricanes a pretty strong forward group and make them a contender in the Southeast Division.
2011-12 box score stats: 82 games, 11 goals, 46 assists, 57 points
2011-12 advanced stats: .843 Corsi Quality Competition, plus-14.5 Corsi Relative, 977 PDO

Speaking of guys who were unlucky during the 2011-12 season, let's take a look at Ryan Getzlaf -- a great player who had a down year due in large part to some bad luck.
Getzlaf has been a player whom you can pencil in for somewhere in the neighborhood of 25 goals over an 82-game season. That made last year's 11-goal output all the more shocking, especially since he's still in what should be the prime of his career (age 27). His problem last season wasn't generating shots, as his shots-on-goal totals were close to what he had done in recent years. He was still getting his chances. When he was on the ice, the Ducks carried the play and were typically outshooting and outchancing their opponents (his plus-14.5 Corsi Relative, a plus/minus metric using attempted shots instead of goals was one of the best marks in the league). And he did it while playing against tough compeition at even-strength.
He was driving play and tilting the ice in Anaheim's favor. But the shots weren't going in for him, and he finished with a shooting percentage of 5.9 percent. His career average in 512 games is more than 11 percent. This was more than likely nothing more than a fluke season and a year in which he was crushed by percentages. It's not something that's likely to be duplicated.
In August, I looked at the 20 players since 1990 who had at least 185 shots in a season and finished with a shooting percentage below 6 percent. Nearly all of them bounced back the following season. This should not be a problem for Getzlaf.  
2011-12 box score stats: 69 games, 35 wins, .929 save percentage, 1.95 GAA
2011-12 advanced stats: .933 even-strength save percentage, .908 shorthanded save percentage

I'll start by saying this: For as good as Jonathan Quick was in the playoffs, I'm not convinced he was the most valuable player on the team during the Kings' playoff run. He was great, but it almost seemed at times that all of the attention was focused entirely on him and how he was single-handedly carrying the team. That took away from what was (and still is) a truly outstanding team on a six-month run of incredible hockey that started in December.
Having said that, he did have a spectacular season and -- for the first two months, when the Kings' offense was struggling to score -- he helped keep them afloat in the Western Conference playoff race. 
He has steadily improved in each of the past three seasons since becoming the Kings' starting goaltender. I don't know that he should be expected to duplicate a .929 save percentage every season; few goalies can. But he has solidified himself as one of the top goalies in the NHL. 
2011-12 box score stats: 77 games, 25 goals, 49 assists, 74 points
2011-12 advanced stats: .130 Corsi Quality Competition, plus-0.9 Corsi Relative, 1017 PDO

What an unbelievable career for Martin St. Louis, one that probably nobody saw coming over a decade ago.
Undersized, undrafted and let go by the Calgary Flames, St. Louis signed with the Tampa Bay Lightning before the 2000-01 season. In the 11 seasons since, he has been one of the most productive offensive players in the NHL and is still going strong.
He has eclipsed the 94-point mark in two of the past three seasons. His resume includes a Stanley Cup ring, a Conn Smythe Trophy, a Hart Trophy and an Art Ross Trophy. 
Since joining the Lightning, he's 10th in the NHL in goals, fourth in assists and third in points. Along with his nearly unmatched production over the past decade, I've always found him to be one of the more exciting players in the NHL. And he seems to have developed quite an on-ice connection with Steven Stamkos in recent years. 
For more hockey news, rumors and analysis, follow @EyeOnHockey and @agretz on Twitter and like us on Facebook.
Saturday's showdown will serve as a rematch of one of the NHL's first-ever regular season...

Stacia Robitaille says Donald Trump told her in an elevator that she was coming home with...

Vladislav Yeryomenko was the Teddy Bear Toss goal scorer for the Calgary Hitmen
The Golden Knights are finally getting their No. 1 goalie back after a 25-game absence

Washington has won four straight, and the Kings are also on a tear right behind the Lightn...

The NHL says it's only interested in expanding to Seattle, but here's a look at all the moving...