Eye On Hockey top 50 players: 5-1
We continue our top-50 player countdown with the top-5 players in the NHL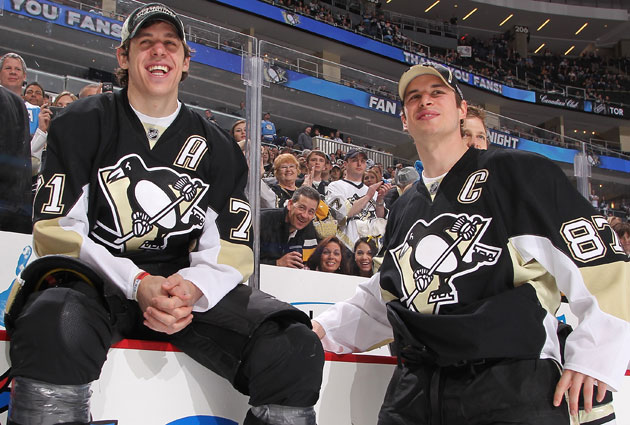 Pittsburgh Penguins teammates Evgeni Malkin and Sidney Crosby both make the top-5 our top-50 countdown. (Getty Images)
Since the NHL is still shut down due to the ongoing lockout, we're going to occupy some of your time by counting down the top 50 players in the NHL as decided by ... well ... me.
A number of factors went into the list, including overall production, advanced metrics (via BehindtheNet.ca), personal observation, all-around play and what kind of role they are asked to play by their coaches. For example: If two players are similar in their production and are comparable in their style of play, the guy who is asked to face tougher competition or tougher assignments, among other factors, is probably going to get the edge.
To make it even easier: I basically started with the question of "If I'm building a team to win the Stanley Cup this season, who would I want?"
There will be disagreements, I'm sure. And as is always the case, if a player you like is too low, or excluded, that obviously means I hate him and your team
Previously at Eye On Hockey: Players 50-46 | Players 45-41 | Players 40-36 | Players 35-31 | Players 30-26|Players 25-21 | Players 20-16 | Players 15-11 | Players 10-6
2011-12 box score stats: 78 games played, 19 goals, 30 assists, 49 points
2011-12 advanced stats: 1.332 Corsi Quality Competition, plus-11.2 Corsi Relative, 1021 PDO
After losing one of their top defenseman in free agency when Ryan Suter signed with the Minnesota Wild back on July 4, the Nashville Predators then had to scramble to keep their No. 1 rearguard (who also happens to be their best player) when the Philadelphia Flyers signed Shea Weber to a massive restricted free agent offer sheet. Losing Weber would have been a crushing blow to the Predators organization and everything it's built over the past few years, especially if it came in the same offseason when it lost his partner for the past few years. 
Weber is perhaps the most complete defenseman in the NHL, playing a physical game, facing some of the toughest competiton in the league (and dominating it), and scoring at a pace that few other defensemen can match.
Since the start of the 2008-09 season, no defenseman has scored more goals than Weber's 74. The next highest total belongs to Washington's Mike Green with 61. No other defenseman over that stretch has scored more than 52. 
Don't worry too much about him not having Suter next to him on the ice anymore because over their careers Weber has performed significantly better when on his own. 
2011-12 box score stats: 78 games played, 38 goals, 27 assists, 65 points
2011-12 advanced stats: minus-.360 Corsi Quality Competition, minus-3.4 Corsi Relative, 1004 PDO

You know you're a great player when you finish in the top-5 in goals in the NHL, as Alex Ovechkin did in 2011-12, and you still face what seemed to a ton of criticism for not having a good season.
It certainly wasn't the best season we've seen from Ovechkin, and based on the standards he's set for himself over the first seven years of his career it was a bit of a disappointment --  but again, only four players in the NHL scored more goals than he did last season. And he's still one of the two or three most talented players in the NHL.
We're probably never going to see the 50-60 goal player we saw between 2007 and 2010 for a number of reasons. For one, that's a nearly impossible pace to maintain in this era, and he's not playing the same number of minutes (especially on the power play) that he did when he was able to generate more than 400 shots per year and lead the league in goals.  
2011-12 box score stats: 75 games played, 50 goals, 59 assists, 109 points
2011-12 advanced stats: .279 Corsi Quality Competition, plus-11.3 Corsi Relative, 1002 PDO

Whenever Sidney Crosby has been out of the Pittsburgh lineup (and it's happened a lot over the years) and the Penguins needed Evgeni Malkin to step up in his absence, he is always up to the challenge and even seems to play his best hockey.
That was the case once again during the 2011-12 season when Malkin had his best season in the NHL, winning his second Art Ross Trophy and his first MVP award. He's as talented as any player in the NHL, has incredible consistency (he's gone just five games in a row without a goal just five times in his career), and is one of the most productive players in the NHL.
His 1.23 point-per-game average for his career is second in the NHL since he made his debut during the 2006-07 season, and the only player he trails is his teamate, Sidney Crosby (more on him in a minute).
He still has some flaws defensively, though he has an incredible knack for for creating turnovers and forcing takeaways, and he sometimes struggles in the faceoff circle. But whatever flaws his game still has are more than overcome by his dominant offensive performance.
2011-12 box score stats: 82 games played, 60 goals, 37 assists, 97 points
2011-12 advanced stats: .248 Corsi Quality Competition, plus-7.6 Corsi Relative, 1024 PDO

The performance Steven Stamkos turned in during the 2011-12 season was one of the best goal-scoring seasons the NHL has ever seen. Maybe not in terms of the raw numbers (it was 38th all-time on the single season list) but when you take into account the era and how difficult it is to score goals in the NHL now, the team he played on, and the way he did it. Not only did he score 60 goals, becoming just the second player since 1996 to reach that mark (Alex Ovechkin was the other) but he scored an incredible 48 of them at even strength, a total that was 13th best all-time. It was fourth best since 1990.
He's been the most prolific goal-scorer in the league since being selected No. 1 overall back in 2008, and since joining the NHL has scored a league leading 179 goals. Alex Ovechkin is the only other player over that stretch to score more than 170 goals. Ilya Kovalchuk is the only other player to score more than 150.
For all of the attention that Stamkos gets for his offensive game -- and it is impressive -- he's also starting to become a complete player that now excels at both ends of the ice.
2011-12 box score stats: 22 games played, 8 goals, 29 assists, 37 points
2011-12 advanced stats: .579 Corsi Quality Competition, plus-17.3 Corsi Relative, 1052 PDO

Like it was going to be anybody else. When he's healthy and on the ice, Sidney Crosby's game has no weakness at this point. Every weakness he has had throughout his career he has managed to correct and turn into a strength.
Didn't score enough goals early in his career for your liking? He has a 50-goal season on his resume.
Struggled with faceoffs? Fixed. He's now one of the best in the NHL.
Unfortunately the past two seasons have been derailed by injury, and now that he appears to be fully healthy he's missing time due the NHL's third lockout in 18 years. If the season ever starts it could be the best hockey we see from Crosby as he is right in the middle of the prime of his career. Even last season when he returned from injury, and wasn't quite 100 percent or back in full flight, he was a force offensively and putting up a point-per-game pace (1.68) that was the best of his career.
His per-game average over his past 63 regular season games (during the 2010-11 and 2011-12 seasons) would be good enough for an incredible 137-point pace over an 82 game schedule.
For more hockey news, rumors and analysis, follow @EyeOnHockey and @agretz on Twitter and like us on Facebook.
Early playoff trouble has been evident, but the Wild tout an offense capable of making another...

Why walk with skate guards when you can rollerskate instead?

This will not leave your memory any time soon
Vegas isn't being quiet about its hot start to the NHL preseason

The blue-liners are set for another big push, but Edmonton's rise is hard to ignore in the...

Meanwhile, the Devils' Brian Boyle isn't sweating his recent cancer diagnosis