Eye On Hockey top players: 20-16
We continue our countdown of the top 50 players in the NHL with players 20-16.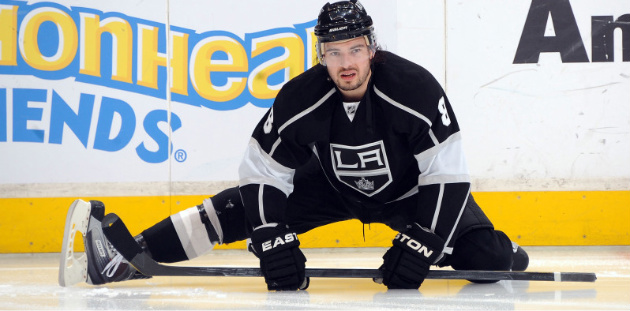 The 2011-12 season was a down year for Drew Doughty by his standards, but it wasn't enough to keep him out of the top 20 of our top-50 NHL player countdown. (Getty Images)
Since the NHL is still shut down due to the ongoing lockout, we're going to occupy some of your time by counting down the top 50 players in the NHL as decided by ... well ... me.
A number of factors went into the list, including overall production, advanced metrics (via BehindtheNet.ca), personal observation, all-around play and what kind of role they are asked to play by their coaches. For example: If two players are similar in their production and are comparable in their style of play, the guy who is asked to face tougher competition or tougher assignments, among other factors, is probably going to get the edge.
To make it even easier: I basically started with the question of "If I'm building a team to win the Stanley Cup this season, who would I want?"
There will be disagreements, I'm sure. And as is always the case, if a player you like is too low, or excluded, that obviously means I hate him and your team
Previously at Eye On Hockey: Players 50-46 | Players 45-41 | Players 40-36 | Players 35-31 | Players 30-26 | Players 25-21
2011-12 box score stats: 82 games, 23 goals, 43 assists, 66 points
2011-12 advanced stats: .565 Corsi Quality Competition, plus-7.3 Corsi Relative, 1002 PDO
Patrick Kane seems to always be an adventure off the ice, and probably not a guy that you would want to spend a Saturday night with (or maybe you would?), but he's always exciting on the ice and one of the best, most creative playmakers in the NHL.
The No. 1 overall pick back in 2007, Kane made an immediate impact for the Blackhawks at the NHL level and has been a near point-per-game player since joining the league.
He has been a cornerstone player during the Blackhawks' recent return to relevance in the NHL and was one of the best players on a Stanley Cup winning team in 2010, scoring the cup-clinching goal in overtime of Game 6 in Philadelphia.
2011-12 box score stats: 77 games, 10 goals, 26 assists, 36 points
2011-12 advanced stats: .986 Corsi Quality Competition, plus-1.5 Corsi Relative, 986 PDO
The 2011-12 campaign wasn't the best season of Drew Doughty's career. But whatever he didn't provide in the regular season, he more than made up for it in the playoffs. He played a shutdown game against top players defensively, leading the league in postseason assists, and scoring one of the best goals of the playoffs in Game 2 of the Stanley Cup Final against the New Jersey Devils.
It doesn't get any nicer than that, and it's not uncommon to see Doughty go on that type of rush on any given night.
It doesn't always result in a goal, but it doesn't always have to.
His regular-season performance was a bit down by his standards, but it was still better than most defensemen in the NHL. The No. 2 overall pick in 2008 is on his way to winning at least one Norris Trophy as the league's best defenseman.
And perhaps more.
2011-12 box score stats: 81 games, 19 goals, 59 assists, 78 points
2011-12 advanced stats: .657 Corsi Quality Competition, plus-11.3 Corsi Relative, 1013 PDO
Erik Karlsson had a season for the ages in Ottawa, resulting in him taking home the Norris Trophy. That, of course, was greeted with some discussion as to how worthy he was of the award, and what the award is about. It's supposed to go to the defenseman who displays the best all-around game, which includes offensive production. And no defenseman was as productive as Karlsson in 2011-12. Few defensemen in recent years have been as productive as he was last season.
His 78 points in 81 games led all NHL blue liners. He was so far ahead of the pack in scoring that the gap between him and the No. 2 defenseman, Dustin Byfuglien, who trailed him by 25 points, was as big as the gap between Byfuglien and the 47th-ranked scoring defenseman, Florida's Dmitry Kulikov. He not only won that scoring race, he lapped the field. Twice.
He was just the third defenseman since 2000-01 to record at least 78 points in a season (Detroit's Nicklas Lidstrom with 80 points in 2005-06 and the New York Rangers' Brian Leetch with 79 in 2000-01 were the other two).
Is he perfect defensively? No. He has his shortcomings in his own zone and, as 21-year-old rearguard who has completed just three seasons in the NHL, that's to be expected.
But I also think they're a bit overblown at times. He's not a "fourth forward" out there on the ice. He faced some of the toughest competition of any player on the Ottawa roster last season and was able to keep the play going up the ice and into the offensive zone. He's not a guy who's going to help defend by sitting back, collapsing around the net, blocking shots and dishing out huge checks. He's going to help defend by keeping the puck 180 feet away from your own net.
And sometimes in the NHL, the best defense is a great offense.
17. Pekka Rinne, Nashville Predators
2011-12 box score stats: 43 wins, .932 save percentage, 2.39 GAA
2011-12 advanced stats: .928 even-strength save percentage, .888 shorthanded save percentage
When the Nashville Predators gave Rinne his seven-year, $49 million contract extension this past season, I wasn't a huge fan of the move. Not because Rinne wasn't good, but because I wasn't sure if it was the best use of their resources given the free-agent status of Ryan Suter and Shea Weber. Also, because I wasn't sure if Rinne could repeat what he did in 2010-11. And because of how well the Predators have been able to find quality goaltending over the years.
As it turns out, Rinne is pretty darn valuable and might have been the right investment for Nashville. At least for now. In general, I'm still not a huge fan of long-term, big-money contracts for goaltenders. But I'm really not sure where this team would have been last season had it not been for Rinne.
He faced one of the heaviest workloads of any goalie in recent NHL history, not only based on the number of games that he played but on the number of shots that he faced. The Predators spent a ton of time in their own zone and gave up more than 30 shots per game. Their Fenwick percentage in close situations (the percentage of shots on goal and shots that miss the net taken) was the second worst in the NHL last season ahead of only the Minnesota Wild. What that means is the play was constantly in front of Rinne, and he was there to bail them out. The Predators won just five games last season that Rinne didn't start.
2011-12 box score stats: 39 wins, .930 save percentage, 1.97 goals against average
2011-12 advanced stats: .933 even-strength save percentage, .905 shorthanded save percentage
It was only a matter of time until New York Rangers goalie Henrik Lundqvist won his first Vezina Trophy, an honor that he received following a 2011-12 season that saw him put up career highs in wins, save percentage, and goals against average.
Over the past three years, he has been as dominant as any goaltender in the NHL. And his numbers are actually getting better every season as his save percentage has increased from .921, to .923, to .930 this past season. Having just turned 30 in March, it's possible that will probably be his peak season in the NHL. But even if he sees some regression (which should be expected, because nobody posts a .930 save percentage every single season), he's still going to be arguably the best goalie in the NHL.
For more hockey news, rumors and analysis, follow @EyeOnHockey and @agretz on Twitter and like us on Facebook.
Stacia Robitaille says Donald Trump told her in an elevator that she was coming home with...

Vladislav Yeryomenko was the Teddy Bear Toss goal scorer for the Calgary Hitmen

The Golden Knights are finally getting their No. 1 goalie back after a 25-game absence
Washington has won four straight, and the Kings are also on a tear right behind the Lightn...

The NHL says it's only interested in expanding to Seattle, but here's a look at all the moving...

The NHL says it is only looking toward Seattle for the next expansion team