Familiar feeling: Blues bounced early from playoffs again
The St. Louis Blues are out of the playoffs in six games, the third straight year after a great regular season that their campaign ended earlier than hoped. So what do they do now?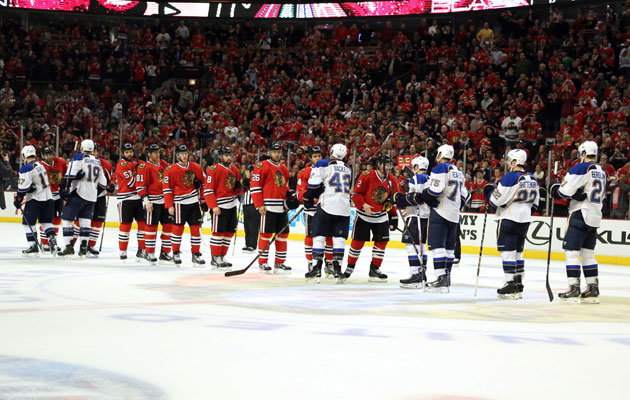 More Playoffs: Schedule, TV listings | Expert Picks | Bracket | Scores | Odds
For the St. Louis Blues the feeling is all too familiar; their season is done with a disappointingly early playoff exit.
It's the third straight season these Blues have met the same fate, the third straight time it has happened after a fantastic regular season. They are the new version of the Washington Capitals; monsters for 82 games, unable to win when the games matter most.
This time in particular has to sting a bit more than the others. This time the Blues were supposed to be elite, they had the missing piece at the deadline in goaltender Ryan Miller and now they were built to win. Finally the Ken Hitchcock era would yield postseason results.
Only it didn't. Miller is going to be the focal point as there's no denying that he was not the difference-maker they hoped he would be. It's not as though Miller was atrocious. He wasn't, but he wasn't spectacular either. The idea was that he would be an upgrade over Jaroslav Halak and Brian Elliott but that didn't pan out. In fact, hard to imagine either of them couldn't have fared better as Miller had a save percentage of .897 in this series. Ouch.
It's a question now going forward what is in store for Miller and the Blues. Is the relationship over? Miller is a free agent this summer and it has been well known that he would like to head to the West Coast and California, largely to be closer to his wife, who is an actress. But the Blues gave up a lot go get him and they could be interested in re-signing him. We'll have to wait and see.
Or the Blues could elect to go another route. There might be pressure to do this, to change up things a bit more. This is mostly the same group of guys that has not been able to get it done in the playoffs, just with a bigger question in net now than before.
That probably wouldn't be wise. The ends don't always justify the means. In this case, look at the Blues for a second. They were neck and neck in this series with the Blackhawks. If David Backes isn't knocked out for a couple of games, who knows what happens in Games 3 and 4 in Chicago. Game 5 was a heartbreaker in overtime.
It's not as though they were blown off the ice by the Blackhawks; they weren't. It was a series that everybody thought was deserving of being a conference final that just so happened to be in the first round. As we all know, only one team can win and move on.
The Blues do have themselves to blame for that somewhat as they lost six games to close out the season, allowing the Avalanche to take the division title and face the Wild. It put the Blues in the unenviable matchup against the Hawks. That hurts, no doubt. The fact is, it's not like they lost to a terrible team.
The same can be said about each of the past three seasons. In 2012 they were swept in the second round by one of the best playoff teams we've seen in a very long time, the eventual champion Los Angeles Kings. Last season they drew the Kings again, this time in the first round and Jonathan Quick was once again unbeatable. This season they got the defending champs for a second straight time and were a break here or there from a different outcome.
Fate hasn't been kind. You can make the argument that if you're going to win the Stanley Cup you'll have to go through teams like that eventually. There's merit to that but just because they lost in the first round doesn't mean the Blues are chokers or a team that can't get it done. You don't have the type of sustained success this team has had in the regular season and be a very tough out in the playoffs if you're not a well-built team.
Of course it's going to burn the Blues and the fans in St. Louis to have a similar, disappointing end to the season. It's not what the players want, that's for sure.
#StlBlues captain Backes: "No offense to you guys but these interviews are getting a little sickening to have in April and not in June."

— Mike Harrington (@BNHarrington) April 27, 2014
They expect more of themselves just as the fans and surely the management in St. Louis do. At this point, hockey fans across the continent do too with how strong they have been the past three seasons. It just hasn't happened.
To draw the comparison back to the Capitals, Washington was dominant in the regular season but save one season (2010), they were upset in the first round and thus began a fundamental change in their approach. They wanted to get more defensive, tighten up. There has been a pretty steady trend since then for the Caps -- downward. A lesson can be taken from that, that there's no need to panic or blow it up.
The Blues are close and they have been close. They're tired of just being close and not actually being there but it's still a core group that has good years of hockey in front of it. A few decisions here or there will have to be made but they are on the right path and in the past two seasons have been not far from where they want to be. It's not worth it to tinker too much and risk moving further instead of closer.
The NHL says it's only interested in expanding to Seattle, but here's a look at all the moving...

The NHL says it is only looking toward Seattle for the next expansion team

The 33-year-old defenseman hopes to help find a cure for serious head injuries in athletes
Chicago becomes the latest NHL club to earn an evaluation of $1 billion or more

The city council has approved a $600 million redevelopment project for KeyArena

Arvidsson took off his glove to reveal an engagement ring for one lucky fan