Family of Derek Boogaard files wrongful-death lawsuit against NHL
Almost two years after the death of Derek Boogaard, his family has filed a wrongful-death lawsuit against the NHL.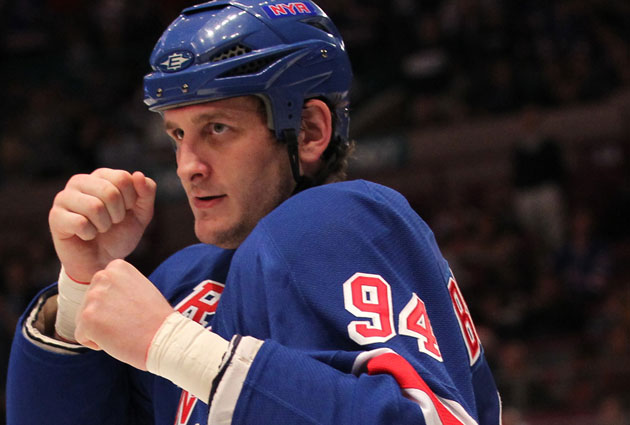 More NHL Playoffs: Scores | TV Schedule | Expert Picks | Odds | Mock Draft | Rumors
The family of the late Derek Boogaard has filed a wrongful-death lawsuit against the NHL.
The former enforcer for the Minnesota Wild and New York Rangers died in May 2011 from a lethal mix of alcohol and oxycodone. He had become addicted to painkillers while dealing with concussions and other injury issues during his six-year NHL career.
"To distill this to one sentence," said William Gibbs, a lawyer for the Boogaards, "you take a young man, you subject him to trauma, you give him pills for that trauma, he becomes addicted to those pills, you promise to treat him for that addiction, and you fail."

The NHL, through a spokesman, declined to comment Sunday.
The suit filed in Cook County in Illinois doesn't seek any specific damages but asks for the jury to award more than the minimum.
If it needs to be spelled out, this is a potentially massive situation for the NHL. Boogaard's family has been pretty open since Derek's death about his struggles with drugs brought on by his time as an NHL player. After his death, he was diagnosed with Chronic Traumatic Encephalopathy, or CTE, from repeated head trauma.
Concussions and such issues have been an increasingly common topic in the NHL in recent years, something the NHL hasn't been completely blind to. However, if a court were to find the NHL and its physicians to be responsible in this case, it really could open Pandora's Box for the NHL, much the same as how the NFL is dealing with loads of lawsuits from former players.
In fact, this suit was filed by the same law firm that filed a suit against the NFL for former Bear Dave Duerson, which has since become part of a much bigger issue for the league. The NHL wouldn't like to go down the same road, but it could be on its way.
Previously, the Boogaard family filed a suit against the NHLPA for failing to perform adequately in their grievance hearing.
Here's your guide for how to watch this year's Stanley Cup playoffs

A look at the entire postseason field -- and who's going up against who for a shot at the...

The Maple Leafs avoided elimination with a 4-3 Game 5 victory behind stellar goaltending
Toronto keeps its season alive on the road on Saturday night despite 40-plus shots from Br...

Taking a look at where things went wrong for the Minnesota Wild

The Avalanche won Game 5 with a furious comeback and will go home to try to force a do-or-die...