Finland crushes USA 5-0 to win bronze medal in hockey
The United States and Finland battle it out for hockey bronze. The USA is looking for back-to-back hockey medals for the first time since 1956-60.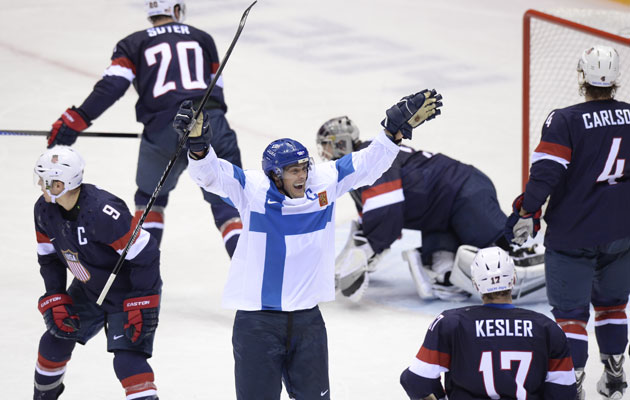 Teemu Selanne scored the first of his two goals to open the scoring and Finland went on to rout the United States by a final score of 5-0 to win the bronze medal at the Olympics on Saturday.
After a scoreless first period that was played pretty evenly, Finland began the second by killing the remnants of an American power play. Seconds later, the ageless wonder Selanne was a step behind the American defense and finished a shot past Jonathan Quick with a near-post back-hander, a thing of beauty. Compounding the issue for the USA was that just 11 seconds later Jussi Jokinen made the game 2-0 when the USA looked lost in the neutral zone.
The Americans pushed for the remainder of the second period but were unable to score against Tuukka Rask and that stout Finnish defense and by the time the third period came, the Americans looked like they had given up. Finland poured it in getting goals from Jusso Heitanen, Selanne again and finally Olli Maatta to wrap up what was a route to win the bronze.
It is the fourth time in the last five Olympic Games since the NHL has participated that Finland comes away with an medal.
The best chances for the USA came on penalty shots. The United States got a shot at one in the first period when Kimmo Timonen shot a broken stick at Ryan Kesler, who had the puck, which results in an automatic penalty shot at the international level. Patrick Kane took the attempt but hit the cage. In the second period, Kane would get another attempt at a penalty shot when his breakaway attempt was interrupted by a slash from behind. Kane elected to shoot and he had Rask beat up high but the puck hit the cage and stayed out. After that, the USA had little to speak of.
Rask ended up making 25 saves in the game for the shutout.
USA came into these Olympics with very high aspirations but it ended the same as just about every other Olympic tournament held outside of North America, without a medal.
Review the action with our in-game live blog below.
FIN 5, USA 0 -- Final
2:04, 3rd Period -- Penalty Killed
Finland shows the USA much mercy and mostly just passes the puck around.
4:04, 3rd Period -- Power Play, Finland
Patrick Kane is back in the back now for slashing. The embarrassment in this third period continues.
6:04, 3rd Period -- If you remember the American selection process this tweet is worth the medal the USA won't be winning.
Pretty sure this is Brian Burke and David Poile's nightmare.

— The Royal Half (@theroyalhalf) February 22, 2014
6:51, 3rd Period -- GOAL, FINLAND!
No surprise with the compete effort right now, the American PK leaves Jonathan Quick out to dry and Olli Maatta to fire home a one-timer from close range. This game didn't start this way but it's been a downright embarrassing third period for the USA.
7:32, 3rd Period -- Power Play, Finland
The Americans have completely given up and the frustration is showing. Ryan Suter takes a bad penalty to the box. But at least Ryan Callahan still giving it all, laying down to block a shot on the PK.
10:54, 3rd Period -- GOAL, FINLAND!
Now we have ourselves a rout. Temmu Selanne gets his second goal of the game when he parks in the short slot and slaps home a pass to the stick from Mikael Granlund. Selanne has had one heck of a tournament.
11:43, 3rd Period -- Power Play, Finland
The wheels have come off for the USA as T.J. Oshie goes to the box for interference now.
13:50, 3rd Period -- GOAL, FINLAND!
There's your dagger. Just as the penalty to Kane expires, Jusso Heitanen manages to get the puck past about four bodies including Jonathan Quick for the goal. Quick never saw it. If there were any doubt left, that should erase it.
15:50, 3rd Period -- Power Play, Finland
Patrick Kane is going to the sin bin now and will certainly feel the shame for tripping. This is essentially two minutes that the USA will lose in trying to come back.
16:53, 3rd Period -- Not a good sign to start this period, Finland is seeing a lot of offensive zone time. Down by two goals, the USA is supposed to be the team pushing.
20:00, 3rd Period -- The USA has 20 minutes left to get on the podium. Or at least get on the scoreboard.
Intermission
No, that's not creepy at all.
Bears don't get boundaries (via @cyclelikesedins) http://t.co/bwHBCWWveY pic.twitter.com/aC5NFMmpsd

— NBC Sports (@NBCSports) February 22, 2014
Intermission
This sums up the American feeling pretty well right now.
hockey pic.twitter.com/fUXFtwcYNn

— Patrick Burke (@BurkieYCP) February 22, 2014
FIN 2, USA 0 -- Second Intermission
Period ends with the USA thinking it had a goal but that puck went around and hit the outside of the net. They all thought it was in at first but no. It's been that kind of game for the Americans so far. It's very en vogue to trash this team's compete level right now and maybe that's fair but a few guys like Kane and Kesler are certainly still trying with all they have. Kane has two missed penalty shots but he's been very noticeable in this game. Finland deserves some credit for making the USA look lethargic too, this is what they excel at. However, it is completely fair to criticize the American effort that led to the second Finland goal, just 11 seconds after the first.
Shots in that second period were actually 12-10 in favor of Finland but more often than not, it was the Americans with possession of the puck. Shots in the game now are 21-20 for the USA as Finland is 20 minutes from a bronze medal. Meanwhile, the USA's goalless streak is now almost six straight periods. There has been some bad luck in there but they also aren't generating enough quality scoring chances.
3:22, 2nd Period -- This script is going so perfectly for Finland right now. They have really gummed up the pace of this game and continue to keep the Americans to the edge in the offensive zone.
6:29, 2nd Period -- Penalty Killed
Finland gets two shots on Jonahtan Quick on the power play but USA does the job and doesn't surrender a goal. USA has six minutes here to try and score before the intermission, which is almost a necessity.
8:29, 2nd Period -- Power Play, Finland
In the offensive zone, David Backes gets called for a trip. That's tough for the US, which was certainly playing with a good amount of energy and in the offensive zone. Needless to say one more goal is a back-breaker, especially against this Finnish defense.
13:35, 2nd Period -- No Goal!
Kane beats Rask this time but the shot hits the post and comes right back to Kane. Still no goal for the USA. The good news was the Americans were really turning up the offensive pressure before the penalty shot. Kane though just can't buy a goal in this tournament and he's clearly frustrated. (Via @PeteBlackburn)
13:35, 2nd Period -- Penalty Shot, USA!
Patrick Kane will get another penalty shot after he was slashed on a breakaway attempt! Have you ever seen one player with two penalty shots in one game?
17:05, 2nd Period -- That was just a crushing few moments for the Americans. They were playing well and just like that, BAM! Finland goes up two. Now the Finns will just park themselves in the neutral zone. Worse, any energy the Americans had looks gone.
18:22, 2nd Period -- GOAL, FINLAND!
UH OH. The Americans looks slow through the neutral zone and Ryan Suter is left all alone on the back to defend a 2-on-1. Just 11 seconds after the first goal, Jussi Jokinen buries it. It will look bad for Suter but Ryan McDonagh made a very ill-advised move up the ice.
18:33, 2nd Period -- GOAL, FINLAND!
There's that man, Teemu Selanne! Finland breaks out othrough the neutral zone with some help from the linesman's skate and Selanne finishes with a tremendous backhander on the rush to beat Quick.
20:00, 2nd Period -- Game is back. USA has another 49 seconds on the power play.
Intermission
Peter Stastny represented Czechoslovakia, Slovakia and Canada at the interional level but son Paul Stastny plays for the Americans so of course Peter is wearing another jersey.
Peter Stastny wearing a USA sweater, cheering on his son Paul. pic.twitter.com/xR36UdV5dD

— Tim Wharnsby (@WharnsbyCBC) February 22, 2014
Intermission
Here's that JVR play to close the period. He looked to be hurting coming off the ice but looked to be OK. (Via @PeteBlackburn)
USA 0, FIN 0, 1st Intermission
The period comes to a close with JVR taking a puck to the face but he doesn't appear to be bleeding. Shots after one period are only credited at 11-8 in favor of the USA but it feels like each team had more than that. In the second half of the period, though, the game was being controlled much more by the Americans, obviously a good sign going forward. Certainly both teams came to play this game, though.
Finland is OK with giving the US possession as long as they keep the chances to a minimum and that's some of what we saw, though the US puck movement was getting some looks. Finland, meanwhile, came with offense in spurts. They didn't have a ton of great chances but the ones they did have were great looks and came in flurries. All in all, a good period even if it was scoreless -- a trend at the Olympics.
1:09, 1st Period -- Power Play, USA
Max Pacioretty is sprung on a breakaway attempt but his shot goes wide. However, Sakari Salminen takes a trip after the shot to give the USA a man-advantage that, if it goes the full two minutes, will be spread over two period.
6:20, 1st Period -- Stopped!
Kane tries to go to the backhand but hits the side of the cage. No goal.
6:20, 1st Period -- Penalty Shot, USA!
Kimmo Timonen shoots a broken stick at Ryan Kesler, who was carrying the puck and that counts as a penalty shot. Patrick Kane is going to take it. That's not a play you see every day but the rule is if you shoot a broken stick at a player in your defensive zone, that's a penalty shot.
Have a look (via @MyRegularFace).
6:45, 1st Period -- As has become custom now, Phil Kessel found his smelling salts.
Brace yourselves. Phil's coming. pic.twitter.com/XmcyqKz96d

— Matias Strozyk (@MaStrozyk) February 22, 2014
7:39, 1st Period -- After killing the penalty, the Americans set up shop in the Finland zone as if they were on the power play. This game is almost like a tennis match where each takes the serve for a couple of minutes at a time.
9:33, 1st Period -- Penalty Killed
That was a dangerous power play for the Finns with a bunch of shot attempts. A couple of minutes of terror for the USA but no goals against. Early inditations answering the pregame question of if these teams will come to play for bronze. Yes.
11:33, 1st Period -- Power Play, Finland
Max Pacioretty is trying to clear the airborne puck out of the defensive zone but he catches more of Jarkko Immonen than the puck and that's a high-sticking call.
13:05, 1st Period -- I have absolutely no idea how Finland didn't just score, the American crease looked like a fire drill. Quick kept stopping shots while down on the ice and his teammates were cramming the crease, Ryan Kesler saves a few of them himself. That was nuts but the puck never goes in. (GIF via @MyRegularFace)
14:07, 1st Period -- Penalty Killed
The USA has a strong power play and does a great job getting the puck to the middle of the ice but it yields nothing other than another JVR between-the-legs attempt on the side of the cage.
15:39, 1st Period -- Right away the Americans get set up and they find JVR sitting in the slot, trying to work to the middle for shots on Tuukka Rask. Van Riemsdyk gets the shot off but Rask is up to the task.
16:07, 1st Period -- Power Play, USA
Teemu Selanne is going to the box after tripping Patrick Kane. Kane was protecting the puck in the offensive zone when Selanne came from behind to try and take it away, taking down Kane instead.
17:20, 1st Period -- Finland the team with the puck most to start and they get an extended stint in the offensive zone with the forecheck but it doesn't actually result in any shots on net.
20:00, 1st Period -- For the final time for the Americans (and Finns) at these Olympics ... GAME ON!
10:10 a.m. -- Teemu Selanne's bike hasn't been auctioned off yet.
Yes. #OneMoreTime #TeemuForever pic.twitter.com/ni38QBZOot

— Matias Strozyk (@MaStrozyk) February 22, 2014
10:06 a.m. -- The big question in this game is if the Americans are going to be up for playing and will compete just as hard as if they were playing for gold. To win a medal of any kind is still something to be very proud of and to shoot for. The Finns will likely be up for it, can the Americans match that intensity? If not, they're in trouble. Finland is tough enough to start with. That trap and defense-first approach will negate the USA's speed in the neutral zone more than likely.
9:59 a.m. -- Fans in the States, don't be confused by the EPL coverage, the game will be on NBCSN. It's hard to tell but it's true.
9:39 a.m. -- A few moments later, the Americans hit the ice for their warmups.
Team USA warming up for bronze medal match pic.twitter.com/L6PTfsxQVL

— Helene Elliott (@helenenothelen) February 22, 2014
9:34 a.m. -- Something (sad) to remember is that this will be the last time we see Teemu Selanne play an Olympic hockey game for Finland. He was Finland's leading scorer in his Olympic debut in the Albertville Games ... in 1992.
Teemu Selanne before what is supposed to be his final Olympic match. Joked he'd return in another sport pic.twitter.com/QRMP8JlmwA

— Helene Elliott (@helenenothelen) February 22, 2014
8:45 a.m. -- The Americans are going back to the blue uniforms for this game, meaning Finland will be wearing their flag whites.
Team USA lockerroom ready for player's arrival prior to tonight's bronze medal game. #DawnsEarlyLight pic.twitter.com/RFgXJje8ST

— USA Hockey (@usahockey) February 22, 2014
8:44 a.m. -- Tuukka Rask is back in net for Finland after missing the Friday semifinal with an illness.
8:42 a.m. -- The USA will go with the exact same lineup as we saw in the semifinal against Canada, including Jonathan Quick in net. There wa probably some consideration to starting Ryan Miller, especially with such a quick turnaround of less than 24 hours but Quick was so good on Friday.
Brown-Backes-Callahan
Parise-Kesler-Kane
van Riemsdyk-Pavelski-Kessel
Pacioretty-Stastny-Oshie
Wheeler

Fowler-Shattenkirk
Orpik-Carlson
Suter-McDonagh
Faulk

Quick
Miller


______
Preview
By Andrew Dewitt
The Facts
Who: United States vs. Finland
What: Bronze medal game 
When: 10 a.m. ET Saturday on NBCSN
Where: Bolshoy Ice Dome, Sochi, Russia
Both teams lost one-goal games to their hated rivals in Friday's semifinals with Finland losing 2-1 to Sweden and Canada beating the United States 1-0. 
The Bronze medal games in hockey usually are some of the most entertaining games in the tournament with the teams going all out in a semi-relaxed atmopshere compared to what they played in the semifinals. 
The United States hasn't won back-to-back medals in the Olympics since 1956-1960 and has won only one bronze medal in its history. 
Finland has medaled in every Olympics held with NHL players except the 2002 Olympic games in Salt Lake City. 
It will likely be the last game for Anaheim Ducks forward and Finnish legend Teemu Selanne, who already owns three Olympic medals. 
Few players are more respected about their peers than Selanne and is a fan favorite around the NHL. He's the 15th all-time leading scorer in NHL history and needs 18 points before Anaheim's season ends to pass Chicago Blackhawks legend Stan Mikita. 
CBS Sports HQ Daily Newsletter
Get the best highlights and stories - yeah, just the good stuff handpicked by our team to start your day.
Please check the opt-in box to acknowledge that you would like to subscribe.
Thanks for signing up!
Keep an eye on your inbox for the latest sports news.
Sorry!
There was an error processing your subscription.
The league and more than 100 former players tentatively agreed to a concussion settlement on...

SportsLine's Mike McClure, a DFS pro with almost $2 million in career winnings, gives optimal...

Rask is 4-4-0 this season and is giving up 3.05 goals a game
Boston and Chicago will meet outdoors at Notre Dame Stadium on New Year's Day

Nashville remains the best of the best, while Chicago is headed toward the cellar

What's right and what's wrong with the NHL this week