Five for Fighting: Five key players to watch in conference finals
You already know about Sidney Crosby, Zdeno Chara and Jonathan Quick, so here are five key players who might slip under the radar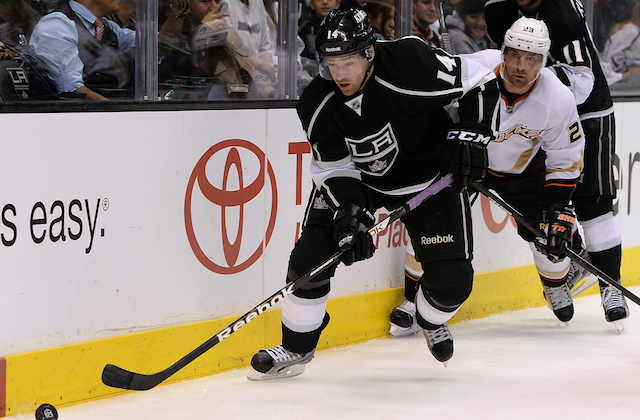 More NHL Playoffs: Scores | TV Schedule | Expert Picks | Odds | Mock Draft | Rumors
Every day, we'll have a top-five list that is pretty self-explanatory, all in this man's opinion. Today: Five key players to watch in the conference finals. Not necessarily the best players, but perhaps five overlooked players that will have a big impact on the success (or failure) of their team.

5. Brad Marchand: Most hockey fans/players outside of Boston can't stand him, but in Boston Brad Marchand is a pretty darn good hockey player. His point totals probably don't jump off the page at you (he has nine points through 12 games in the playoffs) but he's been one of Boston's most underrated -- and valuable -- postseason players. He plays tough minutes at 5 on 5 and has been one of the best possession players in the league this postseason. Example: With him on the ice at even strength this postseason the Bruins are outscoring their opponents 7-4 and outshooting them by an incredible 133-66 margin. That's value.
4. James Neal: On a team with Sidney Crosby and Evgeni Malkin it's probably easy to forget about James Neal from time to time. But you shouldn't. And if you've watched the Penguins closely throughout the playoffs you might be able to make the argumentNeal has been every bit as good, if not better, than Pittsburgh's two superstar centers. He just simply wasn't getting the results in the form of goals. Well, that is until the floodgates finally opened for him in Games 4 and 5 against the Ottawa Senators. Neal has one of the most lethal wrist shots in the NHL and has been all over the ice for Pittsburgh in these playoffs, creating turnovers, generating scoring chances, and now finally starting to put the puck in the back of the net.
3. Justin Williams: All things considered, Justin Williams is probably going to get too much attention for his Game 7 heroics (not just this year, but also in past postseasons) and not enough attention for just being an all-around good player in every situation. A lot of the Kings' top players get overshadowed by what Jonathan Quick does in net (and perhaps for good reason -- Quick is sensational, especially in the playoffs) but perhaps none more than Williams. He's an excellent two-way player who takes care of business in all three zones and is one of the best players in the NHL when it comes to helping his team control the puck and generate more shots than their opponents.
2. Boston's young defensemen: OK, so maybe this is cheating and including more than one player for this entry, but youngsters like Matt Bartkowski and Torey Krug are going to get their toughest test yet in these playoffs. We already know that Zdeno Chara and Dennis Seidenberg are going to have to play against one of Sidney Crosby or Evgeni Malkin, so that leaves the other line in the hands of some of Boston's younger guys. How will they handle it? It's one thing to shut down the Rangers offense. It's an entirely different challenge having to go up against this Pittsburgh lineup.
1. Corey Crawford: Blackhawks goalie Corey Crawford isn't going to have much margin for error against the Kings, especially with Jonathan Quick doing his thing at the other end of the ice. Coming into the postseason Crawford was probably my biggest question mark when it came to the Blackhawks, even after their first-round series wins against the Wild, but for the most part he's been rock solid in the playoffs with a .938 save percentage. I still think if this team has a weak link he might just be it, but that's more a testament to how strong the rest of the team is than anything he's done (or hasn't done) in the playoffs. All he has to do this series is stop the defending champs and outduel the best goalie in the NHL. No pressure.
Stacia Robitaille says Donald Trump told her in an elevator that she was coming home with...

Vladislav Yeryomenko was the Teddy Bear Toss goal scorer for the Calgary Hitmen

The Golden Knights are finally getting their No. 1 goalie back after a 25-game absence
Washington has won four straight, and the Kings are also on a tear right behind the Lightn...

The NHL says it's only interested in expanding to Seattle, but here's a look at all the moving...

The NHL says it is only looking toward Seattle for the next expansion team