Five players ready to bounce back in 2013
Here are five players ready to bounce back in 2013, including Anaheim Ducks forward Ryan Getzlaf.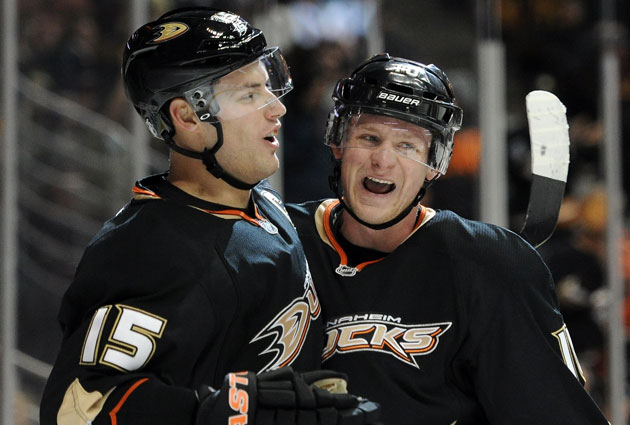 Anaheim Ducks forward Ryan Getzlaf (left) is one player poised for a bounce-back season 2013. (Getty Images)
Season preview: Team previews | Expert picks | 50 things to watch | Top 50 players
One of the best things about the NHL being back (aside from the obvious fact that the NHL is back) is that some players will finally be able to hit the reset button on what might have been a disappointing 2011-12 season.
Chief among them is Anaheim forward Ryan Getzlaf, who is coming off a season that saw him score a career-low 11 goals for a disappointing Ducks team that fell short of the playoffs after a dreadful start to the season.
As we continue to get ready for the start of the 2013 season that is now just a week away, here is a look at five players (including Getzlaf) who could be ready for a bounce-back season.



1. Ryan Getzlaf , Anaheim Ducks

2011-12: 82 games, 11 goals, 46 assists, 57 points

A lot of things went wrong for the Anaheim Ducks last season. Perhaps the most surprising development was the stunning decline in goal scoring for center Ryan Getzlaf.
Granted, he has never been a huge goal scorer in the NHL, but he has been remarkably consistent over the years and almost always puts pucks in the net at a pace that would give him 25 goals over 82 games. Seriously, his goals-per-game average before last season ranged from a low-point of .25 to a peak of .31.
There's not much of a gap there, and it always puts him at a 25-goal pace.

In 2011-12, he scored just 11 in what was by a pretty wide margin the worst goal-scoring season of his career.

I've already written about Getzlaf's troubles finding the back of the net last season, but he seems like a prime candidate to bounce back in 2013.

Why? It's all about the percentages, man.

Last season, Getzlaf finished with a shooting percentage of just 5.9 on 185 shots. That is incredibly low, probably unsustainably low for a player with Getzlaf's talent.
 
The league average is usually around 9 percent, and last season was the first time in his career that he finished a full season under 10 percent.
Back in August, I went back over the previous 12-year stretch in the NHL and looked at every player who finished a season with at least 185 shots and finished with a percentage lower than 6 percent. There were only 23 of them (if you go back as far as 1967, there have only been 29 players to shoot that poorly in a single season). Of those 23 players, 20 of them saw their numbers increase the following season -- some of them by a significant margin.
I'd bet heavily on Getzlaf being able to do the same.
Regression to the mean works both ways, and Getzlaf is too good to continue shooting that far below the league average and his own career average.



2. Ales Hemsky, Edmonton Oilers

2011-12: 69 games, 10 goals, 26 assists, 36 points
Over the past few years Ales Hemsky has been the player you always look at and say, "Man, if that guy could just stay healthy for a full season."
Injuries have been a constant struggle for Hemsky over the past three years, limiting him to only 138 games of a possible 246 since the start of the 2009-10 season for the Edmonton Oilers.
When he is healthy, however, he has been remarkably productive on some bad Oilers teams (since the start of the 2005-06 season, only 35 active players have averaged more points per game than Hemsky) without getting much attention for it.
Last season, however, was one of his worst seasons in the NHL in terms of overall production as he was limited to just 36 points in 69 games.
Like Getzlaf, he has never been known as a great goal scorer and is more of a playmaker and set-up man (and, also like Getzlaf, he was hurt by a career-low shooting percentage in 2011-12). But even that playmaking ability seemed to take a hit last season, at least on the surface, when his assist-per-game average fell all the way to 0.38, his lowest mark since he was a 20-year-old in 2003-04.
Also like Getzlaf: It also might be about the percentages.
It's not like Hemsky was playing all that poorly last season. On a team that was routinely outshot and almost always losing the possession battle, Hemsky was one of Edmonton's best players at driving play up the ice and maintaining control of the puck, while doing so against opponents' top-line players.
The only other Oilers players (mininum 40 games) who finished the season with a positive on-ice Corsi rating (a plus-minus statistic using total shot attempts instead of goals -- a good way to measure possession) were Taylor Hall and Magnus Paajarvi-Svensson.
The only Oilers player who finished with a positive Corsi percentage without Hemsky on the ice was Hall (and that's largely because Hall is an outstanding player in his own right).
So what could have contributed to the decline in points for Hemsky in '11-12?
For one, he saw less power-play time in 2011-12 than he had in previous seasons. That could have contributed to some of the scoring decline. But he also wasn't getting much help from his linemates. When Hemsky was on the ice during 5-on-5 play, the Oilers had a shooting percentage of just 7 percent. Over the previous four seasons, the Oilers had percentages of 8, 9, 10 and 12 percent with Hemsky on the ice.

3. Tyler Myers, Buffalo Sabres
2011-12: 55 games, 8 goals, 15 assists
I admit that this is more of a gut feeling than anything objective -- and perhaps even wishful thinking for the sake of the Sabres organization and their fans. Myers is coming off a dreadful 2011-12 season that saw him miss significant time due to injury and even saw him earn a place on the "healthy scratch" portion of the scoresheet due to poor play.
For a guy who burst onto the scene in 2009-10 and won the Calder Trophy as the NHL's rookie of the year, that was a pretty stunning development and regression in year three of his career.
Offensively, his production started to pick up a little in the second half of last season. After recording only 10 points in his first 30 games, he finished with 13 over his final 25.
He is Buffalo's most physically gifted defenseman and just now entering a seven-year contract that will pay him more than $5 million per season.

4. Matt Duchene, Colorado Avalanche
2011-12: 58 games, 14 goals, 14 assists, 28 points
Matt Duchene is another young player who's simply too good and too talented to keep putting up subpar numbers like he did during the 2011-12 season.
And, also like Myers, it might just be a case of wishful thinking for the Avalanche because they need him to be the player that he was supposed to be when they selected him with the No. 3 overall pick in 2010.
Unlike Myers, there might even be some objective evidence that some improvement could be coming. Duchene was a strong possession player for the Avs but was crushed by percentages (particularly his linemates).
Just remember that he's capable of plays like this.

5. Ilya Bryzgalov, Philadelphia Flyers
2011-12: 59 games, .909 save percentage, 2.48 goals-against average
Year one of the Ilya Bryzgalov experience in Philadelphia was a complete disaster. We already know this and have been over it multiple times. It was highly entertaining at times but on the ice was everything that the Flyers didn't need to have happen after gutting their team and giving Bryzgalov a nine-year, $60 million contract.
I'm not saying he's going to come back this season and be the best goalie in the league. Or even a top-five goalie. Or a top-10. Or even as good as he was in Phoenix. I'm not saying he's ever going to be worth that contract (because he most certainly won't be).
I'm just saying that he's not as bad as he was during the 2011-12 season (and definitely not as bad as he was during the playoffs) and that he should come back stronger in 2013.
For more hockey news, rumors and analysis, follow @EyeOnHockey and @agretz on Twitter and like us on Facebook.
The former Boston Bruin was the first black player to play in the NHL

Inclement weather led to the Charlotte Checkers and Bridgeport Sound Tigers playing in front...

The NHL chose the Detroit rocker as its All-Star Game entertainment and not everyone is th...
NHL fans from all over seem to agree on one thing: Hating Kid Rock

The team tweeted on Monday that Shaw would be re-evaluated in 7-10 days

The Montreal forward was hospitalized after taking a Zdeno Chara slap shot to the head