Five teams and players to watch for draft day trades
The NHL Draft isn't just a time for prospects, it's also a time for trades. And a lot of big names hit the rumor mill on Saturday.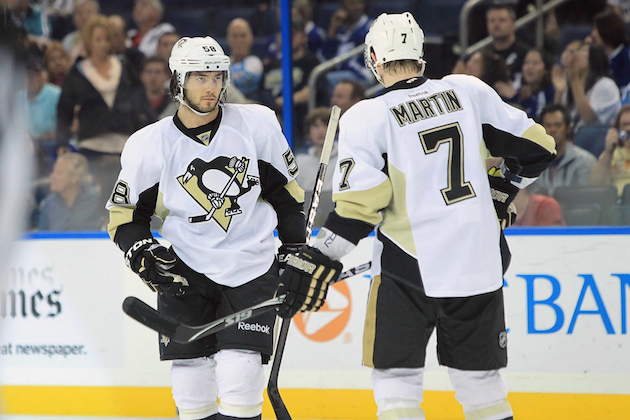 More NHL offseason: Rumors | Top 50 Free Agents | Top 50 Prospects | Mock Draft
The NHL Draft isn't just about the prospects whose careers are about to begin on Sunday afternoon. It's also about the wheeling and dealing the NHL's general managers will be doing with established players and prospects as they juggle their rosters in an effort to fill holes, fix weaknesses and work their way under the salary cap.
Other than the trade deadline, there is no bigger time for trades in the NHL than draft weekend. And it's possible draft weekend has actually surpassed the deadline when it comes to actual deals being made. That's what happens when you get all 30 GMs in the same place at the same time.
As of Saturday evening it was pretty quiet as far as actual deals, but the rumor mill was absolutely on fire with names you might expect (Roberto Luongo, for example) and a couple that maybe weren't expected (Tyler Seguin and Cory Schneider).
Just because it's quiet now doesn't mean it will be quiet on Sunday, and it should be expected that somebody is going to be playing for a new team before all is said and done.
Here are five key players and teams to watch when it comes to potential deals on Sunday.
1) Pittsburgh Penguins (Kris Letang): Defensemen like Letang don't come along very often, and players this talented, this young, and this productive don't grow on trees. When you get one, it's in your best interest to do everything in your power to keep them. The Penguins are trying, but it's starting to take on the same feel as last year's situation with Jordan Staal when the Penguins ended up trading a core player entering the final year of his contract at the draft.
Don't think it's similar? Consider the words of Penguins general manager Ray Shero last June when he insisted he wasn't trading Staal:
"I can't try to negotiate a contract with Jordan and a trade with another team at the same time. It doesn't work that way. We don't want to trade Jordan. We think we can sign him."
And now, on Saturday, when talking about the Kris Letang situation:
"I can't try to sign a guy and try to trade him at the same time. I'm going to try to sign him. I've had a couple of teams inquire. They read the paper. They ask to keep them in mind. I haven't explored any of that. I don't think that's productive at this point. Our goal is to sign him."
Letang reportedly turned down an eight-year, $56 million contract earlier this week and countered with a deal that would pay him $7.5 million per season. If the money is that close, you have to think there's either a deal to be made, or there's something else going on other than the straight cash (perhaps a no-trade clause?).
He's a top defenseman in the NHL and somebody is going to pay him. It's just a matter now of whether that's going to happen in Pittsburgh or someplace else.
Seeing as how the Penguins don't have a first-round pick (dealt to Calgary for Jarome Iginla at the trade deadline), you have to think a high pick would be part of any Letang trade, which would make this weekend the time to do it.
If it comes to that.
(S/T @Rick_City for noticing the similar Shero quotes one year apart)
2) Vancouver Canucks (Roberto Luongo and Cory Schneider): All this time it seemed like Luongo was going to be the goalie leaving town, and then came word on Saturday the Canucks may have their other goalie (and their starter from this past season), Schneider, in play.
General manager Mike Gillis said teams have been calling.
"Things have been really busy, I'm getting a lot of calls, having a lot of conversations, so we'll see what happens," Gillis said on Saturday.
One thing is for sure: If the Canucks decide to move one of their goalies, and it doesn't matter which one it is, they're still going to have a No. 1 starter and one of the better netminders in the NHL on their roster. The difference between the two at this point is still pretty marginal.
Schneider, however, would be the far easier player to trade because he's younger, has a better contract, and should be able to land them a huge return. The problem is his contract and the fact he's younger are two pretty big reasons why it would be in the Canucks' best interest to keep him and continue their efforts to trade Luongo.
The only problem with that is the fact Luongo's contract is nearly untradable. A buyout is still apparently on the table, but Gillis couldn't answer whether or not that would happen.
"I just don't know yet," he said.
If the Canucks bought out Luongo and kept Schneider as their starter, they would have to pay Luongo $32 million over the next 18 years to not play for them. He would no longer count against their salary cap.
3) Boston Bruins (Tyler Seguin, free agent rights for Andrew Ference and Nathan Horton): We know Ference and Horton, both unrestricted free agents, are not coming back. What we don't know is if the Bruins will be able to trade their free-agent rights to another team.
Given the lack of defenseman options on the free-agent market, it's possible somebody might surrender a sixth- or seventh-round pick to get a head start on negotiations, but Horton might be the one who could land them a return. He has the production and size that make general managers drool and he's probably one of the top goal-scoring options that will be available. These types of deals usually warrant nothing more than a third-round pick or a marginal prospect, but if it's a player you already know you're going to lose for nothing, it's well worth it.
But the big name to enter the rumor mill was Seguin, who is just about ready to enter the first year of his new contract extension. Multiple reports indicate the Bruins are taking calls on their young star forward. Why? Well, for one the Bruins are already tight up against the salary cap and have to work out new contract extensions for franchise cornerstones Tuukka Rask (this summer) and Patrice Bergeron (before next summer). Moving Seguin's contract could not only clear some valuable cap space, it would also surely bring a huge return. He's 21 years old, already an established NHL player, and is likely to improve.
I still think it's a stretch to believe he gets moved, and if I were a betting man I'd put money on him still wearing the black and gold next season. But his name is out there, and that's going to get attention.
Here's an idea (and it's just an idea), and the Bruins would never do it. I imagine Bruins fans hate the very suggestion of it because he embodies everything the "big, bad, Bruins" are supposed to be, but why not field calls on Milan Lucic (he's set to make $6 million in each of the next three years) coming off of his huge playoff run? It's not that Lucic is a bad player, but why not see if you can sell high on a player who might not duplicate what he just did over the past two months?
Again, it's not going to happen, but if the Bruins are that tight for extra cap space it's just a thought to throw against the wall. I hate the idea of even thinking about trading a 21-year-old player with Seguin's ability. That's the type of move that could come back to haunt you down the road.
4) Philadelphia Flyers (goalies, defensemen, just about anything): The Philadelphia Flyers are a huge wild card this weekend because they are always a wild card.
Nobody outside of general manager Paul Holmgren and the front office ever knows what this team is going to do, and sometimes I'm not even sure they know what the hell they're going to do. If there's a blockbuster trade to be made, it's a pretty good bet the Flyers are going to try to work their way into it.
In the wake of Ilya Bryzgalov's buyout, the Flyers have a huge need in goal (what else is new?) and have been connected to just about every goalie who's available. Ray Emery. Jaroslav Halak. Jonathan Bernier (before he was traded). And if the Canucks are really fielding calls on Schneider, they would be crazy to not have the ear of Vancouver general manager Mike Gillis.
The Flyers don't seem to be willing to part with youngsters Sean Couturier or Brayden Schenn in any potential deal, but again, this is the Flyers we're talking about. It's the same team that has traded Jeff Carter, Mike Richards and James van Riemsdyk over the past two years not long after signing them to long-term contracts and identfying them as core players. This team is capable of anything.
The defense is also a point of emphasis and veteran Braydon Coburn has seen his name enter the rumor mill.
The biggest hurdle for the Flyers at this point is cap space. They've already used both of their compliance buyouts (Bryzgalov and Danny Briere) and are still just $4 million under the 2013-14 cap and still need to find another goalie and, in theory, upgrade their defense.
5) Edmonton Oilers (Goaltending, defense, Ales Hemsky, Shawn Horcoff): Edmonton has been said to be one of the most aggressive teams when it comes to trade talk this weekend. TSN's Darren Dreger mentioned the Oilers as a possible landing spot for Schneider, they're rumored to be interested in Coburn from Philadelphia, and they have a couple of veterans and Ales Hemsky and Shawn Horcoff who have been mentioned in their own rumors.
They also have a top-10 draft pick and two second-round selections at their disposal.
Hemsky's name seems to come up in trade rumors every single year. He has a big contract for one more year but always seems to be a little underappreciated for how good he really is. He's not a big-time scorer, and injuries have derailed his career at times, but he is incredibly talented and a gifted playmaker and is the type of guy who can help your team drive play in the right direction up the ice.
If the Oilers go through with actually trading him, whatever team takes him on is going to come away with a pretty good player.
Horcoff isn't the player he used to be, but he's still a solid veteran who can handle tough minutes and play a strong defensive game.
The NHL said the Flyers defenseman was 'reckless' and used 'excessive force'

'How you gon' do that hockey?'
The puck didn't go in the net but the skater did!

Another sign that Houston is a potential destination for an NHL relocation

The two teams combined for 111 penalty minutes and five ejections