Florida Panthers want to become salary cap team under new owner
The Florida Panthers could be an awfully busy team this summer. GM Dale Tallon has been given the go to make the Panthers a cap team despite their money issues.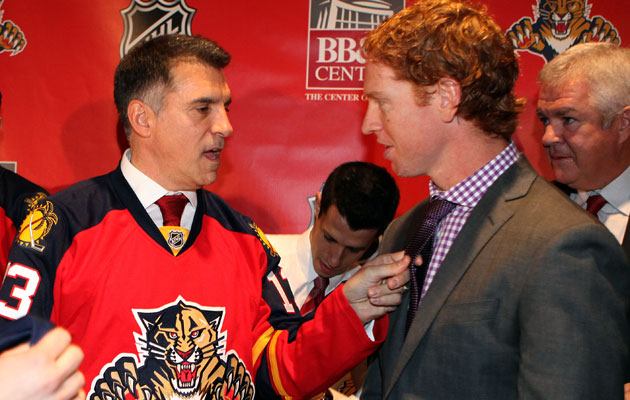 More NHL: Scores | Standings | League Leaders | Odds | Injuries | Power Rankings
The days of the Florida Panthers living on the salary floor might be finished. That's the promise from new owner Vinnie Viola to general manager Dale Tallon.
Despite the issue of the Panthers losing so much money they have asked Broward County to help finance their money woes, Viola gave Tallon the green light to spend money and get to the cap.
From the South Florida Sun-Sentinel.
"This team's been bleeding money for a long time, but I've been told we're going to be a cap team and want to try to break even. They want to invest money into the team," Tallon told the Sun Sentinel after morning skate Saturday at Prudential Center.

"They want to win. That's what's going on here. They've given me the green light to be a cap team. So that's fantastic. Not a floor team, a cap team. We're excited."
Tallon added a little more on the development.
"They've given me an open [wallet]. I'm pumped up," Tallon said. "We can do hockey deals now, what the best deal is as far as hockey is considered."
Time will tell if that should be something that excites Panthers fans or scares them from what might lie ahead, having a wad of money burning a hole in your GM's pocket isn't always a good thing when free agency rolls around. At the same time, though, it must be refreshing to think that the Panthers are going to invest in an attempt to win, particularly after seeing this franchise live in the cellar both in the standings and the salary department for almost its entire existence.
Take a look at the free-agent class for this summer and you can see why this might not be the best time to give your GM a ton of money with the expectation that he'll spend it. There aren't a wealth of prime players available to be signed.
The other avenue is to build through trades and maybe the Panthers could become an attractive team to deal big, burdening contracts to now. It could put the Panthers in an odd spot when the trade deadline comes around of being a buyer in a seller's position. They wouldn't likely look to buy the usual deadline acquisitions, i.e. rental players, but instead look for the always rare Hockey Deals at the deadline.
No matter how they do it, it seems evident that the franchise is going to go where it never has before; the Panthers are about to start spending.
Of course, the optics of this are terrible as the Panthers seek $70 million tax money from the county over the next 14 years to help offset losses, losses that the owners have been covering with from their own pocket. But Viola seems to believe that the only way to try and turn the fortunes of the franchise around are to invest. You have to spend money to make money as the saying goes. The question is if even that will help a Panthers team make money.
The Oilers' young star remains seriously unfair

David Kelly, a Toronto-born hockey analyst, has strong advice for Edmonton vs. Chicago game...

Gary Bettman says otherwise, for the time being, but Houston could be primed for a team
Here's what you might have missed across the NHL on Wednesday night

Ovi breaks down doors in Virginia

Winger also says he will no longer raise a fist during the anthem after his protest started...