Flyers GM Paul Holmgren's job not in jeopardy per team president
Coach Peter Laviolette was fired and the Flyers have gone just 1-4 since. Does that mean GM Paul Holmgren is feeling the heat? Not according to the team president.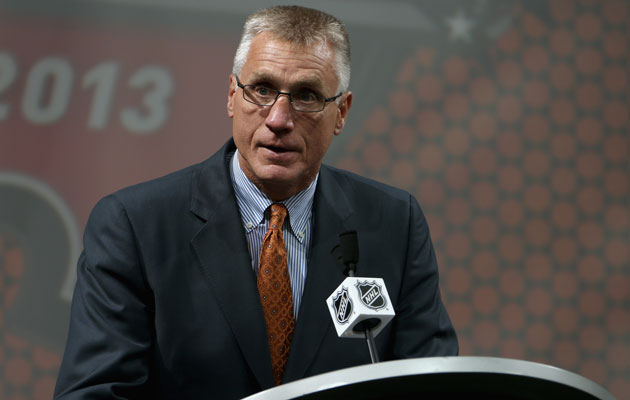 More NHL: Scores | Standings | League Leaders | Odds | Injuries | Power Rankings
Before the season began, the Philadelphia Flyers brass wanted to make it clear: coach Peter Laviolette wasn't on a hot seat. Three games into the regular season Laviolette was fired.
Since Craig Berube took over, not much has changed. The Flyers barely beat the Panthers in Berube's bench debut and since then they've lost four games in a row. At some point the heat will turn beyond the bench and zero in on general manager Paul Holmgren.
Apparently now is not that time. From Sam Carchidi of the Philadelphia Inquirer:
Though obviously not satisfied with the early-season results, [President of Flyers owner Comcast-Spectacor Peter] Luukko said that Holmgren's job is not in jeopardy, that the team just needs time to adjust to new coach Craig Berube's system.

Luukko was not alarmed by the results of a recent philly.com poll. Heading into the weekend, more than 4,400 people had responded when asked if Holmgren should be replaced.

Almost 93 percent said yes.

"When things aren't going well, the timing of the poll is what directly relates to the answers," Luukko said the other day. "To us, it doesn't mean anything."
As well it shouldn't. If organizations ran things based on fan reactions, some teams would go through five coaches in a season.
What likely will mean something to the Flyers brass, though, is if this continues and the Flyers miss the playoffs for the second straight year. One missed year is bad enough in Philadelphia, missing two in a row is almost unheard of in Flyers country.
It will be hard for Holmgren to avoid the blame if the Flyers keep trending the way they're headed right now. Philly has an expensive and old defensive corps that isn't living up to the billing, they have gone inept on offense while trading away a number of quality scorers in recent years and the pipeline doesn't really seem all that stocked in Philly at the moment either. With the Flyers living near the cap as is always the case, there isn't a lot of room to improve.
So perhaps it won't be long before the upper management starts singing a different tune, even if they won't admit it publicly, which you wouldn't expect. Heck, they might already be doing that because we all know that nobody ever comes out and admits when somebody's seat is hot. People give the vote of confidence a bad rap: there is always a vote of confidence, there's little other option for a different answer.
So from the sounds of things the Flyers don't have Holmgren on noticed. Maybe that's indeed the case, owner Ed Snider seemed to be behind Holmgren at the press conference announcing Laviolette's dismissal. But as Lavy knows, that can always change pretty quickly so Holmgren better hope histeam's fortunes make as quick of a turn. For the better, of course.
Winger also says he will no longer raise a fist during the anthem after his protest started...

Here's what you might have missed across the NHL on Tuesday night

Montreal can't score, New York's defense is in disarray and the Oilers are supremely under...
The NHL's newest team is a hit on and off the ice

J.T. Brown, who raised his fist during the national anthem, meets with Tampa Police Depart...

The decision would likely be met by anger from some fans, but it could also make sense