Flyers' Jakub Voracek, Claude Giroux have been most consistent players
Jakub Voracek is not only the NHL's leading scorer so far, he has also been one of the league's most consistent players so far.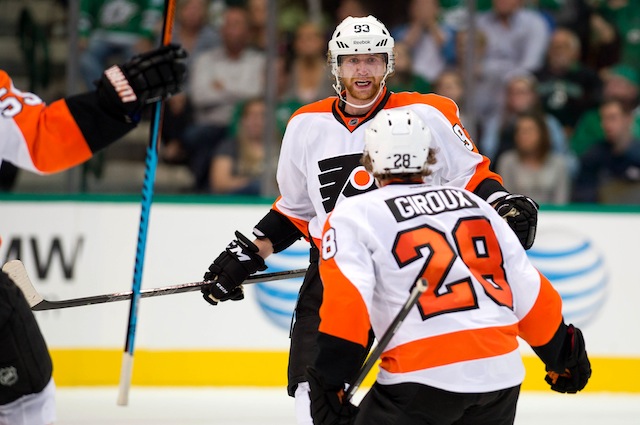 One of my biggest complaints when it comes to analyzing hockey in 2015 is the way certain players -- specifically top players -- are too often criticized for being "streaky" or too inconsistent.
Players don't typically go through a full season recording points on a consistent schedule. They get them in bunches with a couple of droughts thrown in the middle, which often leads to the "streaky" label. The players that are able to consistently put up points without an extended drought of more than three or four games are a very rare exception and usually limited to the top 10 or so players in the league, if that. And even then, they are still prone to the occasional lengthy drought. 
That said, now that we are just about at the halfway point of the 2014-15 season I wanted to look at the top scorers in the NHL and see which ones have done the best job at consistently producing points. I went through the NHL's top 40 point producers (through Jan. 3) and looked at how many games they recorded at least one point and what their longest pointless drought has been. 
Here is a look at the top 15 out of that group.
Some of the names at the top might be a little surprising. Also surprising: Some of the names that do not appear at the top. 
•Look at the Philadelphia Flyers' duo of Claude Giroux and Jakub Voracek at the top. To say they are doing everything they can to carry their team is quite the understatement. Each has been as reliable as any player can possibly be and Giroux is the NHL's only player that has not gone consecutive games without recording at least a single point. If only their seasons were not being wasted on a team that is being sucked into a black hole of defensive incompetence. For as good as they have been, though, they are still probably due for a four- or five-game slump in the second half.
•Two other names that really stand out in the top-five: Everybody's favorite big-money whipping boys, Rick Nash and Joe Thornton. Newsflash: They're both great players. 
•Mark Giordano is not only leading his team in scoring as a defenseman (and not only among the NHL's leading scorers) but he has also been a rock when it comes to producing points. Giordano has been held off the scoresheet only 12 times so far this season. As he goes, the Flames go. 
•Among the NHL's top 40 scorers, only 10 have managed to go fewer than three games in a row without scoring at some point this season, while 12 of them have, at least once, gone at least four games without recording a point. Four players (Logan Couture, Johnny Gaudreau, Bryan Little and Alex Ovechkin) have gone at least five games. Little has the longest pointless streak among the league's top scorers at seven games. 
•The only player in the top 40 in scoring that has failed to record a point in at least 50 percent of his games thus far is Alex Ovechkin (points in 18 of 37 games, or 48.6 percent).
•Among the more notable NHL superstars, Sidney Crosby, Steven Stamkos and Phil Kessel all check in with a point in at least 60 percent of their teams games. Jonathan Toews has at least one in 55 percent of the Blackhawks' games while Henrik Zetterberg has scored in 58 percent of his games.
David Kelly has nailed 35 of 42 NHL picks and he just locked in a selection for the Ottawa-Nashville...

SportsLine's Mike McClure, a DFS pro with more than $1M in winnings, gives optimal lineup...

Vegas ascends to the top of the league, but plenty of formidable contenders are right on their...
SportsLine's Mike McClure, a DFS pro with more than $1M in winnings, gives optimal lineup...

Smith-Pelly confronted the fans from inside the penalty box before they were escorted out

The NHL will be a no-show in Pyeongchang, and it could be the norm for future Olympics