Flyers owner gives votes of confidence to Holmgren, Bryzgalov
Flyers owner Ed Snider gave general manager Paul Holmgren and starting goaltender Ilya Bryzgalov votes of confidence on Saturday.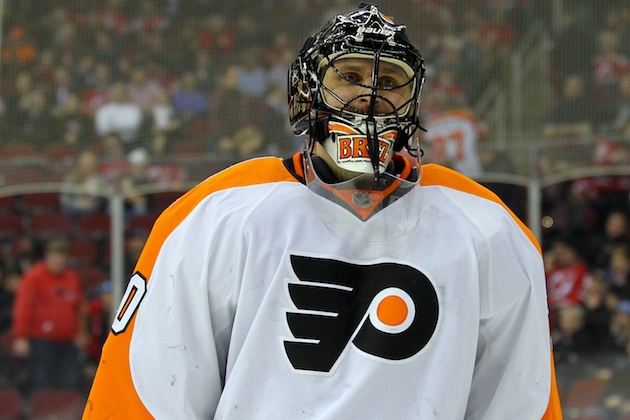 Philadelphia Flyers owner Ed Snider discussed his team's disappointing season on Saturday morning and gave general manager Paul Holmgren and goaltender Ilya Bryzgalov votes of confidence.
Not that those ever guarantee job security, but they at least have that going for them. For now.
But when the subject turned to coach Peter Laviolette and his future with the team, Snider deflected that decision back to Holmgren, via Tim Panaccio of CSN Philadelphia.
He gave general manager Paul Holmgren a vote of confidence, but when asked about coach Peter Laviolette, he deferred to Holmgren.

"I don't want to talk about anything about when the season ends, who's safe and who isn't safe," Snider replied. "These are decisions Paul Holmgren is going to have to make, not me."

Said Holmgren: "I don't even think about that stuff. After the season, everything gets evaluated and we go from there. Our coaches -- nobody is happy with the position we are in. … It's difficult to talk about right now. I think the coaches do a good job."
Even after their 3-1 win over the Boston Bruins on Saturday afternoon, the Flyers are in 13th place in the Eastern Conference, four points out of the No. 8 playoff spot. It's unlikely they're going to be able to make up that ground not only because of how late in the season it is but also because there are still so many teams ahead of them.
It's hard to put much of the blame on Laviolette given the current state of the defense. If you're going to consider a coaching change after a season like this, especially when it's a coach who has had success in the NHL, you'd better take a long look at the guy who put the team together as well.
The defensive situation got so bad this year that the team had to go out and acquire Kent Huskins from the Detroit Red Wings on Saturday. That lack of depth on defense has only been magnified by another disappointing year from Bryzgalov, an acquisition that Snider pushed for last year.
And, speaking of Bryzgalov, Snider told Panaccio, "I don't think Bryzgalov has been the problem. I mean, he's had to face so many breakaways and 2-on-1s where we turn over the puck suddenly. I think it's the team. I think we're fine in goal."
Whether it's more Bryzgalov or the rest of the team is up for debate (it's probably a combination of both), but the first two years of his eight-year contract can't be what Snider and the Flyers expected when they acquired him from the Phoenix Coyotes, a move that was accompanied by the trades that shipped out Mike Richards and Jeff Carter.
Even worse for the Flyers' goaltending situation has been the move that Holmgren made this past summer when he traded Sergei Bobrovsky to Columbus for draft picks. Bobrovsky has been sensational for the Blue Jackets and would have at least given the Flyers another option to fall back on if Bryzgalov struggled. Or, if nothing else, made it so he wouldn't have had to start 32 of the team's first 34 games.
The former Boston Bruin was the first black player to play in the NHL

Inclement weather led to the Charlotte Checkers and Bridgeport Sound Tigers playing in front...

The NHL chose the Detroit rocker as its All-Star Game entertainment and not everyone is th...
NHL fans from all over seem to agree on one thing: Hating Kid Rock

The team tweeted on Monday that Shaw would be re-evaluated in 7-10 days

The Montreal forward was hospitalized after taking a Zdeno Chara slap shot to the head